Puerto Rico's governor set a goal of reestablishing electric service to 30 percent of the island by the end of the month after Hurricane Maria devastated the U.S. territory's infrastructure, with the goal of restoring 95 percent of service by Dec. 15.
More than three weeks after the hurricane hit, only around 14.6 percent of Puerto Rico had electric service restored, according to the government. Generators were being used to power businesses and other structures.
Puerto Rico Gov. Ricardo Rosselló said in a statement Saturday that the goal was issued "so that our people can have clear and established metrics."
At least 44 deaths in Puerto Rico have been directly and indirectly blamed on the hurricane, which made landfall on Sept. 20. As of Saturday 64 percent of water service had been restored to the island, which has a population of around 3.5 million, according to officials. The devastation has been called a humanitarian disaster.
The Trump administration has been criticized for its response to the hurricane. President Donald Trump sparked a furious backlash on Thursday when he tweeted about Puerto Rico's financial crisis and said that "electric and all infrastructure was disaster before hurricanes."
The president also tweeted that "We cannot keep FEMA, the Military & the First Responders, who have been amazing (under the most difficult circumstances) in P.R. forever!" Some critics accused the president of treating Puerto Ricans, who are American citizens, as second-class.
Trump on Friday in a Tweet again raised the issue of the past state of the island but said "I will always be with them!"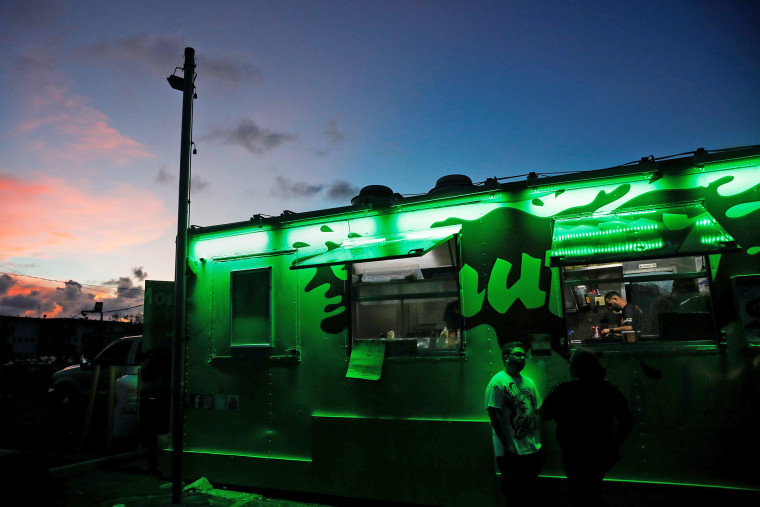 House Speaker Paul Ryan said during a visit to Puerto Rico Friday "we are all in this with each other for the long haul to make sure that this island survives." Vice President Mike Pence said during a visit last week that "our message here today is the same as President Trump's message earlier this week: We're here for the long haul."
NBC News found this week that residents of the remote town of Añasco said they've seen little federal response. FEMA says that 19,000 military and civilian responders are in Puerto Rico and the U.S. Virgin Islands after the hurricane.