VIEQUES, Puerto Rico — This island is just seven miles off the coast of Puerto Rico, but Hurricane Maria has made it feel cut off from the entire world.
The few choppers and supply planes that made it to the island landed Friday in a tropical paradise returned to the Stone Ages by a storm that knocked out power, flattened homes, ripped out trees by the roots, and turned longtime residents into refugees.
"It's a small community, people look after themselves, but there's no power, there's no water, no cellphone signal, there's no comfort for people," Sebastian Watt told NBC News.
It's also a community that's wondering when help will arrive.
"It's interesting to me that being part of the largest, and ... wealthiest, and possibly the strongest country in the world, well over a week since the hurricane, we still don't see any ... large physical difference, from a week ago," Watt said.
That's a lament that has been heard across Puerto Rico in the week since Maria roared through and has Trump administration critics comparing the slow response to the botched response following Hurricane Katrina.
"I don't know where that support's coming from or when it's coming, but they do need it now," Watt said.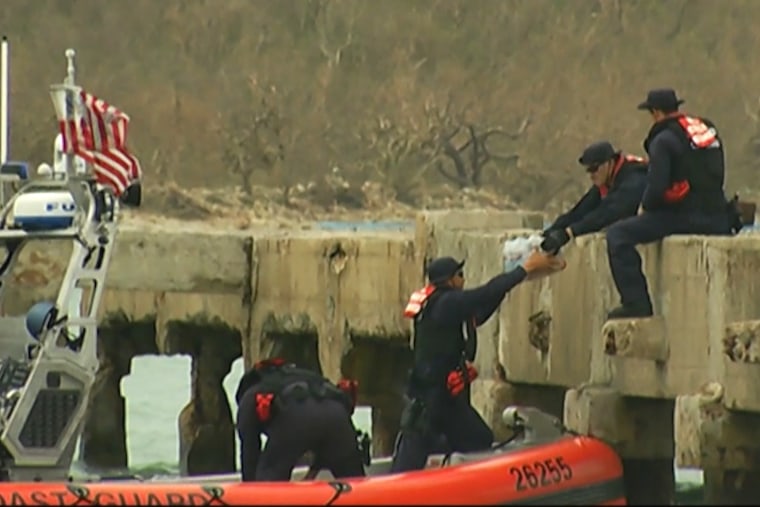 Another resident, Nathan Parens, said that after Hurricane Irma hit, he and a friend flew supplies to Tortola in the British Virgin Islands.
"All the people of Vieques were donating the supplies," he said.
But in the wake of Maria, Parens said residents of Vieques are now the ones in need of help. He and his friend have been flying storm survivors to the main island, about 45 so far.
"But the hard part is once we get into Puerto Rico they can't get out," he said. "They're still at the airport trying to get out."
Before Maria hit, Vieques was well known for its pristine beaches, nature reserve, and tourist trade. That is what drew Rebekah Anderson to the island in the first place — and why she is now desperate to leave.
Related: Delayed Response to Puerto Rico Has Echoes of Katrina for Some
"I've been a resident in Vieques for almost nine years and we don't want to leave," she said. "We want to stay, but there is no work here for us. We work in tourism and there is not going to be any tourism for awhile."
Joe Girot, one of the first FEMA workers to make it to Vieques, arrived with a supply of water and food. He said they are still trying to determine the extent of the damage.
"We're still in assessment and we're going to be talking with the mayor" of Vieques, Girot said. "That's why I'm here to personally see and view and transmit what I'm seeing back to San Juan."
Help couldn't come soon enough for one man who was staying at his father's badly damaged house.
"We need fuel, we need water, we need directions," he said in broken English. "My house is really disaster."
Tammy Leitner reported from Vieques, and Corky Siemaszko from New York City.