WASHINGTON — Michelle Torres' community in the town of Coamo, Puerto Rico, still lacks power. But in New York, where she took refuge, she's now on the verge of homelessness.
Six months into the "recovery" from Hurricane Maria's pounding of Puerto Rico on Sept. 20, Torres has been shoved between these undesirable choices — live without power in Puerto Rico or live in a New York shelter.
"We are Americans, and the aid has not arrived as it should," said Torres, who left Puerto Rico for New York in October with her husband and three children, ages 10, 13 and 16.
The family first lived in a shelter, then in two hotels, in the Bronx and Brooklyn. But their hotel voucher from the Federal Emergency Management Agency was due to run out Tuesday, sending them back to a shelter.
So Torres decided to be in the nation's capital Tuesday to rally against the response of FEMA and Congress, hoping that lawmakers and the administration see the urgency of her situation and that of other Puerto Ricans.
Organizers as well as those who attended the rally on the six-month anniversary of Maria's knockout blow hope it helps keep the grueling struggle of the island's residents and its refugees in the American consciousness.
Around 250 people gathered in front of the FEMA headquarters under a cold rain, carrying blue tarps like those provided by FEMA. "These tarps still say SOS," said Julio Lopez Varona, a senior adviser on Puerto Rico at the Center for Popular Democracy, an economic and social justice advocacy group.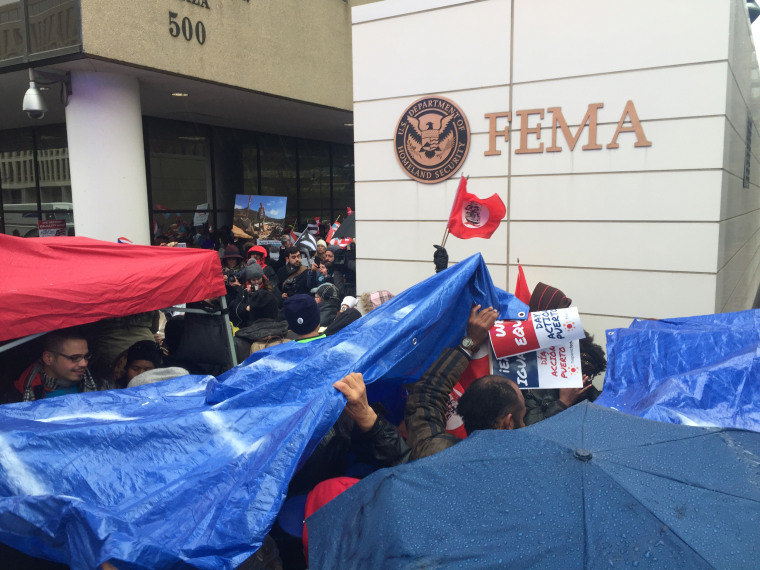 "People are living through this in FEMA hotels, unclear whether they are being kicked out. They are desperate," said Ana María Archila, the organization's co-executive director. "They are here because they want to call attention to this story."
Florida Democratic congressman Darren Soto, whose Central Florida district is home to one of the nation's largest Puerto Rican communities, said that it "fit" that the rally was being held in tough weather. "It fits that we're in the rain, in this sleet, in the hard, cold bitterness of Washington, because we need to warm this place up. This is the type of struggle we're facing back in Puerto Rico; it is fit that we're not here comfortably," said Soto.
Daiza Aponte Torres, 29, of Carolina, Puerto Rico, lost her apartment in the hurricane. Her daughters, 1 and 3, were hospitalized with pneumonia after the storm in a hospital running on a generator. But with the island's shortages of medicine and food, she left Puerto Rico.
As she was leaving the island, FEMA informed her that her home was contaminated with fungus, so she can't return because her daughters' health will be at risk. She is now living in New York on a voucher that will keep her there another month.
"This makes me feel desperate, anguished and depressed," said Aponte Torres, speaking in her native Spanish. "Although my girls are OK healthwise, we don't have a home."
Illinois Democratic congressman Luis Gutiérrez said at the rally, "no descansaremos," meaning "we will not rest," until Puerto Ricans who had to leave can return to the island.
RELATED: Anger grows and hope fades as Puerto Rico's ground zero remains without power
Officials calculate power restoration based on how many meters were active before the storm. Before the hurricane, there were 1.47 million electric meters that were active in Puerto Rico, according to Justo Hernandez, deputy federal coordinating officer for FEMA. Six months after Maria hit, 1.39 million meters are active.
But most of the power energizing Puerto Rico homes comes from three 25 megawatt generators put in place by the Army Corps of Engineers. Puerto Rico's grid is still devastated.
RELATED: I'm staying: Months after Maria, Puerto Ricans settle in Florida
Microgrids have also been set up to help distribute power to other parts of the island, said Justo Hernandez, deputy federal coordinating officer for FEMA. Water is running to about 98.41 percent of clients, he said.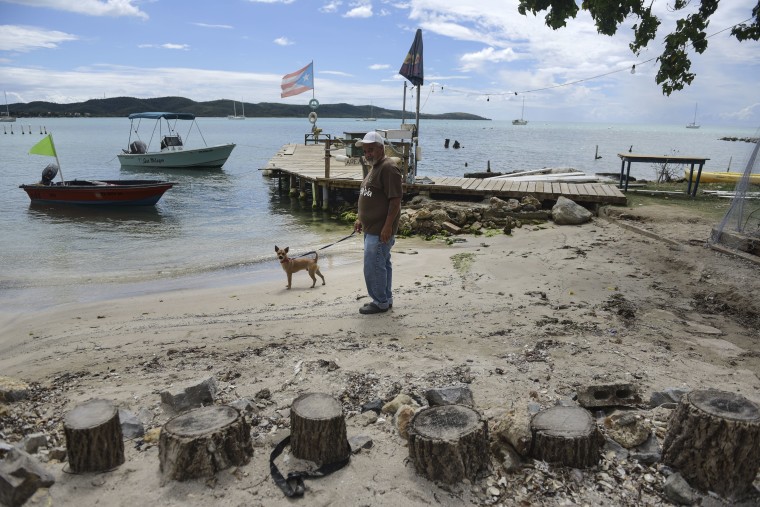 Hernandez said Puerto Rico's progress can't be marked only by water and power generation. He said more than half of the debris from the storm has been removed, including appliances, furniture and other refuse washed from homes. Small business loans and unemployment relief, as well as funds for rebuilding and repairing homes, have also been awarded.
FEMA still is distributing 50,000 meals and 50,000 liters a day to parts of the island, so the response is ongoing, Hernandez said. But he said a lot of effort is also going into building Puerto Rico's "resiliency," making sure it can withstand the next hurricane.
RELATED: Latest blackout shows Puerto Rico's fragility after Maria
"Right now I am right where I need to be based on the effort we have done," Hernandez said about the recovery progress. But, he said, "I'm running out of time because hurricane season is four months closer to me."
The next few months mean getting flood control in place for the coming rainy season, equipping critical infrastructure such as hospitals with generators and training and certifying state and local government officials in emergency management while keeping pace on the decadelong job of rebuilding electrical and other infrastructure.
RELATED: Why does restoring full power in Puerto Rico seem like a never-ending task?
"I have a lot of work to do. I'm not concerned with running to get things done," he said. "I'm concerned with doing things with resiliency to avoid repetitive losses."
As Hernandez keeps up with that work and the long-term rebuilding efforts continue, Julio Lopez Varona, a senior adviser on Puerto Rico at the Center for Popular Democracy, said his hope is to keep attention focused on the island. It already seems to be fading, he said.
"After Hurricane Maria, people saw pictures of what's happening and felt compelled to do something," Lopez Varona said. "But after two or three months there was an expectation that things would be better, and that is not the truth and the media has gone on to another story."