WASHINGTON — A three-star general is headed to Puerto Rico to help with the hurricane relief for the U.S. territory and Virgin Islands where, eight days since Hurricane Maria made landfall, there is still a struggle to get basic supplies to stranded and cut off residents.
Lt. Gen. Jeffrey Buchanan, based in San Antonio, was to act as the Joint Force Land Component Commander and was expected to head to Puerto Rico Thursday evening. He'll be working with FEMA to identify needs and provide military assistance and assets and is scheduled to stay for several weeks, North Command said Thursday.
His move to Puerto Rico comes as lawmakers, mostly Democrats, but also some Republicans including Sen. Marco Rubio, R-Fla., have been calling on President Donald Trump to up the military involvement and authority over bringing relief to Puerto Rico and the Virgin Islands a week after enduring a thrashing from Hurricane Maria.
Buchanan's deputy, Brigadier Gen. Richard Kim has been on the ground coordinating DOD's response with FEMA and local authorities for the past 24 hours.
"The supply chain in Puerto Rico is broken," said Sen. Marco Rubio, R-Fla. "It's not just broken it is shattered."
Buchanan is a lieutenant general and the head of Army North based in San Antonio. Moving him to Puerto Rico could hasten decision making since he will be on the ground with Kim who had been consulting him.
Since returning to Washington from a congressional recess, members of Congress of Puerto Rican descent, joined by Congressional Hispanic Caucus members and Democratic leaders have been pushing Trump to make the military the lead agency in the relief effort, rather than FEMA.
Officials said the response has moved from a sea-based to an on-the ground effort. John Rabin, FEMA's Region II acting administrator who is in Puerto Rico, told reporters Thursday afternoon all municipalities have been reached and food and water has been delivered to all of them. He said 11 supply points have been set up on the island where 1.1 million liters of water and 1 million meals have been delivered.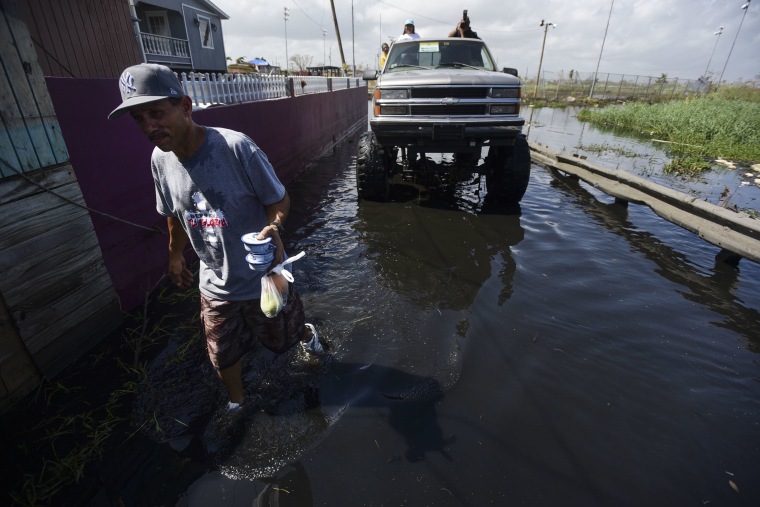 Alex de la Campa, who Trump put in charge of the coordination of the relief effort, said there were problems with trucks getting fuel and getting out to municipalities but he said they are now starting to move and distribute.
Lawmakers have been complaining that the administration has been moving too slowly and that the situation has grown dire as each day has passed.
In a news conference Thursday, Rubio said while it's good that the military has put a higher-ranking officer in place to work with FEMA, the military should be in command.
"I have and continue to encourage the White House through formal and informal channels to step up the DOD engagement as the lead agency."
RELATED: Dark Days, Long Nights, Descend on Puerto Rico
Rubio said that is not working because FEMA is not constructed to be the singular lead agency in this disaster where power and communications have been shut down, roads remain impassable, hospitals were shut down and not all are up and running and people are unable to get daily medications among other problems.
"The only dynamic that will shift this is a significant upsurge in the military presence, it is the only organization in the world able to appear on scene and deal with these logistical challenges," he said.
Lt. Gen. Russell Honoré, now retired, was put in charge by then President George W. Bush for Hurricane Katrina to straighten out the failed federal response. Honoré has criticized the response to Maria.
He told Bloomberg News more people and equipment should have been sent to the island before the storm and the DOD should have had more authority in the response.
"This is a hit on the White House," he told Bloomberg.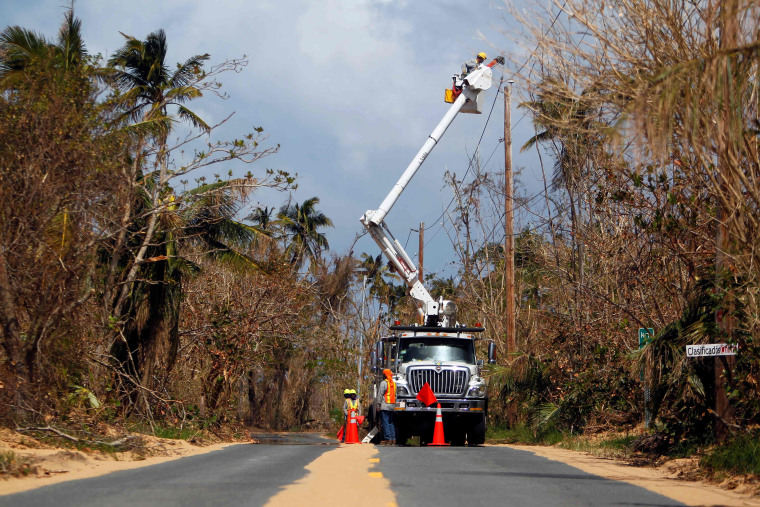 At the White House, Acting Homeland Security Secretary Elaine Duke said the relief effort is under control, and proceeding very well, considering the devastation that took place.
According to Tom Bossert, Trump's national security adviser, there have been 16 confirmed deaths. He said 44 of Puerto Rico's 69 hospitals are operational.
Rubio called the relief effort "haphazard" and said the command structure is a "three-headed monster."
"It's one thing to have someone in charge of the military response, another thing is to have someone in charge of the military response with the authority to make decisions," he said.
RELATED: Half of Hurricane Ravaged Puerto Rico Lacks Water
Frustrated Democrats continued to criticize the response. Rep. Nydia Velázquez, D-N.Y., who was born in Puerto Rico, said the response is "inexcusably slow and ineffective."
She said she is pleased that a senior official will oversee much of the relief efforts "but this should have not taken eight days.
"The administration's response thus far has been unacceptably slow. This is one step, among others, that my colleagues and I previously requested to speed assistance to the people of Puerto Rico. I'll be keeping a close eye to see that the pace of the federal response accelerates," she said.
Rep. Michelle Lujan Grisham, D-N.M., chairwoman of the Congressional Hispanic Caucus, said that Republicans should have appointed someone to manage the crisis early.
She said members of the Hispanic Caucus are considering marshaling resources through states to get help to Puerto Rico if there is not a turn around in the response.