WASHINGTON — Despite the widespread damage to Puerto Rico's infrastructure inflicted by Hurricane Maria, the federal government is making no promises to fix it.
President Donald Trump cast doubt Friday on whether Washington would lend a hand to repair the island, and a spokesman for the Federal Emergency Management Agency told NBC News that administrators want to assess the damage before committing to fixing public infrastructure in the ravaged U.S. territory.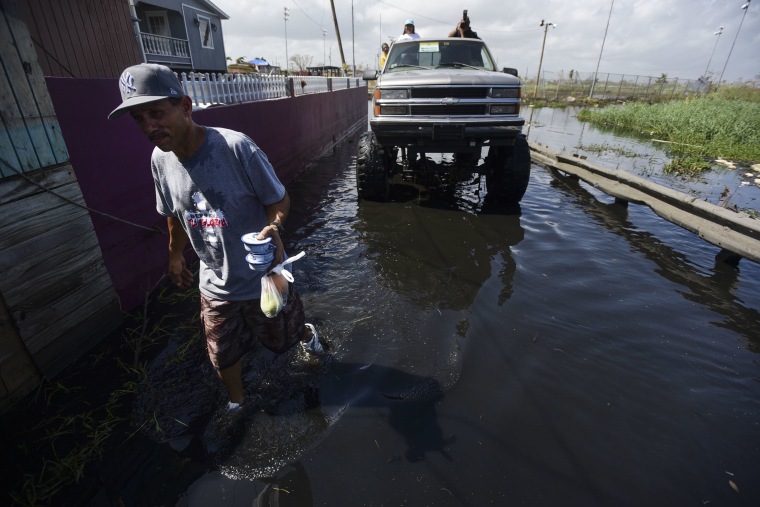 "The fact is that Puerto Rico has been destroyed by two hurricanes. Big decisions will have to be made as to the cost of its rebuilding!" Trump said in an early morning Tweet.
Later Friday, during a speech on tax policy, Trump said, "Ultimately, the government of Puerto Rico will have to work with us to determine how this massive rebuilding effort…will be funded." Trump said the effort "will end up being one of the biggest ever" and noted that Puerto Rico already had "a tremendous amount of debt."
The presidential disaster declaration for Texas after Hurricane Harvey included a promise of federal funds to cover up to 75 percent of the costs to repair "damaged public facilities" including roads, bridges and schools.
No such clause currently exists in the disaster declaration for Puerto Rico.
FEMA spokesman William Booher said "what is available to Puerto Rico currently is individual assistance" as well as funding for clearing debris and other emergency relief efforts.
Booher said declarations can be amended to include funding that is not initially included "as the impacts of the disaster become clear" through a damage assessment. That assessment has not yet taken place in Puerto Rico, Booher said.
The Texas declaration, however, included funding for public infrastructure repairs on Aug. 30, during the immediate aftermath of the storm. Maria hit Puerto Rico more than a week ago, leaving the island without power and many people without drinking water.