The U.S. Army Corps of Engineers plans to begin removing mega-generators providing backup power at Puerto Rico's power plants as soon as next week, and island officials are concerned that this is taking place in the middle of hurricane season.
Puerto Rico has struggled to recover from Hurricane Maria, which devastated its power grid last September.
The U.S. Army Corps of Engineers, under direction from the Federal Emergency Management Agency, had contractors install three large generators in November to lend support to the Palo Seco power station in Toa Baja and another one in Yabucoa — the island's primary power plants.
The generators can serve as backup if storms damage the main plants, or if other power systems fail. The two Palo Seco generators in the north help stabilize the grid, and could power water pumps in San Juan. The generator at Yabucoa can act as backup if high-tension power lines that cross the island fail.
In May, FEMA agreed to leave the mega-generators in place until the island's utility could buy them, responding to pleas from Puerto Rico's governor. But Puerto Rico's power authority, PREPA, which is undergoing major changes and is bankrupt, has not agreed to buy the generators so far.
Together, the three mega-generators produce enough power to energize about 90,000 U.S. homes. However, at least one of those generators is expected to be removed as soon as next week.
"It has been determined that Yabucoa power plant has stable power transmission, and therefore, demobilization efforts will begin for the mega-generator at Yabucoa on July 18," the Army Corps of Engineers said in a tweet.
The other two, which are in Palo Seco, are expected to be removed next month, according to PREPA.
The removal of the generators is taking place in the midst of the 2018 hurricane season. Puerto Rican public officials, including Gov. Ricardo Rosselló, have reiterated the vulnerability of the island's power system.
On Tuesday, Puerto Rico Sen. Eduardo Bhatia sent a letter to Gen. Todd Semonite of the Army Corps requesting an extension until Dec. 1 to remove the three mega-generators, once hurricane season is over.
"The Puerto Rican power grid is too fragile," Bhatia said at a press conference in Spanish. "These next three months of vulnerability, of hurricanes, of winds, of what looks a lot like a very active hurricane season that already started with Beryl, we have to take these into account before we decide to remove the generators."
On Sunday, Puerto Ricans dealt with the remnants of Tropical Storm Beryl, seeing 2 to 3 inches of rain by Tuesday.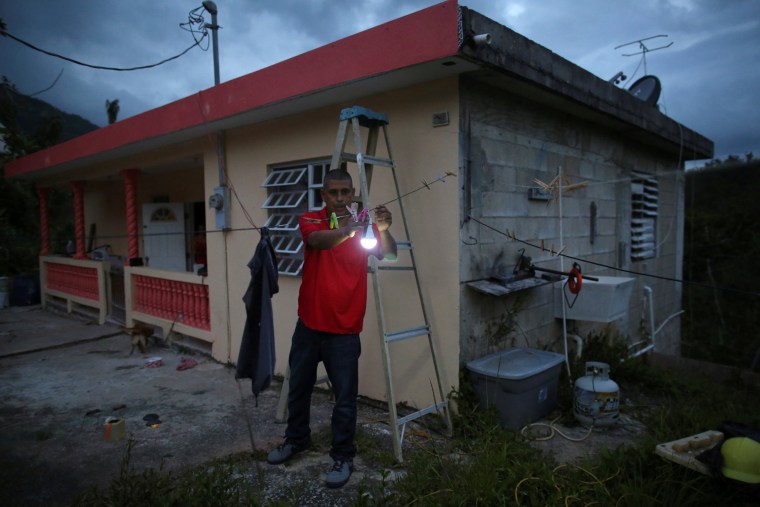 According to PREPA, 99 percent of the island has had electricity restored since Hurricane Maria struck the island on Sept. 20, 2017. While most residents have their power back, it has been interrupted at times by blackouts, including one caused by a bulldozer hitting a transmission line. Local officials in some far-flung municipalities dispute that figure, and say that some mountain communities are still struggling with an unreliable grid.
The U.S. Army Corps said in an email that the Yabucoa power plant in the southern part of the island has "stable power transmission," which will allow the generator's removal beginning on July 18. The Army Corps said the two other generators will remain "until PREPA determines there is sufficient power generation and/or transmission." PREPA said the contract ends next month.
During Hurricane Maria, the power plants largely escaped major damage. Transmission, however, was interrupted as lines came down, knocking out power to all 3 million-plus residents of the island.