CINCINNATI -- International adoption is by its nature an emotional journey, one that traverses the highs of creating a family and the inevitable lows born of jarring change. The road can be rough, both for the parents who often must deal with children with post-traumatic behavioral issues, and for kids who suddenly find themselves immersed in a new family and a strange culture.
"It's the wildest ride you will ever take," says Shelli Giess, who with her husband, John, adopted two boys – one from Russia and the other from Guatemala. "And it's also the most satisfying and loving ride you will ever take."
While adoption can itself be daunting, adoption of a child from another country carries its own special set of challenges, experts say. Often the children have endured poverty, neglect or abuse and become anxious or act out in their new surroundings. And, however difficult the circumstances, they also have been separated from their birth parents and been uprooted from their homelands.
With minimal professional support often available, many newly forged families struggle behind closed doors. There, feelings of anxiety, anger and inadequacy can feed a destructive cycle that leads parents to consider desperate measures such as private "re-homing" – a practice in which they transfer guardianship of the children to strangers, without any consultation or oversight from child welfare agencies, counselors, courts or lawyers.
An innovative program in Cincinnati is working to change that dynamic for the Giesses and other families, providing a network that can help them weather the storms – or ensure that the kids land in a safe harbor if a living situation is untenable.
"I don't want them to be feeling alone, that there's no one out there that can help them," said Dr. Mary Staat, who founded the International Adoption Center (IAC) at Cincinnati Children's Hospital in 1999, based on her experiences as a doctor and an adoptive parent of three foreign-born kids. "… I think that's where we have the problems with re-homing. … People feel that, 'No one understands what I'm going through. … I'm ashamed of what I'm feeling and I'm ashamed that I can't care for the child anymore and I'm at the end of the road."
Related story: Adopted Girl Was 'Re-Homed' After Reporting Dad's Alleged Sex Abuse
With international adoption by U.S. parents declining in recent years – down from a high of 22,991 in 2008 to 8,668 in 2012, according to the State Department – some adoption advocates are concerned that funding for programs like the IAC will be scaled back.
But Staat says that would be short-sighted, given that hundreds of thousands of internationally adopted children are living in the U.S. and will continue to need support, even as they become adults.
"It's not just when they come home, but it's throughout their lives," she said.
The IAC provides a broad range of services -- everything from counseling for couples or individuals contemplating adoption to education, nutritional guidance and mental- and behavioral-health therapy for families having difficulty adjusting to their new reality.
NBC News got an inside look at the program in early March, observing as therapist Tisha Way, seated behind a two-way mirror, coached Shelli Giess as she played in an adjacent room with her adopted son Braeden, 8, who was born in Guatemala.
Known as "parent-child interaction therapy" the session unfolded with Way sometimes letting mother and son play on their own and at other times offering tips on behavior modification techniques via a hand-held radio and an earpiece worn by Shelli.
"A lot of times, the behaviors can be so difficult to manage for families that … even just having that one-on-one time with their child is something that is a struggle to do," Way said. "So what we're really doing is kind of taking a step back. Even though we may not be specific talking about the behaviors that we're targeting, we're helping them re-engage with the child.
"… Our goal is to kind of start really small, helping put some really good parenting practice(s) in place, and then see kind of where we can go from there in … handling some of the other pieces."
Follow NBC News Investigations on Twitter and Facebook
Giess said that the play sessions are fun, but she also sees the benefits afterward in her sons' behavior.
"It makes a huge difference," she said. "I can tell if we get lax and we're not staying on our plan that we've set up with Tisha, because behaviors tank at our house. And it's not just theirs. It's mine too, because she keeps me on my toes, (saying) 'this is what you need to do to give them what they need to succeed.'"
Like many couples, the Giesses turned to adoption after determining that they could not have children themselves, despite nearly a decade of infertility treatments.
After talking to an acquaintance who had adopted a child in Russia, they began working with an adoption agency and soon found themselves getting ready to board a flight to Moscow.
"Then we actually were doing it," John Giess recalls. "The night before, it's like, butterflies in our stomach … and you're thinking, 'What are we doing?' Then … you're going to the airport and it's like, 'This is real.'"
The responsibilities they were taking on became even more real after they traveled to Russia, spent two weeks getting acquainted with the year-old boy they had named Kyle, then took him back with them to Moscow for the flight home.
"I kept waiting for someone to take him and feed him and … they weren't coming," Shelli Giess recalled with a laugh, describing those first days as parents.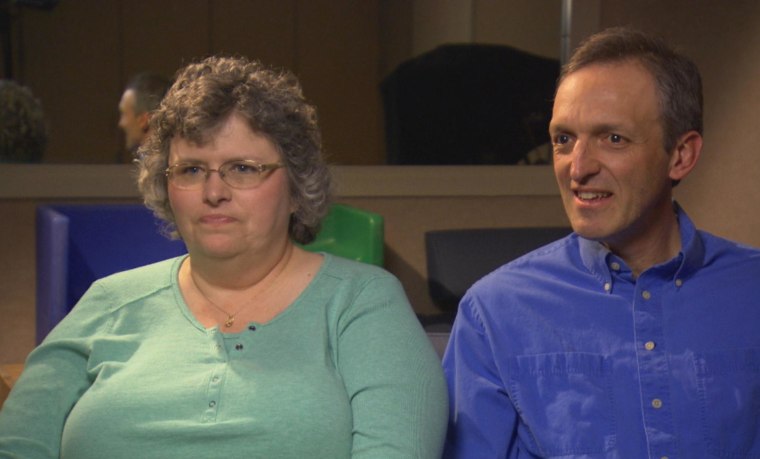 The Giesses had their ups and downs with Kyle, but found parenthood satisfying and, after a few years, decided to adopt again. This time they went to Guatemala, expecting to return with a baby girl but instead connecting with Braeden after the girl's mother had a change of heart.
Shelli Giess said she knew early on that Braeden would present challenges.
"There's a picture of him as a baby that I keep in my wallet," she said. "… He's got this look that's like, 'I am going to be your worst nightmare.'"
As the months passed with two young children at home, the challenges mounted: Kyle seemed distant with his parents and quarreled often with his younger brother. Braeden wouldn't clean up and acted out when his mother corrected him.
The Giesses attended a local support group for international adoptive families, but the lack of expert assessment often left them guessing what was behind the bad behavior.
"We were all navigating this minefield," Shelli Giess said. "And there are a lot of times still that I don't know if … it's a 'kid thing' or is this an adoption thing or an international adoption thing?"
They heard about Dr. Staat and her program through their adoption agency and decided to see if she and her team could help. Looking back, Shelli says that it was one of the best decisions they have made as parents.
"There are days when you just don't know how you're going to do it, … (but) you can pick up the phone and call the ICA and get the support to answer your questions and … manage to get through the rest of the day," she said. "I don't know how people who don't know about a resource like the IAC do it."
Staat, who also is a professor of pediatrics at the University of Cincinnati, said the IAC accentuates teamwork approach to helping families shortly after the adoptions, with therapists, nurse and other specialists helping ensure that the child's various needs are being addressed.
'They may not be really loving that child at that point'
"We feel it's really important to have that whole team, because we want to know where they are developmentally, so we have the right expectations about what progress they might be making," Staat said. "… Do we need to right now … have them get speech therapy so they can communicate better? We do all the screenings that are recommended by the American Pediatric (Association). … We assess their nutrition."
The team spends an equal time focusing on the parents.
"I think really importantly that we have a therapist there to talk about the adjustment issues, and to normalize how they're feeling," Staat said. "Because they may not be really loving that child at that point. They may not have the feelings that they thought they were going to have and hoped they were going to have, or … (be) questioning if ... this was the right decision."
One problem she's seen repeatedly is that the new parents don't fully appreciate the hurt that even very young children have experienced.
"We have to always remember that … they've lost something in order for us to have this win, and to have this, you know, wonderful family," she said.
On rare occasions, she said, families already have been torn apart by the time they arrive at the IAC. In those cases, she said, her team can intervene to insure that no harm comes to the children and that the parents don't place undue blame on themselves.
"I do think there are times where it's appropriate to find another solution, to find another family for that child," she said. "And it's sad. I mean I hate to see that child have another loss and I hate to see that family have that loss. … But sometimes it doesn't work, and I think that we have to support those families … so that they don't put a child back on a plane to Russia, so that they don't go on the Internet and place the child … with someone that's unsafe."
Despite the decline in international adoption by Americans in recent years , Staat is hopeful that programs like the IAC will continue to demonstrate their worth and receive adequate funding.
The alternative, she said, as the recent reporting by NBC News and Reuters on the "re-homing" phenomenon illustrates, can have tragic consequences.
"People shared their practices when we started our center … and we're all trying to help each other to have the best practices, to do what's best for the kids," she said.
NBC News' Mike Brunker contributed to this report.
Editor's Note: Today's story is part of a series of online and broadcast reports on adoption by Reuters and NBC News. Click here to read the first five stories on re-homing from Reuters.