Prosecutors and defense lawyers in the Robert Durst case are fighting over whether reams of his personal papers can be used at his Los Angeles murder trial.
Motions filed ahead of a hearing next Wednesday do not detail the nature of most of the paperwork, although there are several references to a mystery document titled "BD Story," which uses the real-estate heir's initials.
The motions do not indicate whether "BD Story" is a memoir or describe its significance to the case.
Durst, the star of the HBO documentary series "The Jinx," is charged with murdering his confidant, Susan Berman, in Beverly Hills in 2000, allegedly because she knew too much about the 1982 disappearance of his first wife, Kathie, who is presumed dead.
He denies the charges.
His lawyers claim the documents — taken from his home in Houston, from pal Susan Giordano's home in New York, and from the New Orleans hotel where he was arrested in 2015 — were illegally seized and are subject to attorney-client privilege.
Prosecutors say he waived attorney-client privilege for the material taken from Giordano's home because he gave her permission to share them with "The Jinx" director Andrew Jarecki.
"I wanted them to ... see me as an acceptable human being, as opposed to all this other stuff."
They claim Durst confirmed that when he was questioned by Los Angeles Deputy District Attorney John Lewin after his New Orleans arrest.
Lewin told Durst it "boggles my mind" that he let the filmmakers have access to all his papers.
"I wanted them to see the whole thing and...that they would see me as an acceptable human being, as opposed to all this other stuff," Durst told Lewin, according to the motion. "And that I couldn't get them to see me as an acceptable human being if I was covering things up."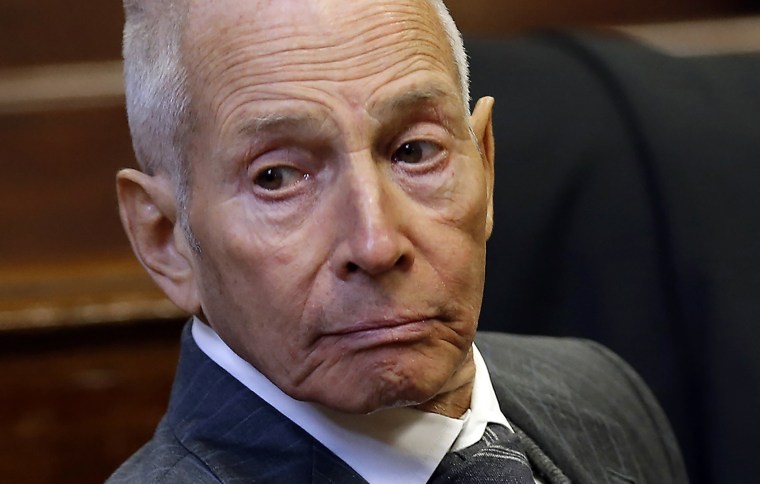 Durst's lawyers say that Lewin's two-hour session with their client, outside the presence of his attorneys, was an "improper interrogation."
Jarecki's series examined Durst's ties to the disappearance of his wife, Berman's slaying, and the 2003 dismemberment of a neighbor in Texas. It ended with Durst's bombshell statement on a hot mic that he "killed them all."
A statement from Jarecki included with the prosecution's motion outlines the provenance of the document called "BD Story." The director said his team obtained a copy from a Durst friend named Emily Altman and that another copy may have been in the boxes at Giordano's house.
Exhibits attached to the motion include the logs of a New York State police investigator who has been probing the disappearance of Kathie Durst for years. In one entry, he writes about a saw found behind a wall in the house the Dursts shared during renovations by a new owner in 2002. A law-enforcement source told NBC News that the saw does not appear to be connected to the case.