Los Angeles prosecutors have released a transcript of a 2015 interrogation of millionaire murder suspect Robert Durst in which he says he can't provide details about the disappearance of his first wife and the murder of a close friend because it would amount to "pleading guilty."
Durst, 73, then mused aloud about what would be in it for him to give information about the two women to investigators.
"As I see it, all you could for me is tell me that 'this is the best prison in California and that I will recommend you go there," the real-estate heir said, according to the transcript.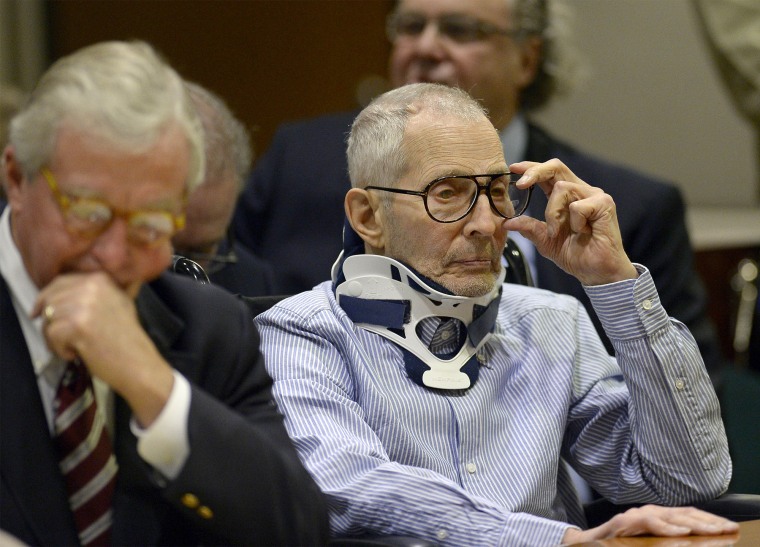 The conversation with Los Angeles County Deputy District Attorney John Lewin took place shortly after Durst was arrested in New Orleans on a warrant out of Los Angeles.
Authorities in LA have since charged him with the 2000 murder of confidante Susan Berman, allegedly killed because she knew too much about the 1982 vanishing of Kathie Durst, who is presumed dead.
Durst danced around questions about both women in the interview, sometimes saying he was going to "stay away" from talking about certain aspects, according to the transcript.
"You'd like some details from me about if I knew where Kathie's body is," Durst said to the prosecutor at one point. "And about what happened with Susan."
When Lewin said that's what he wanted, Durst said, "If I tell you those things, I'm pleading guilty."
Durst has pleaded not guilty. His lawyers said the interview with their client, outside the presence of his attorneys, was an "improper interrogation."
The transcript, which was released as part of a motion ahead of a hearing next Wednesday, also contained the following revelations:
• Durst says he was on methamphetamines when he filmed the HBO documentary series "The Jinx," which examined his ties to Kathie Durst's disappearance, Berman's slaying and the 2003 dismemberment of a neighbor in Texas. The series ended with Durst muttering into a hot mic that he "killed them all."
"The whole time I was on meth," Durst told the prosecutor, according to the transcript. "I think the reason I did it had to be because I was swooped, speeding." He also said that he smoked pot every day for as long as he could remember.
• Durst said he only had five years left to live after losing his esophagus to cancer and struggling with hydrocephalous, or fluid on the brain.
"So there's not much I could agree with anybody that somebody could offer me, unless they could offer me more life," he said when Lewin asked him about his hopes for the future.
• Durst said he didn't flee right after "The Jinx" wrapped, when he was confronted with a damning piece of newly unearthed evidence, because of "inertia."
Durst, who was allegedly on his way to Cuba when he was caught in New Orleans, also said that he really doesn't like life on the run.
"Being a fugitive was not something I did well," he said. "I was the worst fugitive the world has ever met."
• Durst seemed unsure of whether he has Asperger's syndrome, which is on the spectrum of autism disorders, as his lawyers have claimed.
"I never thought that amounted to anything," he told Lewin. But then he added, "The thing with Asperger's syndrome is intelligent people don't get along or don't enjoy communicating with other people. And that is certainly me."
Durst denies killing Berman. He has not been charged in connection with Kathie Durst's apparent death but denies killing her in the interview with Lewin.
"If you had killed Susan, would you tell me?" Lewin asked him.
"No," Durst said.
Durst was acquitted of the murder of Texas neighbor Morris Black after he argued he killed him in self-defense and dismembered his body in a panic. He is currently serving a seven-year sentence for gun possession.