Faced with nonstop coverage of Robin Williams' death, Eric Marcus did what many who have survived a loved one's suicide have been unable to do: He turned away.
He didn't watch the tributes, relive the comedy, read any of the gruesome details of Williams' suicide at 63. "No point in torturing myself," Marcus said.
When a loved one dies from suicide, normal feelings of grief and loss become more complicated. And high visibility suicides like Robin Williams' can bring these emotions flooding back.
"One of the things about suicides is often it is a surprise. It is hard to track another person's emotional life," says Frank Farley, a professor of psychology at Temple University.
Marcus was 12 on the Sunday morning in 1970 when the phone rang and his mother answered, shooing him from the room. He overheard two key details—pills and hospital. His 44-year-old father, Irwin, who had lived with bipolar disorder since he was 18, had attempted to kill himself. Three days later, Irwin died.
"It was the single most traumatic thing that happened to me in my life," says Marcus, the senior director for loss and bereavement programs at the American Foundation for Suicide Prevention.
Many things compounded the loss: Marcus didn't go to therapy, his family didn't discuss it and he instead heard platitudes, such as "Now you're the man of the family."
"That really [messes] you up," Marcus says, who also wrote a book about it, "Why Suicide? Questions & Answers about Suicide, Suicide Prevention, and Coping with the Suicide of Someone You Know."
About 38,000 Americans kill themselves annually, leaving behind friends and families that must grapple with the loss. Losing a loved one to suicide causes people to experience many complex feelings, including extreme anger. Many wonder why a loved one would do it or why they couldn't help.
"With suicide, the anger becomes much more commonly predominant," says Dr. Ron Diamond, a professor of psychiatry at the University of Wisconsin-Madison School of Medicine and Public Health.
Survivors frequently experience what's known as complicated grief, prolonged mourning where a person feels almost obsessed with the death.
"That is somewhat more common in survivors of suicide. They can't move on and feel very preoccupied about the death," says Dr. David Brent, Endowed Chair in Suicide Studies and professor of psychiatry at the University of Pittsburgh School of Medicine.
Survivors also feel guilty and blame themselves. Many believe that if they said one thing differently or if they agreed to go to dinner with the person or if they were better friends, the person might not have committed suicide.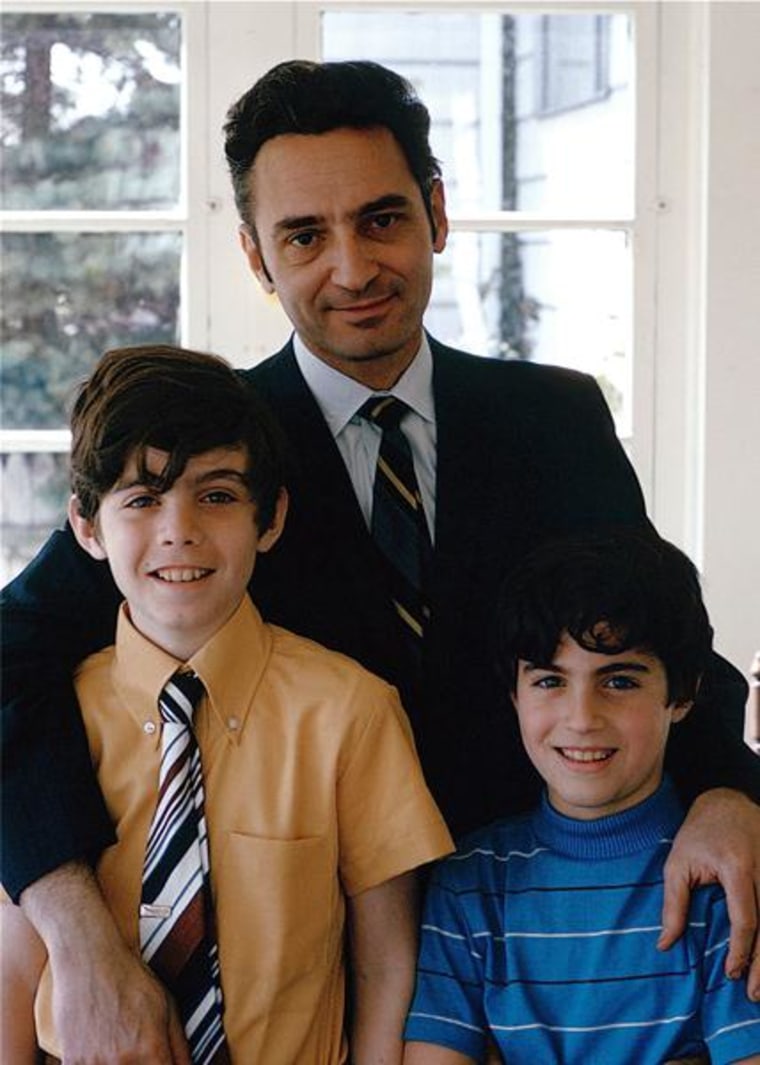 Marcus blamed his uncle and grandparents for Irwin's death, but he also thought he was at fault. As his parents fought more, Marcus sometimes wished his father would die.
"I felt responsible because I wished my father dead," he says.
In many cases, survivors could only have done so much to prevent the suicide. People who are suicidal need treatment, which might include both therapy and drugs. While loved ones can and should urge suicidal people to get help, sometimes there is only so much that one person can do.
"Guilt is never rational," says Diamond.
After a suicide, some people do not know what to say to the grieving family. The stigma surrounding depression and suicide feels so powerful that some people would rather avoid a funeral than address it.
"If someone dies of cancer, the response of the community of friends, family is to gather around and provide support," says Diamond. "Suicide is often embarrassing and people don't want to talk about it … family members are much more likely to be isolated."
Irwin's friends and family shunned Marcus' mother and siblings because many thought she was to blame. His uncle couldn't see Marcus because he looked too much like Irwin. And the family certainly felt embarrassed.
"My father's suicide was a secret and I was told what everyone else was told, was that he died of pneumonia. I knew everyone was lying," says Marcus. He didn't tell his friends that his dad died because he didn't want to lie.
Being alone makes it much harder for survivors to come to terms with the suicide. Because losing someone to suicide is a unique experience, both Diamond and Brent suggest that friends and family join a support group, such as Survivors of Suicide.
"[Don't] allow yourself to be socially isolated," says Diamond. "Make sure you are reaching out to other people in your family and friendship group and talk about it."
Another reason seeking support is essential — people with a first degree relative, a sibling, parent, or child, who commits suicide are four to six times more likely to kill themselves, says Brent. Even adoptive children who have never met their biological parents are more likely to be suicidal if their biological parents are.
"I always feared the possibility of killing myself because of what my father did," Marcus says.
The reasons suicide runs in families remain murky. Mental illnesses runs in families, meaning siblings are more likely to both experience depression, which could lead suicide. Or perhaps when a loved one kills herself, the idea is introduced—suicide becomes a possibility.
"It now says this is an acceptable behavior or something that can be considered," says Diamond.
While this might seem dire, both Diamond and Brent agree that there are extremely effective treatments for mental illnesses and substance abuse. "There is help; there is support; people shouldn't suffer alone," says Brent.
December marks the 44th anniversary of Irwin's death—he's been dead for as long as he lived. Marcus has spent much of adult life considering his father's suicide, but he believes he is in a good place.
"[I] worked very hard to protect myself emotionally … to make sure that I never ended up in the same situation," he says. "I really love being alive."
For help, contact the National Suicide Prevention Center Lifeline at 1-800-273-TALK (8255) or see this list of resources.