CAIRO, Egypt — Investigators on Wednesday began analyzing the "black boxes" from the Metrojet plane which broke up in midair, sources said.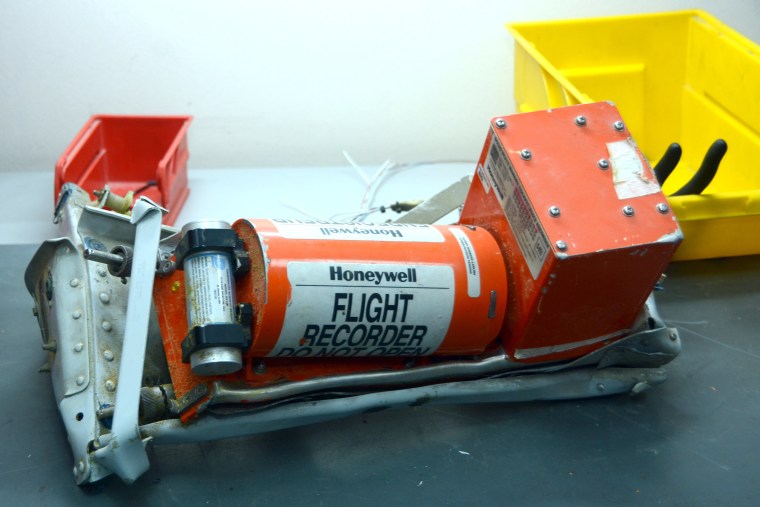 Information from the Airbus A321's flight data recorder and cockpit voice recorder was downloaded on Tuesday and will be examined by experts, sources in Egypt's civil aviation ministry told NBC News.
ISIS also issued a new claim via social media that its militants had downed the Russian-operated plane. However, authorities have already dismissed the idea the jet could have been hit by a militant missile.
Flight 7K9268 was carrying 217 passengers and seven crew from the Egyptian resort of Sharm el-Sheikh to St. Petersburg when it crashed, killing all on board.
The inquiry is expected to focus on whether an explosion — perhaps caused by a bomb — or a structural failure caused the plane to break up some 20 minutes into its flight, at about 31,000 feet.
Investigators have also turned their attention to who was on board — and who would have had access to the doomed jetliner before takeoff. An airport source told NBC News that Egyptian security at Sharm el-Sheikh Airport has been focusing on who gained entry to the departure hall, was part of the catering and cleaning services, and had permission to be in the departure lounge.
The General Prosecutor for South Sinai has gone to the airport to examine security video, sources said.
"The accident investigation committee started analyzing black boxes," the civil aviation ministry source said, warning: "The results will take a long time to be announced."
Egyptian experts were assisted by representatives from Russia along with Ireland, where the aircraft was registered, and France and Germany — where it was manufactured 18 years ago.
Meanwhile, mourners held a wake for some of the victims in St. Petersburg as authorities confirmed they had identified 33 of the bodies.
"Forensic examination of personal belongings" recovered from the scene was taking place, Russian Deputy Health Minister Igor Kagramanyan told reporters.
The debris search zone was expanded slightly to cover almost 16 square miles, according to Aleksei Smirnov, acting head of the Russian National Centre for Crisis Management at the country's emergency ministry.
"The third stage of the search operation is continuing, with additional examination of parts of the plane fuselage in difficult terrain," he said. "The photographic documentation of the aircraft wreckage is nearly completed."