The FBI on Saturday concluded its search of a lake not far from the scene of a terror attack in San Bernardino that killed 14 people last week, an official with the agency said.
The official would not comment on what possible evidence in the case was recovered. Divers have been looking for hard drives or other electronic evidence in the lake since Thursday, and earlier Saturday authorities said no important evidence had been found.
Syed Farook, an American citizen, his wife, Tashfeen Malik, a Pakistani national here on a visa, killed 14 people when they opened fire on a luncheon for county employees at a social services facility on Dec. 2. Both were later killed by police.
Faroork and Malik are believed to have radicalized separately as early as 2010, before they met and married, NBC News learned Saturday.
The New York Times reported Saturday that while Malik passed three background checks by immigration officials before being admitted to the U.S. on a fiancée visa, her social media accounts were ignored.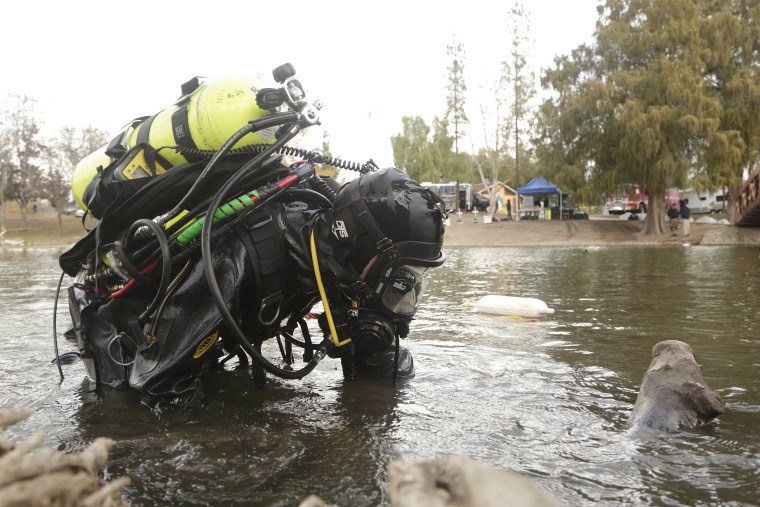 On social media Malik had posted about her desire to be a part of violent jihad, which was only recently discovered by authorities, according to The New York Times.
The FBI is investigating the mass shooting as an act of terrorism.
Related: FBI: San Bernardino Shooters Radicalized Before They Met
Investigators began searching the lake about 3 miles away from the scene of the massacre after getting a tip that a hard drive that belonged to the couple might be submerged there, according to a law enforcement official briefed on the investigation but not authorized to speak publicly about the case.
Investigators Saturday were also still monitoring Farook's longtime friend and relative-through-marriage, Enrique Marquez, who bought the assault rifles used in the shooting and were purchased more than three years ago. Marquez has not been charged with a crime, and investigators say he has been cooperative.
As the investigation pressed on, funerals for three of the victims — Tin Nguyen, 31, and Isaac Amanios, 60, and Shannon Johnson, 45 — were held Saturday. Victim Yvette Velasco, 27, was laid to rest Friday.
And less than 100 miles away from San Bernardino, fears of anti-Muslim reaction were sparked when a mosque in Coachella, California, was intentionally set on fire, according to local authorities. No one was injured in the fire, and a suspect, 23-year-old Carl James Dial, was arrested Friday and charged with five felonies, including a hate crime.