Investigators still have not been able to access the contents of one of the cell phones used by the San Bernardino shooters two months ago, the director of the FBI said Tuesday.
James Comey cited that problem as an illustration of authorities' frustration with technology that allows cell phones to lock with no apparent means to override that default position, slowing all sorts of cases, from terror conspiracies to more ordinary criminal investigations — even when a judge rules that the phone contained useful data.
The killers, Syed Rizwan Farook and his wife, Tashfeen Malik, gunned down 14 people at the Inland Regional Center on Dec. 2. Before dying in a shootout with police, they tried to destroy their cell phones, investigators say. Getting into those cell phones, to figure out how and why they attacked, has been difficult.
Cell phone and tech companies commonly use encryption to protect customers' data, features that terrorists have used to communicate secretly. If a phone is secured with a password, it is virtually impossible to access the data without the combination, because many companies don't hold onto the keys.
Comey, testifying before the Senate Intelligence Committee, said the problem the FBI has long described as "going dark," affects all levels of law enforcement, international to local.
He cited a murder case in Louisiana, in which the killing of a pregnant woman last year remains unsolved.
"There are no clues except for the phone there, and they still can't open it," Comey said.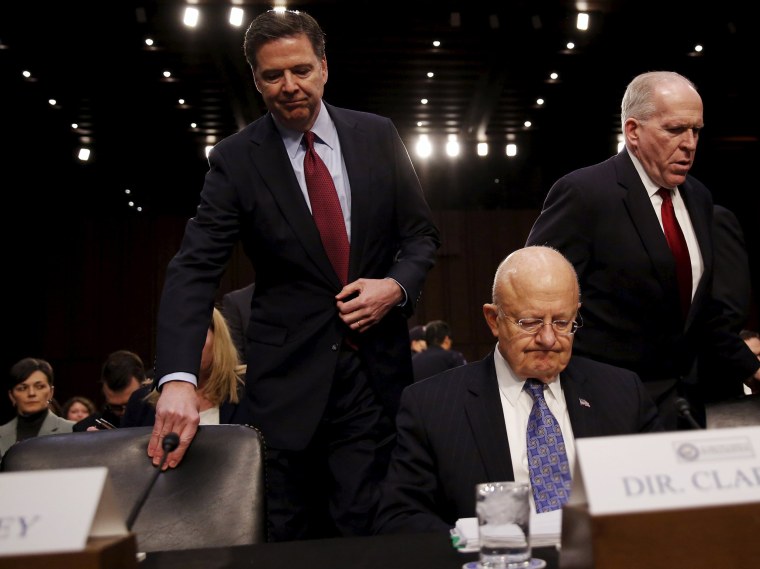 He didn't go into detail, but seemed to be referring to the April 24 killing of 29-year-old Brittney Mills, who was eight months pregnant when she was shot and killed in her Baton Rouge apartment. Her baby later died.
Police have said they believe she knew her killer, but have been unable to access her phone for possible evidence because they don't know her password.
The cell phone discussion was part of a wider exploration of the use of cell phone encryption during the Intelligence Committee session, in which Comey testified alongside Director of National Intelligence James Clapper, CIA Director John Brennan, Director of the Defense Intelligence Agency Vincent Stewart and Director of the National Security Agency Michael Rogers.
Clapper said the United States hadn't "fully explored" technological solutions.
Rogers said the challenge for authorities were to balance privacy with protection and safety.
"Let's start thinking about how do we figure out how we make this work," Rogers said.
But some security experts doubt that the problem is as severe as Comey and others say.
Tech companies say that allowing openings in encryption for authorities would make more people vulnerable to hackers.
Last week, Harvard's Berkman Center for Internet & Society issued a report saying that technological developments and "market forces" would fill intelligence gaps.