The suspects in Wednesday's mass shooting in San Bernardino, California, used a weapon that appears to have been modified in an attempt to allow it to fire fully automatic, a senior law enforcement source told NBC News.
Government field tests showed that the modification to fully automatic mode was performed but failed, the source said.
Fourteen people were killed when two shooters, identified as Syed Rizwan Farook, 28, and his wife, Tashfeen Malik, 27, opened fire at a holiday luncheon at the Inland Regional Center. Farook and Malik were later killed in a shootout with police.
If the weapon had been successfully turned fully automatic, it would have fired far more rapidly. Semi-automatic weapons fire one round each time the trigger is pulled. Automatic weapons continue to fire while the trigger is depressed.
Related: First Cop on Shooting Scene Vividly Describes 'Carnage' and 'Tragedy'
The weapon that was attempted to be modified to fully automatic is believed to have been used by Farook, the source said.
A second rifle believed to have been possessed by Malik was purchased compliant with strict California gun laws, the source said. It was subsequently changed to have a large-capacity detachable magazine which would be illegal under California law, the source said.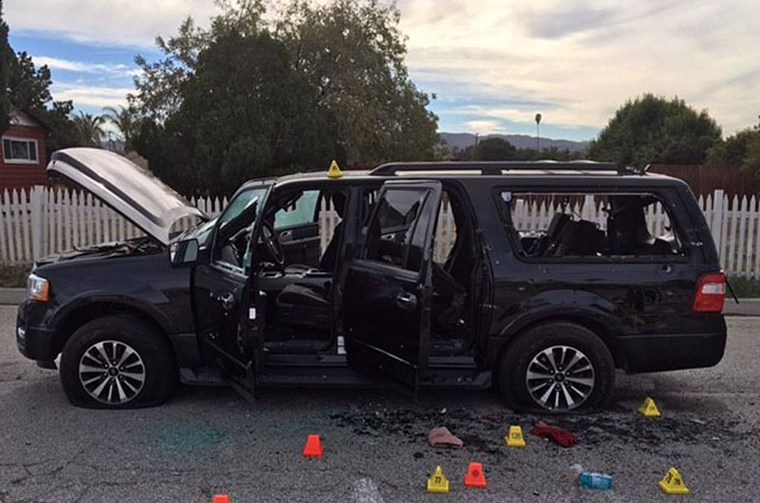 Two rifles and two handguns recovered after the police shootout were legally purchased, but authorities have not specified who bought the weapons, or who made the modifications.
Two .223-caliber assault-style rifles — a Smith & Wesson M&P 15 and a DPMS model — were recovered after the police shootout, police said. The two suspects also had two 9mm semiautomatic handguns, police said.
The suspects used and carried what appeared to be multiple, 30-round rifle magazines, some of which were taped together, the source said.
Police on Thursday released photos of the weapons, magazines and some of the tactical gear recovered after the shootout with police.
Related: San Bernardino Killers Could Have Jihadi Connections
Farook was an inspector with the San Bernardino County health department. The conference room he allegedly opened fire on was hosting a training session and holiday luncheon for health department employees, police said.
Twelve of the 14 killed were county employees, and 18 of the 21 injured, were county employees, an Bernardino Police Chief Jarrod Burguan told reporters Thursday. Around 75 to 80 were in the room when the shooting occurred, he said.
In total, the pair carried more than 1,400 .223-caliber rounds and 200 9mm rounds during the gunbattle with police, officials said.
The suspects fired as many as 75 rounds at the Inland Regional Center, and then another 76 rounds during the pursuit and shootout with police, officials said.