In a crime riddled with questions, she is the leading mystery.
After masquerading for months as a newly Americanized housewife, Tashfeen Malik dropped the facade in a burst of gunfire on Wednesday, joining her husband in an attack on his office Christmas party that left 14 people dead and 21 injured.
Until that moment, Malik had maintained a low profile in her adopted homeland. A devout Pakistan-born Muslim, she spoke broken English, wore a veil in public, avoided her neighbors and refused to drive, even after giving birth to her first child in May. She didn't appear to be very active on social media, but just before the attack, she logged onto Facebook and posted a statement of support for ISIS leader Abu Bakr al-Baghdadi, according to law enforcement sources.
Malik and her husband, Syed Rizwan Farook, died in a shootout with police a few hours later, leaving investigators to piece together their path from quiet suburban parenthood to one of the deadliest mass shootings in modern American history.
Gallery: Go Inside San Bernardino Shooting Suspects' Home
The FBI said neither Malik nor Farook had been on their radar.
"There is much that doesn't make sense, even for people that do this for a living," Director James Comey said Friday.
This much is known: Malik, a Pakistani national in her late 20s, was from the province of Punjab but had lived with her family in Saudi Arabia for many years before returning to Pakistan to study pharmacy. She first met Farook, 27, who was born in Illinois to Pakistani parents, online. They agreed to meet in Saudi Arabia in 2013, when he performed the Hajj, a pilgrimage to Mecca that is required of Muslims.
Related: Wife in San Bernardino Shooting Joins Small List of Women Mass Killers
They married, and Farook, an introverted San Benardino County health inspector, successfully petitioned to bring her home through a visa program for foreigners engaged to American citizens. Their California marriage license became official in August 2014, allowing Malik legal resident status and putting her on the path toward becoming a naturalized American citizen.
During her year or so in America, Malik seemed to her husband's family like a "typical housewife" — albeit one with traditional Muslim ideals, the family's lawyers said. When the relatives came over, she never showed her face to the men. She was soft-spoken and kept to herself, but appeared to be assimilating fine, they said.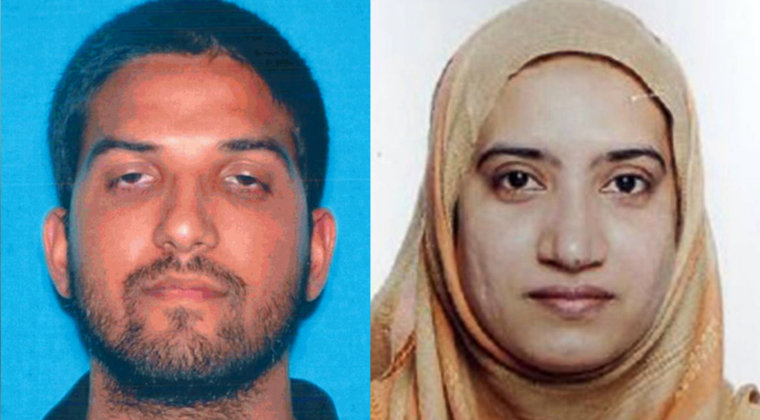 "We were barely starting to get to know her because she was quiet, and shy like [her husband]," Saira Khan, Farook's sister, told NBC News Friday.
Neighbors had a similar impression. One described her as reserved, averting looks whenever she passed by people, always wearing a veil.
Occasionally, she showed up at the mosque where Farook worshiped.
After she became pregnant, Malik opened an online registry at Target, but listed only four items.
The baby, a girl, arrived in May. To Farook's family, the couple seemed happy, Khan said. Malik nursed her daughter, and seemed to enjoy being a mother. She and Farook gave no outward sign of violence or fanaticism.
"If you met her, she was like the girl next door, you know?" Khan said. "The sweet innocent kind. The kind that's always smiling, that's nice to you."
But at some point, Malik and Farook began secretly plotting their deadly attack, authorities said, amassing a cache of weapons and ammunition and turning their garage into a bomb-making facility.
Related: San Bernardino Shooter Was 'Bad Person,' Not Radical: Brother-in-Law
On Wednesday morning, authorities said, they left their daughter at home with Farook's mother, saying one of them had a doctor's appointment. Farook went to an office party with his colleagues at the San Bernardino County Division of Environmental Health Services. He left and returned a little later with Malik, both of them wearing masks and carrying assault-style rifles. They mowed Farook's colleagues down, then fled, leaving behind a remote-control bomb that did not go off.
That's what investigators have been able to piece together. But there are many questions that remain unanswered. Most notably:
Had Malik and her husband become radicalized? If so, how?
"We have no indication that these killers are part of an organized larger group or form part of a cell," Comey said. "There's no indication that they are part of a network."
ISIS has not claimed responsibility for what the couple did, but a media organization affiliated with the group has called them "supporters."
The Farook family's lawyers said they were skeptical of any purported links to terror organizations, saying they had seen no solid evidence.
Related: Pakistan Assists U.S. on San Bernardino Suspect Tashfeen Malik
Other basic facts are also unclear, including Malik's age. Authorities have said she was 27, but her California marriage license says she was 29.
On Friday, authorities in the United States, Pakistan and Saudi Arabia continued trying to piece together Malik's travels, and any links to terror groups.
That includes the process by which Malik was allowed to join Farook in the United States. A State Department spokeswoman said the agency was confident in the process but did not say how or where in Pakistan Malik obtained her visa.