Members of two California mosques where San Bernardino shooter Syed Rizwan Farook worshipped told NBC News they knew him as a mild-mannered and devout Muslim who came to prayers on his lunch break and got married at Islam's holiest shrine.
They said that if he had been radicalized — authorities now say it appears he was recently in touch with people with extremist viewpoints — it did not happen at their Southern California masjids.
"It doesn't make any sense at all," said Nizaam Ali, 23, of Dar-Al-Uloom Al-Islamia mosque in Muscoy, a suburb of San Bernardino.
"We never saw him raise his voice. We never saw him curse at anyone, disrespect anyone. He was always a very nice guy, always very simple, very straightforward. ... He had a lot of manners."
Mustafa Kuko, director of the Islamic Center of Riverside, another mosque Farook attended for several years, had the same impression.
"He was very mild, very calm, very peaceful, very nice, very decent," Kuko said.
In interviews with NBC News, they said that despite his regular attendance, Farook was so reserved that they did not get to know him intimately.
"He was always a very nice guy, always very simple, very straightforward."
They worried that Wednesday's massacre would bring a backlash against peaceful Muslims who would have turned in Farook had they known his plans. One imam said investigators showed up at his home with guns drawn to question him.
"I swear that if any one of the Muslims had any idea that this man would do such a thing, we would be the first people to respond, the first people to tell authorities that this is what's going on," Ali said.
"It's our religious duty."
Farook attended the Riverside mosque for several years, faithfully appearing at morning and late evening services, Kuko said.
READ: Suspects Had Radical Ties — and a Baby Registry
In 2013, he went on Umrah, a pilgrimage to Mecca, telling Ali that he planned to meet the fiancée he had met online — Tashfeen Malik — and to get married at the Black Stone in the Grand Mosque.
"Imagine to say, 'I got married in the holiest shrine of Islam,'" Ali said.
When he returned from Saudi Arabia, Farook asked Kuko if he could have a marriage celebration at the Islamic Center.
"He invited some people, his Pakistani brothers and sisters. And it was a good evening," Kuko said.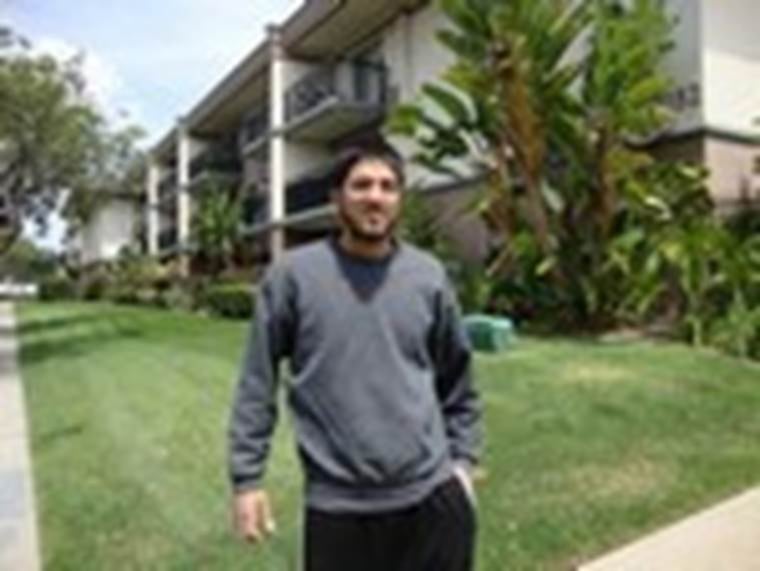 In 2014, Kuko said, Farook moved and started attending Dar-Al-Uloom. There, he often came in for the second prayer of the day while on his lunch break from his county job as a food inspector.
"He was living the American Dream," said Roshan Abbassi, an assistant imam at the mosque. "He had a really good job, really good pay. He had a wife. ... He had a warm house. H e had a baby."
Members said Malik, her face covered by a veil, accompanied Farook when he came to the mosque to buy a goat for the festival of Eid a few months ago. They did not know much about Malik, who gave birth to a baby six months ago.
"He was living the American Dream."
Before the shooting that left 14 people dead during his office holiday party, Farook had not been to the San Bernardino mosque in a few weeks, members said.
Abbassi said he learned of Farrok's involvement Wednesday night when an FBI agent, a Secret Service agent and a Los Angeles police investigator knocked on his door.
"Opened the door — a gun pointed right at my face," he said. "I was shocked. Scared, definitely. What did I do to deserve a gun pointed at me?"
He said he was asked to step outside with his hands on his head. The investigators searched him and searched his home.
"They asked me if I knew this person Syed Farook," he said. "I said, 'Today is the first day I've heard this name.'"
But when they showed him a picture, he recognized him.
Kuko said that when he heard that Farook had been identified as the gunman, he also was floored.
"I don't know what has gone through his mind," he said. "This is beyond me. I could not understand it — and to take your wife and leave your son? It's awful."
Kuko said that aside from the shock that someone he knew had committed such a monstrous crime, he was shaken by the thought of a backlash against Muslims.
"I felt very much demoralized," he said. "Let's be frank — these days when a Muslim does something wrong ... all of us are going to be implicated in it."
"Let's be frank — these days when a Muslim does something wrong ... all of us are going to be implicated in it."
At Dar-Al-Uloom, the effects were already being felt. Abbassi said his first thought when he heard about the shooting was "I hope it's not a Muslim."
On Thursday morning, he checked the mosque voicemail and found messages from strangers that had been left overnight, spewing anti-Islamic hate.
Ali said he wants the public to know that he and other mosque members denounce the bloodshed.
"We are also fellow American citizens. We are also citizens of San Bernardino," he said. "I take this as my own, something that happened in my front yard.
"This is something that hits me directly, being a Muslim in this community since I was a child. We condemn them. We condemn anyone that has these ideas, anyone that wants to kill innocent people."