The attackers who killed 14 at a San Bernardino holiday party had set up a bomb-making factory in their home garage and planned to use Christmas tree lights to set off their explosives, according to documents obtained by NBC News.
When law enforcement searched the residence of Syed Farook and Tashfeen Malik at 53 North Center Street in Redlands, California, 8 miles from the site of Wednesday's attack, they found that "the garage was set up as a bomb making facility including metal-working equipment."
The components found included straight and elbow pipes, internal plugs and caps for the pipes, tape, wiring, wire strippers and cutters, a soldering gun and an electric drill. There was also at least one container of smokeless powder and a number of miniature Christmas tree lights with green insulated wire.
Christmas tree bulbs were used by the Tsarnaev brothers for the ignition systems in the explosive devices they used during the 2013 Boston Marathon bombing. The on-line al Qaeda magazine "Inspire" recommended the bulbs as bomb components in advice about making home explosives.
A bag of about a dozen assembled pipe bombs were also found at the suspects' residence on North Center Street.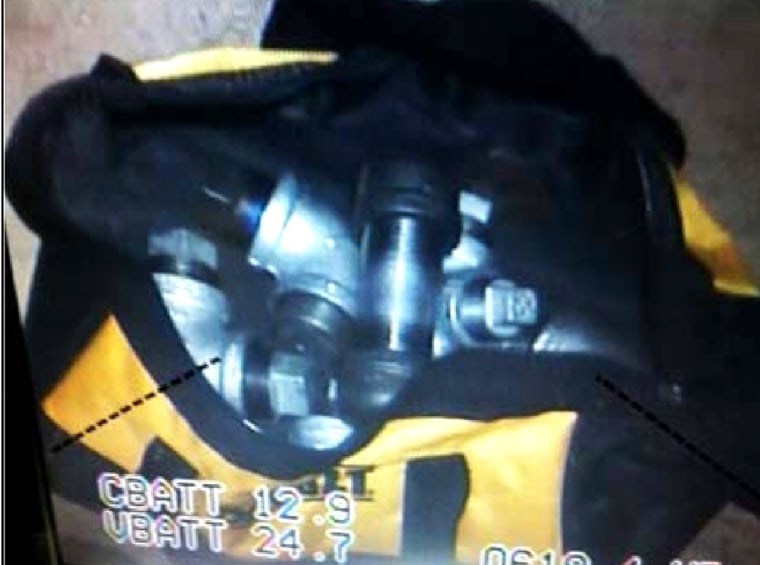 In addition to what was found at the home, a search of the suspects' vehicle and the crime scene at the Inland Regional Center yielded other material including copper pipe rigged with a pull string initiator, a variety of powders and powder filler, batteries, a remote control transmitter. An unexploded remote-control device at the scene of the attack was made of three pipe bombs, a model car and a battery, among other components. The suspects apparently hoped to detonate the device after police and emergency personnel responded to the initial attack.