San Bernardino shooter Syed Farook received a $28,500 loan through online lender Prosper Marketplace Inc. just two weeks before he and his wife opened fire at a holiday party, killing 14 people and wounding 21 others, NBC News has confirmed.
Though the transaction has raised eyebrows, sources close to the investigation said there are no known indications the money trail in this case links the couple with any foreign terrorist organization such as ISIS.
But while the website anonymizes its loan applicants, one expert says it is theoretically possible to use it to send funds to a specific individual.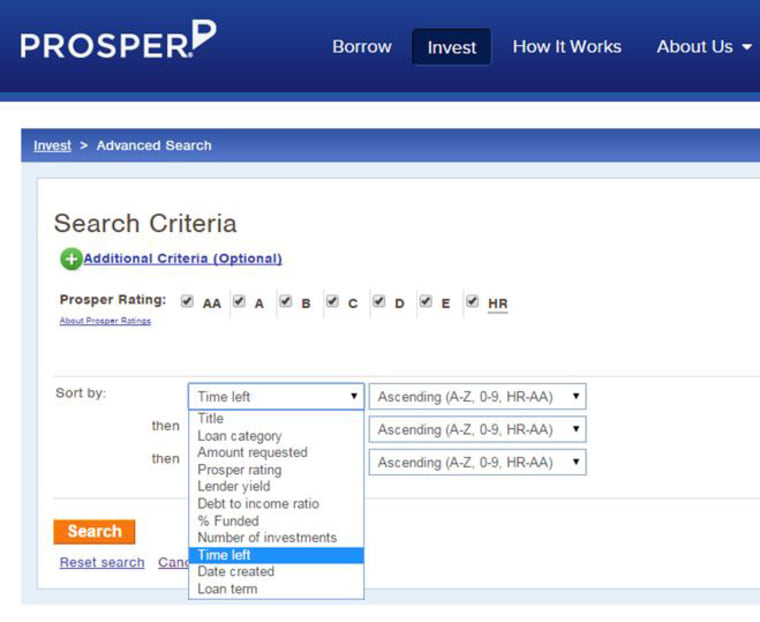 Though individual investors can contribute through these peer-to-peer lending sites, the borrower's identity is protected and investors can't search for a particular loan applicant by name.
That would make it harder for a terrorist group to channel cash to a specific individual, but not impossible.
"It would be a piece of cake," said William Jordan, President of an Orange County, California based wealth-management firm that invests in Prosper.
Using the site's search tools, if you searched by the specific details about the loan such as the exact loan amount, date created, and state it was created in, "I could be 100% certain I was lending on one specific person's loan," he said.
The company says it thoroughly vets all applicants and adheres to all anti-terrorism laws.
In an emailed statement, the online lender said, "All loans originated through the Prosper platform are subject to all identity verification and screening procedures required by law, including US anti-terrorism and anti-money laundering laws. As part of our standard procedures, we also confirm that all loan funds are disbursed into a verified US bank account in the borrower's name."
Terry Fahn, a spokesman for WebBank, the company that reportedly lent the money to Farook, said in an e-mail statement that the company "evaluates all bank loan purposes in accordance with legal specifications such as U.S. anti-terrorism and anti-cash-laundering regulations."
The site itself is an online, "peer-to-peer" lending site part of a new and fast-growing segment of the online finance world that's made billions of dollars over the past few years. Prospective borrowers post their projects, which can include home improvement, starting a business, consolidating debt, or a personal expense, and their credit information. The site matches borrowers with institutions, private investors or pools of private investors who want to fund them. Rates can be lower than a credit card and money is wired into borrowers' accounts in as little as two days after loans are funded from WebBank, based in Salt Lake City.
The loans are aimed at typical American borrowers who have jobs, decent credit and bank accounts. Authorities say Farook likely easily qualified given his long employment as a San Bernadino health inspector where he made $52,000 in 2013.
Related: San Bernardino Shooters Practiced for Attack a Year in Advance
And while there is no evidence that the site was used to funnel funds for terrorism, the news is raising questions about whether online loan platforms are adequately regulated.
Online lenders such as Prosper are not regulated like banks because they do not finance loans themselves. After vetting potential borrowers, they get a bank to write the loans. Prosper and its competitors then sell the loans to investors.
"This is certainly not a good storyline to be associated with," Morningstar analyst Timothy Puls told Reuters. "There's not a whole lot of regulation on this industry and we think that's coming."
The U.S. Treasury Department earlier this year signaled it is scrutinizing the growth of the online lending market when it issued what is known as a request for information, a move that could be a first step toward more regulation of the industry.