The father of San Bernardino shooter Tashfeen Malik on Wednesday said he was saddened by the terror attack and does not know why she took part.
"I am in such pain that I cannot even describe it," Gulzar Ahmad Malik told The Associated Press by phone from Jiddah, Saudi Arabia.
The elder Malik spoke a week after his daughter and her husband, Syed Rizwan Farook, opened fire on a holiday party attended by Farook's colleagues at the San Bernardino County health department, killing 14 and injuring 21.
Investigators have found evidence that Farook, an American citizen with Pakistani parents, and Malik, a Pakistani national, had become radicalized even before their July 2014 marriage, talking online about jihad and martyrdom before meeting each other in person.
Related: San Bernardino Shooter Tashfeen Malik Didn't Stand Out Back in Pakistan
The couple died in a shootout with police, leaving behind a 6-month-old daughter.
Malik's father condemned the attack, and indicated that he did not see it coming.
"Whatever God does only he knows better, and only God knows why did it happen," he said.
He did not discuss the case further, saying he'd been interviewed with Saudi intelligence officials.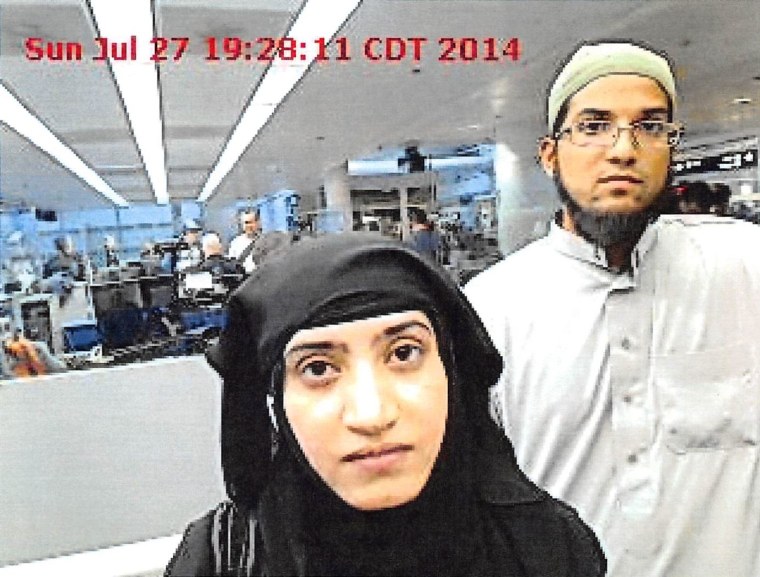 Family and friends have described the couple as withdrawn and unassuming, and having given no sign of being motivated by Islamic extremism.
But investigators have uncovered signs that they were planning the attack for at least a year.
Malik pledged allegiance to the leader of ISIS in an online post just before she and her husband carried out the San Bernardino massacre, law enforcement sources told NBC News.
FBI Director James Comey, testifying Wednesday to the Senate Judiciary Committee, described Malik and Farook as "homegrown violent extremists" who were inspired by foreign terror groups.
Also on Wednesday, the San Bernardino County coroner said it had completed autopsies of all 14 victims and had released their bodies to their families.
Related: Remembering the Victims of the San Bernardino Massacre
Many of those relatives visited the crime scene, traveling in a bus with a police escort to the Inland Regional Center to pay their respects and collect victims' personal belongings. Some brought flowers, adding them to a small memorial in the back of the building.