The young southern California parents who killed 14 people in a workplace rampage last week had both been "radicalized" into following an extreme form of Islam, an FBI official said Monday.
"As the investigation has progressed, we have learned and believe that both subjects were radicalized and had been for quite some time," David Bowdich, the FBI's assistant director in charge of the Los Angeles office, told reporters.
He added, "The question we're trying to get at is how did that happen, and by whom, and where did that happen. And I will tell you right now we don't know those answers at this point."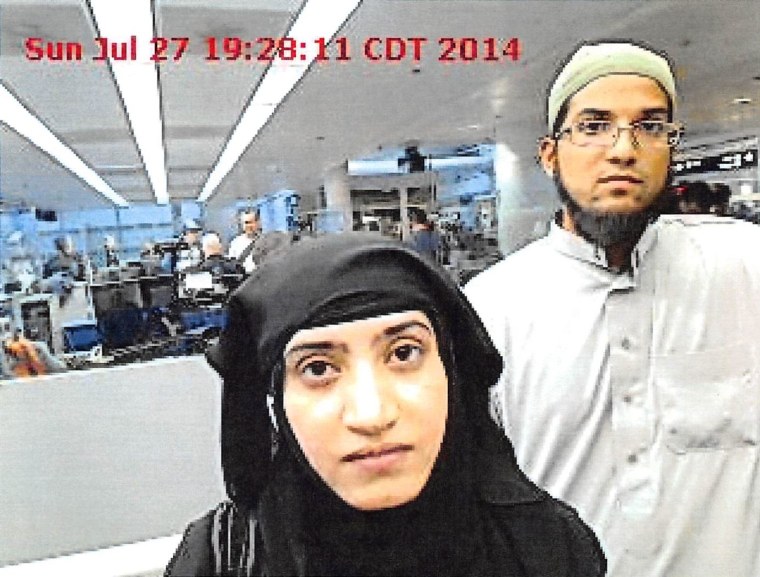 In the five days since Syed Farook and Tafsheen Malik opened fire on a holiday luncheon attended by San Bernardino County health workers, authorities have been trying to determine why the couple, who seemed outwardly quiet and withdrawn, acted with such sudden violence, leaving behind a 6-month-old daughter. Most of those killed, and many of the 21 injured, worked with Farook, a 28-year-old county health inspector.
The questions have focused primarily on Malik, 29, a Pakistani national who reportedly posted a Facebook message just before the attack praising ISIS.
Related: From Housewife to Killer: The Mystery of San Bernardino Shooter Tashfeen Malik
But Bowdich said that it is not even clear whether anyone else is responsible for the radicalization, since it is possible to be self-radicalized through the internet.
Bowdich also revealed that Farook and Malik did target practice at local gun ranges before the attack, including one session just days earlier.
A person closely tied to the Riverside Magnum Range told NBC News that Farook practiced on Sunday and for two to three hours last Monday with numerous weapons, including an assault rifle that appeared similar to the one used in the attack.
Bowdich also said it was unclear whether anyone in the United States or elsewhere gave the couple direct help to carry out the attacks, which appeared to be planned in advance.
Investigators have questioned a childhood friend of Farook's who bought the assault-style rifles used to mow down the victims, Bowdich said. But it was unclear how the guns ended up in the killers' hands.
Farook's mother, who lived with the couple, has also been questioned about what she knew before the attacks. Bowdich said he wasn't sure if investigators were done talking to her.
Bowdich also said that the search of the couple's Redlands home turned up 19 pipes capable of being turned into bombs.