If they were terrorists, the California couple suspected of staging the San Bernardino slaughter kept it well hidden.
They lived quietly. The husband worked a regular job. The couple apparently even created an online baby registry at Target this spring in which they listed four items on their wish list — Pampers, a car seat, baby wash and safety swabs.
But the secrets of Syed Rizwan Farook and his wife, Tashfeen Malik, began spillling out Thursday — a day after police said they donned tactical gear, grabbed their assault rifles, and massacred 14 people attending a holiday party at the Inland Regional Center.
Related: Mosque Members Say Shooter Seemed 'Peaceful' and Devout
The FBI is now investigating whether the couple, who were killed later by police, were waging jihad. They are also looking into whether Farook, who had worked as a San Bernardino County health inspector for five years, had a dispute with a co-worker.
In other developments:
NBC News has learned from sources that the Chicago-born Farook may have been in touch with what authorities call "persons of interest" in and around Los Angeles who have expressed pro-jihadi views. It remains unclear to what extent — if at all — Farook was radicalized by those encounters.
Farook also appears to have been in contact with people overseas who U.S. authorities consider "persons of interest" but not suspects, NBC has learned.
Investigators found a dozen "pipe bomb devices" at the Redlands, California, house the couple had been renting as well as tools to construct bombs. They are looking into whether they were using bomb designs pulled from the pages of Inspire magazine, the online publication of the Al Qaeda in the Arabian Peninsula terrorist group.
Farook did not have a police record. But he did not come from a happy home. His mother Rafia Farook filed a temporary order for protection from her estranged husband, who is also named Syed Farook, in July 2006.
Malik was a Pakistani citizen who arrived in the U.S. on a K-1, or fiancée visa. She achieved permanent resident status by virtue of her marriage to Farook two years ago, officials said.
The baby registry, which was in Malik's name, mentions the nearby city of Riverside as the address and a baby due date of May 17. NBC News could not immediately verify the registry's authenticity.
But the couple has a 6-month-old daughter who was left in the care of her grandmother before the pair allegedly carried out their rampage.
As officials try to piece together a motive, one former co-worker told the Los Angeles Times that Farook never "struck me as a fanatic, he never struck me as suspicious."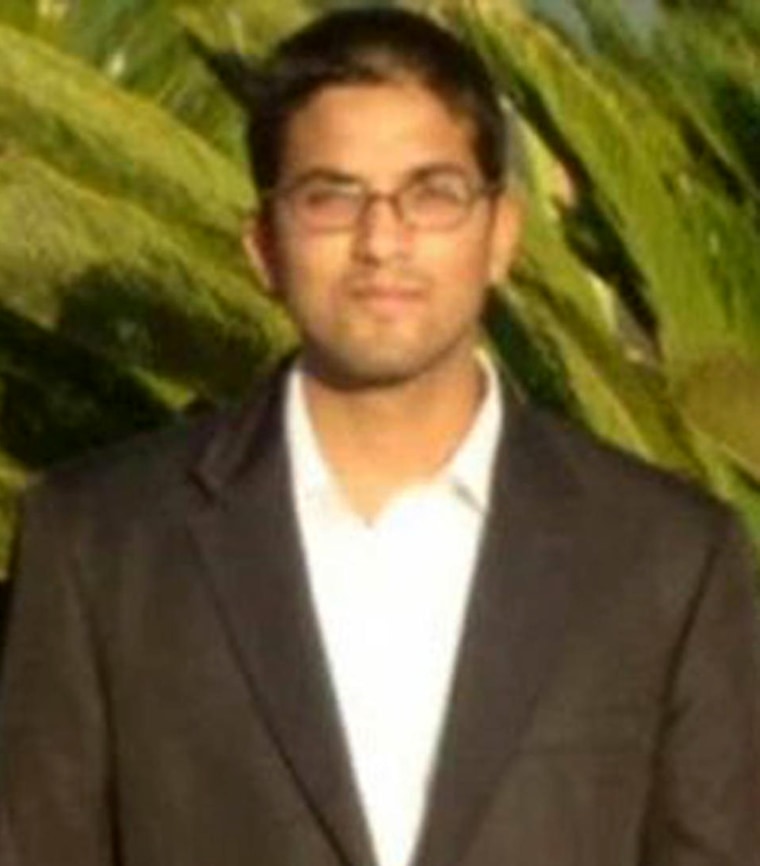 Griselda Reisinger also told the newspaper that she heard the office had recently thrown a baby shower for the new dad and that he had taken paternity leave.
Related: San Bernardino Shooters Used Four Guns, Explosive Device: ATF
Farook's brother-in-law provided few details about the couple during a news conference Wednesday, and offered condolences to the victims. He said Farook and Malik lived with Farook's mother in Redlands and that prior to the shooting, they had left their 6-month-old child with Farook's mother and said one of them had a doctor's appointment.
Farook, 28, and Malik, 27, were married approximately two years ago in Saudi Arabia during a pilgrimage to Mecca. Farook told members of his former mosque in Riverside, California, that he planned to meet the fiancee he had met online — Malik — and get married.
A co-worker at the health department, Chris Nwadike, said Thursday that he remembers Farook as quiet. "He doesn't laugh, but he smiles. He doesn't initiate any conversation, but is good with the computer thing, that's what the job needs," Nwadike said.
"When they got the baby, he told us that he had a new baby. Then we congratulated him, a card was passed, everyone signed it, we put in some money," Nwadike said. "Everything was good. He was very happy to announce the coming of the baby."
After Farook returned from getting married, he showed coworkers pictures of the trip, Nwadike said.
The only change Nwadike noticed after the trip was that Farook started growing beards. "That was the only difference I noticed in his life," Nwadike said.
Online dating-site profiles under the user name Syed49 — and believed to belong to Farook — offer details about the user's politics, interests and what he is looking for in a woman:
"I am born and raised here, I try to live as a good Muslim, looking for a girl who has the same outlook, wear hijab, but live the life to the fullest, be my partner for snowboarding, to go out and eat with friends, go camping, working on cars with me. Also be calm cool thought full, love to spend time with friends and family."
A profile under the user name "farooksyed49" on another dating website, iMilap.com, featured a picture of Farook that his brother-in-law confirmed was his. The user said he was from a "religious but modern family" and listed "Eastern and Western Mix" under family values.
"Enjoy working on vintage and modern cars, read religious books, enjoy eating out sometimes travel and just hang out in back yard doing target practice with younger sister and friends," according to the profile.
Nwadike was in the restroom when the gunfire broke out, and hid there with others until police arrived.
"I'm very lucky, yes, to be alive today," Nwadike said. "But I couldn't believe that the guy did that terrible thing. "They say some warning — no, I don't think there was any."
"There was nothing to indicate anything, not from him," Nwadike said. "Not from him."