The New York Times is using space on its front page to call for greater gun regulation in the wake of recent deadly mass shootings.
Publisher Arthur Sulzberger Jr. says the newspaper is running its first Page 1 editorial since 1920 on Saturday to "deliver a strong and visible statement of frustration and anguish about our country's inability to come to terms with the scourge of guns."
"It is a moral outrage and a national disgrace that civilians can legally purchase weapons designed specifically to kill people with brutal speed and efficiency," the editorial board wrote.
The Times' editorial suggests drastically reducing the number of firearms and even "eliminating some large categories of weapons and ammunition."
"Certain kinds of weapons, like the slightly modified combat rifles used in California, and certain kinds of ammunition, must be outlawed for civilian ownership," it said. "It is possible to define those guns in a clear and effective way and, yes, it would require Americans who own those kinds of weapons to give them up for the good of their fellow citizens."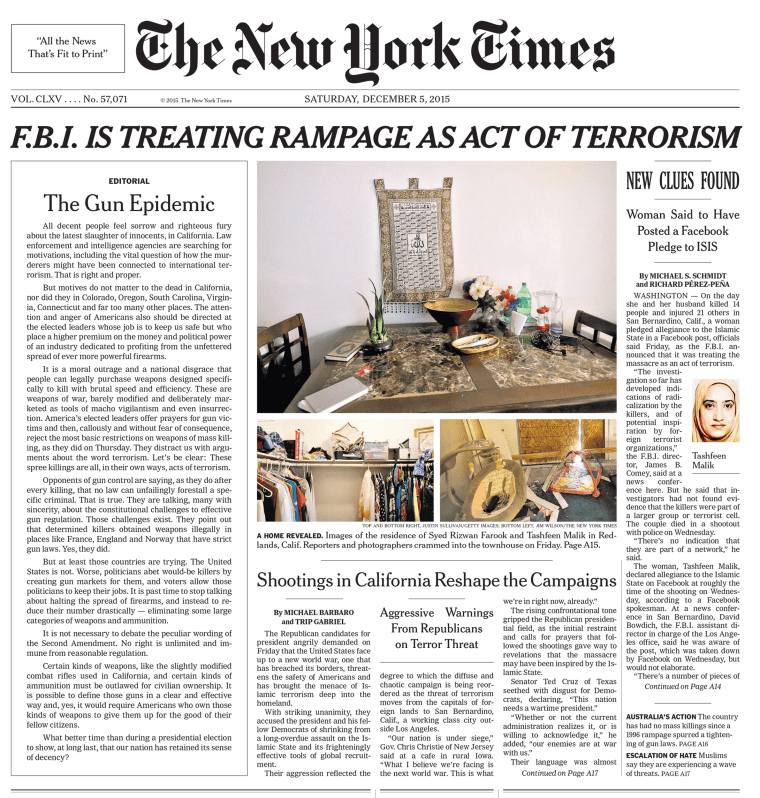 The editorial comes after three people were fatally shot at a Planned Parenthood clinic in Colorado Springs, Colorado, last week and 14 people were killed in a shooting Wednesday at a social services center in San Bernardino, California.