The site of a deadly mass shooting in San Bernardino, California, is a state-run facility for individuals with developmental disabilities that had just held a holiday party a day before the shots rang out.
At least 14 people were killed and 17 others were wounded at the shooting at the Inland Regional Center in San Bernardino, police said.
The attack took place in a conference area where the San Bernardino County Department of Public Health was holding a banquet, Maybeth Feild, president and CEO of the social services center, told The Associated Press.
Police did not confirm where the shooting took place, but said it was at one location.
The two-story building where community events are held contains staff on the second story, but none on the first, Keith Nelson, vice president for the Inland Regional Center board of trustees, said.
"That building, if it's used for a community event, the doors are open. So it's not like buildings one and two, which are locked and has security," he said.
The center provides housing and work programs, and therapy and social services to more than 30,000 people with developmental disabilities, Nelson said. It has a little more than 550 employees, he said.
Brandon Hunt, who works in the center's procurement department, was on an errand and was about to pull into the center when he saw police responding to the scene. He spent Wednesday texting with co-workers to make sure they were safe.
"It's crazy, we had an active shooter training not too long ago, and you just never think this is going to happen to you," Hunt said. "I can't fathom it."
Nelson said as of the latest information he's received, all staff were accounted for. Nelson said the center would provide crisis counseling for clients and staff and would look at security there in the aftermath of the shootings.
The facility is run by the state, and offers specific programs designed for four different age groups: 0 to 3-years-old; 3 to 15; 16 to 22; 23 to 59; and adults over 60.
Judy Mark, secretary of the Board of Disability Rights for Northern California, told NBC News that both clients and social service workers come to the IRC, which is the largest of 21 non-profit agencies that work with the state of California catering to people who have developmental disabilities such as autism, cerebral palsy, and epilepsy.
"You will see clients in and out for meetings," she said. "There are support groups. Children who are between the ages of 2 and 3 years old go there to get diagnosed with a disability."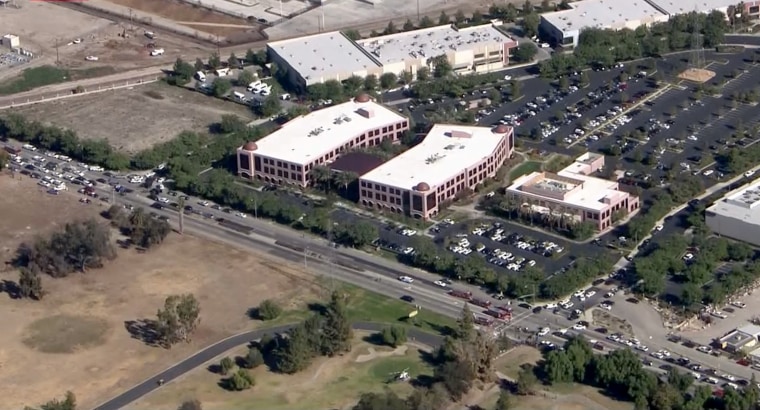 IRC's website was down Wednesday, presumably overcome with traffic. But according to its Facebook page, its mission is to coordinate "with generic services to normalize the lives of people with developmental disabilities and their families by working to include them in the everyday routines and life rhythms of the community and by facilitating needed supports for them."
In a cheery Facebook post on Tuesday, the IRC shared a photo of a smiling boy in front of a Christmas tree, being hugged by Santa.
"The ICF [Intermediate Care Facility] Holiday Party is in full swing and SANTA is in the house! SANTA!" the post read.
A short video showing clients — many in wheelchairs — dancing and enjoying music was also posted to a Twitter account, @InlandRegional, Tuesday, which said, "The ICF Holiday Party is in full swing!"
According to the state website, the regional centers diagnose disabilities and assess eligibility for state services at no cost to clients.
Mark described it as an "enormous complex" with a budget of "hundreds and hundreds of millions of dollars."
Some other services it offers, such as full-time out-of-home placements, come at a cost to parents for children under age 18.
Alex Vasquez, a videographer for KNBC, the Los Angeles NBC affiliate, said on air that the IRC was always busy.
"This is a center that is always full at all hours of the day, so I can just imagine there must have been a lot of people in that building. Sometimes I've been here where the line is even outside," he said.
Mark said autistic clients with sensory issues, or other people there at the time of the shooting with other developmental disabilities, might not have been able to follow orders from police who responded to the shots.
"This could be a crisis upon crisis that you wouldn't see in a typical situation," she said.
The Association of Regional Center Agencies, of which the Inland Regional Center is a member, said there are no known threats at other centers, but eight facilities closed early Wednesday out of an abundance of caution. "Any act of violence is a tragedy. But in a place focused on service to people with developmental disabilities, it is even harder to comprehend," the association said in a statement.
"ARCA, the regional centers, and the developmental disabilities community is united in mourning and support," Anne Struthers, president of the association's board of directors, said in a statement. "The victims of today's shooting were connected to us by service to those in need. Our hearts are with all those affected."