Despite only accounting for five percent of the global population, an astounding 31 percent of the world's mass shootings occur in the U.S.
That sobering statistic from the University of Alabama Department of Criminal Justice was again brought to the forefront Wednesday, when a couple killed at least 14 people in San Bernardino, California — the deadliest mass shooting in the U.S. since the Sandy Hook elementary school massacre in Newtown, Connecticut, three years ago.
Even worse: This year, there have been more mass shootings — defined as incidents in which four or more victims are shot — than days in the calendar year. According to ShootingTracker.com, which tracks deaths by guns in America, the U.S. has seen 355 mass shootings so far in 2015.
Twenty days of 2015 saw four or more mass shootings in a single day.
In the past week, there have been six mass shootings, ShootingTracker.com reports — including the shootout at a Planned Parenthood clinic in Colorado Springs, Colorado. The San Bernardino massacre was the second one on Wednesday alone: Earlier in the day, four people were shot in Georgia, one of whom died.
And gun sales are going up. There were more gun background checks on this year's Black Friday than any other single day on record: 185,345, according to the FBI. That's up five percent from Black Friday last year, when there were 175,754 background checks.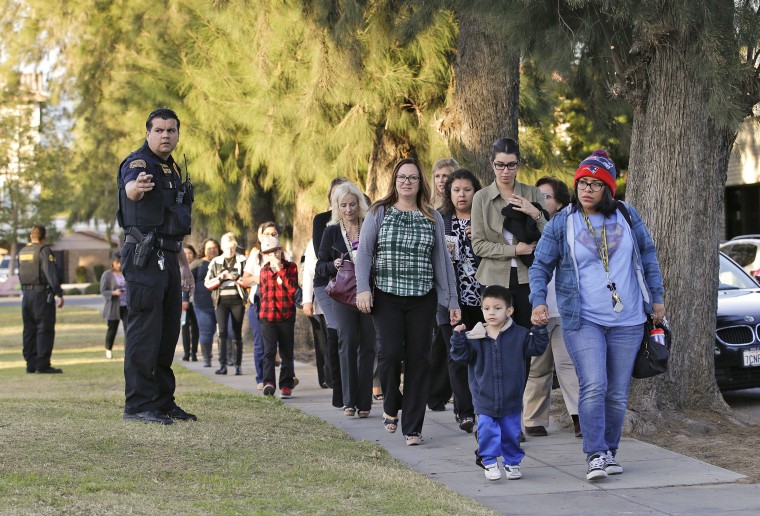 There are roughly 300 million firearms in the U.S. — enough for every American. Tens of millions of Americans, however, do not own guns.
Fifty times more Americans have been killed by guns than terrorist attacks since 9/11, the U.S. Centers for Disease Control and Prevention and Global Terrorism Database says.
The San Bernardino suspects — Syed Rizwan Farook, 28, and his wife Tashfeen Malik, 27 — were killed after exchanging gunfire with police more than four hours after the rampage at the Inland Regional Center.
Authorities have not ruled out terrorism as a motive.