A portrait of the southern California housewife who joined her husband on a deadly rampage at his office Christmas party last week has begun to emerge, with indications that she had become more devout in recent years.
Due to the private nature of the life she led in Pakistan and the U.S., NBC News and other news organizations have struggled to paint an complete picture of Tashfeen Malik, who died in a shootout with police hours after the massacre in San Bernardino on Wednesday.
For some of those who did know her, including an aunt who spoke to The Associated Press, knowledge of some aspects of Malik's life were limited to what other family members had told them. The aunt, Hifza Batool, told the AP that relatives saw her niece dress more conservatively and urge people to live a religious life.
"I recently heard it from relatives that she has become a religious person, and she often tells people to live according to the teachings of Islam," Batool told the AP from the town of Karor Lal Esan, some 280 miles southwest of the Pakistani capital of Islamabad.
Malik's path from Pakistan to the bloody events of this past week — when she and her husband Syed Farook hoisted rifles and slaughtered 14 people gathered for a holiday work party — remains a mystery. The FBI said it is investigating the rampage as a terrorist attack.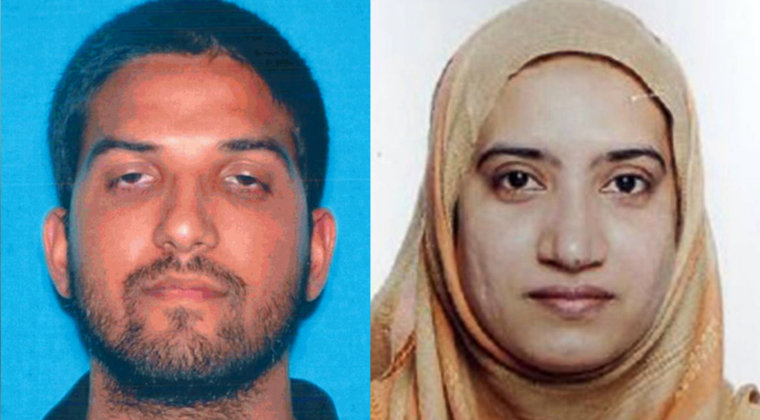 Until the attack, Malik had maintained a low profile in her adopted homeland. A Pakistan-born Muslim, she spoke broken English, wore a veil in public, avoided her neighbors and refused to drive, even after giving birth to her first child in May. The couple left their 6-month-daughter with Farook's mother before going on the attack, according to a relative.
Malik was from the province of Punjab but had lived with her family in Saudi Arabia for many years before returning to Pakistan to study pharmacy. She first met Farook who was born in Illinois to Pakistani parents, online. They agreed to meet in Saudi Arabia in 2013, when he made a pilgrimage to Mecca that is required of Muslims.
Related: The Mystery of San Bernardino Shooter Tashfeen Malik
A maid who worked in the home where Malik lived told the AP that at one point the young woman wore a scarf that covered her head but not her face. A year before she got married, Malik began wearing a scarf that covered all but her nose and eyes, said the maid who spoke on condition of anonymity for fear of jeopardizing her job with the family.
Farook was born in Chicago and married Tashfeen Malik two years ago after bringing her from Pakistan on a fiancée visa, officials said.
Just before the shooting, Malik pledged allegiance to the leader of ISIS on Facebook, law enforcement sources told NBC News.
Related: ISIS Calls San Bernardino Shooters 'Martyrs' in Message
Pakistani media have also reported that Malik had ties to a mosque in Islamabad with alleged ties to Muslim extremists, a charge that mosque officials vehemently deny.
"This is a conspiracy by the media to drag our name into it," spokesman Abdul Qadir told NBC News. "The Red Mosque has never been associated with this woman and Maulana [Abdul Aziz] has never met her," he said, referring to the mosque's chief cleric.
More than 150 people were killed in July 2007 when the Pakistani military laid siege to The Red Mosque in order to dislodge Taliban militants.