With a call to bring hope for a better tomorrow, mourners gathered solemnly Monday night for two candlelight vigils in San Bernardino, California, to remember 14 people killed in a mass shooting at a social services center last week.
Hundreds of people gathered at the San Bernardino County Board of Supervisors building for a march and service on the first day about 20,000 county employees returned to work since last Wednesday's shootings.
Related: 'They Just Started Shooting': Survivor Recounts Attack
And hundreds more gathered at California State University-San Bernardino — which five of the victims and one of the two shooters in last week's massacre attended.
"As a member of the Muslim community, I address you tonight with a heavy heart to remember all of those who passed last week in a tragic massacre sadly committed by one of our own graduates and sadly maybe one of my students," Dany Doueiri, an associate professor in the university's Center for Islamic and Middle East Studies, said in a voice choked with emotion.
Doueiri raised the difficult question of whether teachers could have done a better job educating the gunman, Syed Farook, and perhaps have prevented the tragedy.
"I don't know how murderers can claim to follow Islam," Doueiri said. "They attacked my faith, Islam. They attacked your faith, and they attacked all the people who affiliate with any faith."
Some at the vigil's attendees rejected growing suspicion of Muslims, which was fueled by Republican presidential candidate Donald Trump's call to bar Muslims from entering the country.
"We're a land of immigrants, and we're the land of the free, so everybody has a spot here in America," said Wade Cormier, a 1999 graduate of Cal State-San Bernardino and a longtime friend of Michael Wetzel, who was killed last week.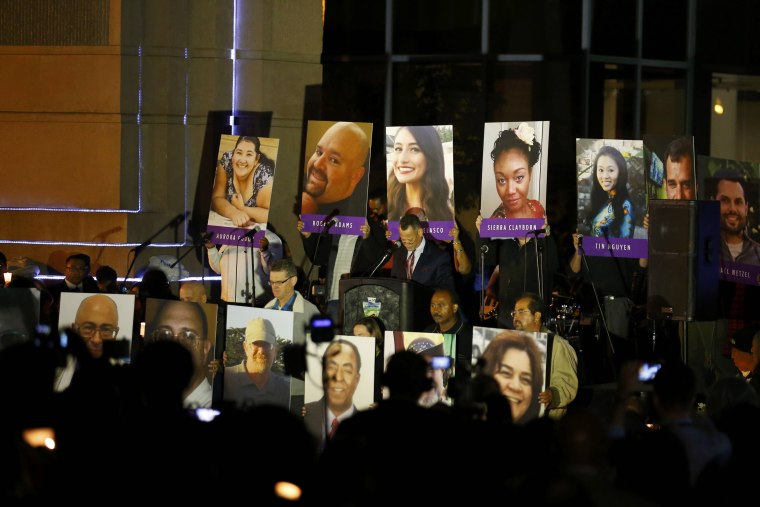 "I don't think we should have any fear or paranoia, because we all belong here," Cormier told NBC News at the university Monday night.
Like others, Doueiri, the Islamic studies professor, urged participants to remain optimistic, no matter how hard that is.
"It may be difficult for us to dream when we are still bleeding, but I hope we can all rise ... with hope and wisdom to fight ignorance with knowledge, to fight violence with compassion and to fight hate with love," Doueiri said.
"There is still goodness in humanity," he declared to a long ovation.