A wave of statements and tweets by politicians sending "thoughts and prayers" after the San Bernardino shooting was quickly followed by an angry backlash over the state of America's gun laws.
Presidential candidates were among the first to express sorrow at the loss of at least 14 lives in Wednesday's gun rampage.
"My thoughts and prayers are with the shooting victims and their families," Republican hopeful Ben Carson tweeted.
However, the hashtag #thoughtsandprayers soon began trending on Twitter for different reasons as users called out Congress for inaction on reforming firearms laws.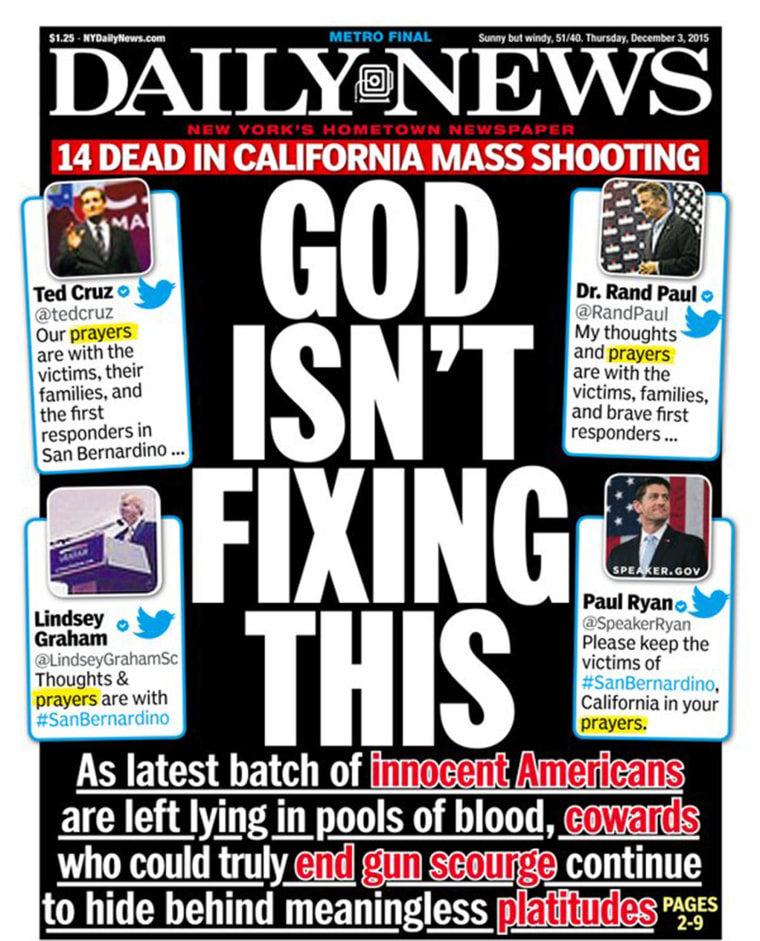 "GOD ISN'T FIXING THIS," ran Thursday's cover headline on the New York Daily News, which has campaigned for tighter gun controls.
Underneath, it said: "As latest batch of innocent Americans are left lying in pools of blood, cowards who could truly end gun scourge continue to hide behind meaningless platitudes."
Igor Volsky, contributing editor for political website Think Progress, tweeted that numerous lawmakers expressing "thoughts and prayers" had previously received thousands of dollars from the National Rifle Association or had voted against gun reforms such as expanded background checks.
Khary Penebaker, a Milwaukee-based campaigner for gun controls, tweeted: "Congress was elected to act, not to pray. No more congressional #thoughtsandprayers."
Democrat 2016 hopeful Hillary Clinton tweeted: "I refuse to accept this as normal. We must take action to stop gun violence now."
However, others objected to "social media snark" and what they described as "prayer shaming."
"After a mass shooting, it is very, very difficult to know what to do. Shaming people for prayer is not productive," wrote Emma Green, managing editor of The Atlantic.
And some pointed out that President Barack Obama, who has expressed frustration at Congress over its unwillingness to consider gun controls, had tweeted his "thoughts and prayers" in the aftermath of the Charlie Hebdo gun attack in Paris on Jan. 7.