EDINBURGH, Scotland — Scots woke up Friday united with the rest of Britain - but divided among themselves after an intense and often acrimonious independence campaign that sometimes pitted families and neighbors against each other.
Almost 45 percent of voters chose independence in Thursday's historic referendum – a stronger mandate than many elected governments – yet they will remain governed by a United Kingdom that now appears in need of urgent reform. The separatist campaign received more than 1.6 million votes, compared to 2 million for the unionists.
"Scotland won't be the same after this, and neither will the rest of Britain," said Ewan Cameron, professor of history at Edinburgh University.
In Glasgow, one of Britain's largest cities and once the industrial powerhouse of the British empire, a majority voted 'Yes' to split from the U.K. – a historic milestone that threatens to undermine the notion of a decisive victory for the pro-union 'Better Together' campaign.
"You'd probably have to go back as far as the 17th century, and the attempts by Oliver Cromwell to unite England and Scotland, to find an example of where opinion has been so deeply split down the middle," said Sean Lang, senior lecturer in history at England's Anglia Ruskin University. "There's a lot of talk of healing and calm but it's hard to see where that's going to come from."
"I just stopped looking at my Facebook, I couldn't take any more of seeing my friends arguing"
A YouGov opinion poll published Wednesday in The Times found that as many as one in six people living in Scotland were so alienated by the independence campaign that they would have considered moving away had the 'Yes' side scored a victory. A similar ICM poll in June for the Scotland on Sunday newspaper found that 38 percent of those surveyed believed divisions would remain whatever the outcome of the referendum.
It follows weeks of intense and sometimes ugly campaigning – and a national debate that often spilled over into arguments in offices, pubs and on social media.
"I just stopped looking at my Facebook, I couldn't take any more of seeing my friends arguing," said Edinburgh catering worker Kelly McIntosh, 27. "Some people I know have just stopped talking to each other. You don't normally discuss politics with your friends but this time everybody has been talking about the referendum. I'm glad ... it's all over."
Political leaders were quick to talk of reconciliation after Friday's result. Scotland's First Minister Alex Salmond put a brave face on defeat, promising a new campaign to reunite the country. "We shall go forward as one nation," he added. But while British Prime Minister David Cameron conceded Scots had voted against independence "at this stage," hinting that the struggle was not over, he said the issue of Scottish separation was now off the table "for a generation."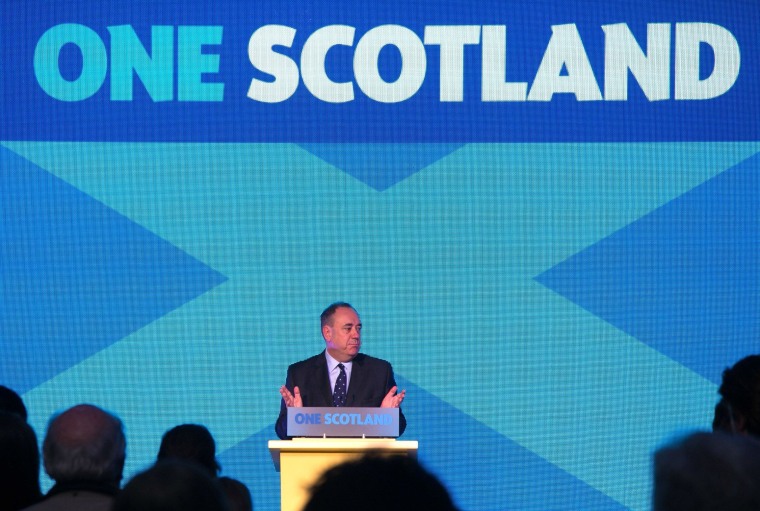 The prospect of more constitutional debate is unlikely to please weary Scots. In an open letter to The Herald newspaper, the wife of one of Salmond's high school teachers said Thursday's referendum had "succeeded in creating divisions across Scotland that were not there before and that will still exist after the referendum."
"Stories of intimidation, violence and vandalism are rife," Fiona Scott wrote.
That sentiment was echoed by businesswoman Brenda Kutchinsky, who told of her experience as a 'No' voter in a predominantly Nationalist village in Aberdeenshire.
"Two weeks ago, I summoned up my courage and put a 'No Thanks' poster in my window, against the advice of friends who said it would open me up to abuse and possibly even a brick through my window," she wrote in Prospect Magazine. "How ridiculous that I should be worried about the consequences of expressing my opinion to people among whom I have lived happily for 15 years, but this is the climate of fear in which I am currently residing."
While hosting lunch for friends at her Edinburgh home on Friday, 63-year-old Irene Auchinleck told NBC News that she was "relieved" that months of relentless campaigning had ended. "I think there are a lot of unhappy people," she said. "I hope the divisions will be healed we have to do the best for the country, we have got to live together."
Cameron, the Edinburgh University professor, highlighted that Friday's 55 percent 'No' vote was more decisive than polls had suggested before the referendum, leaving little room for animosity.
"We Scots love a grievance, but the fact is that the outcome of this referendum is not in contention. That is something."