EDINBURGH, Scotland -- It is an ancient nation with a proud history but Scotland's future could be decided by its youngest generation in Thursday's referendum on independence from the United Kingdom. More than 110,000 16 and 17-year-olds are among the 4.2 million Scottish voters taking part after the age of eligibility was lowered from 18.
With opinion polls suggesting the result is on a knife-edge, every vote counts in the decision that could end Scotland's 307-year-old union with England.
That means high school students, some of whom went to the ballot boxes early Thursday in their school uniforms, could swing the balance for or against the breakup of America's oldest global ally.
"I was a bit nervous but it feels really good," said Lauren Forde, who attends Boroughmuir High School in Edinburgh and who voted with her dad Jerry, 52. "It's our future and we should be allowed to have a say in it. It is going to be a bit weird in school tomorrow after the results, though."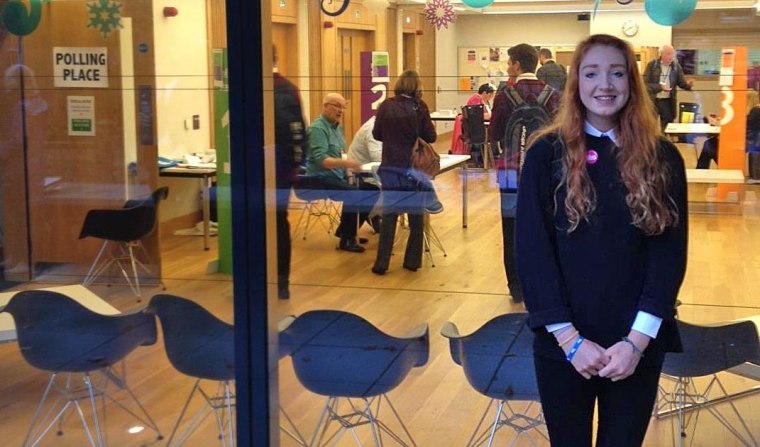 Her father, a civil engineer, added: "The reports we have heard from schools is that young voters are thinking carefully about their choices. I'm pleased that they are getting to have a say in their future."
The decision to lower the voting age for the national referendum from 18 to 16 was based on the unspoken calculation by Scotland's separatist government that younger voters are more inclined to vote with their hearts, not their heads - and embrace radical change by voting for the pro-independence 'Yes Scotland' campaign.
But since the campaign began 18 months ago, studies have shown that 16 and 17 year olds are no less likely than their parents or grandparents to made rash decisions over Scotland's future.
"Our research provides no support at all for the claim that the enfranchisement of 16 and 17 year could act as a tool to boost the 'Yes' vote," research firm Scotcen said. "If anything, younger people are less likely to be in favour of independence, primarily it seems because they have a strong sense of British identity that co-exists alongside a Scottish one."
Lauren's classmates at Boroughmuir said they had researched and discussed their historic opportunity in great detail.
"A lot of young people have taken a lot of interest in it," said Lachlan Martin, 16, who said he would be voting 'Yes' because he believes Scotland lacks adequate representation at the U.K. parliament in Westminster. "I want Scotland to have its own voice, even it is means being a bit smaller."
Lauren also said she was a firm 'Yes' supporter. "Every other country that has gone independent hasn't gone back," she said. "Why should we vote 'No' and have some extra powers when we can vote 'Yes' and have all of them?"
But others were sceptical. "There are too many uncertainties," said Aurea Crolla, 16. "It's going to cost too much and I think there will be some change even if we don't become independent."
Jordan Kempston, 16, said the recent escalation in the terror threat level, prompted by the rise of Islamist militant group ISIS, had underlined the need for strong national security that would better provided by joint institutions such as British domestic intelligence agency, MI5.
"I think lots of businesses will move jobs to England if there is independence," he said. "That means fewer jobs available for young people."
Clara Warshow, 16, said she had tried to think of the effect of her choice on other generations. "It is difficult at 16 because I have only ever known education, a good education," she said. "But I have also got to think about pensions, employment and higher education."
Of the six students, four were planning to vote the same way as their parents. "My parents influenced my decision but I don't think it would have changed my vote," said Katie Cowan, 16.
She plans to vote 'Yes.' "I think it will be a great thing to remember," she added. "If we get independence … to look back on that and know that we took part in it."