A British model and aspiring actress who is suing Harvey Weinstein over an alleged assault in France said through tears Tuesday that "what he's done, it just ruins people's lives."
Kadian Noble, 31, sued Weinstein, his brother, Bob Weinstein, and the Weinstein Co. on Monday, saying they violated U.S. sex trafficking laws when the disgraced Hollywood producer allegedly assaulted her in France in 2014. The civil action, filed in U.S. District Court in Manhattan, seeks a jury trial and unspecified damages.
Noble said late Tuesday morning that Weinstein assaulted her and forced her to perform sex acts on him in front of a mirror in his room at Le Majestic hotel in France during the Cannes Film Festival in 2014.
"You've used the power, the gift that you have, you've turned it into such a corruption to take advantage of other people and to make promises to bring people's dreams to a reality," she said during an emotional news conference in New York. "It's just not fair because you have no idea the impact you have on people's everyday lives."
Noble said she first met Weinstein at a party in London in February 2014 and that he offered to help her with her career.
She said that after the party, she went to his London office for a meeting with an executive assistant who asked her to provide a show reel to pass along to Weinstein.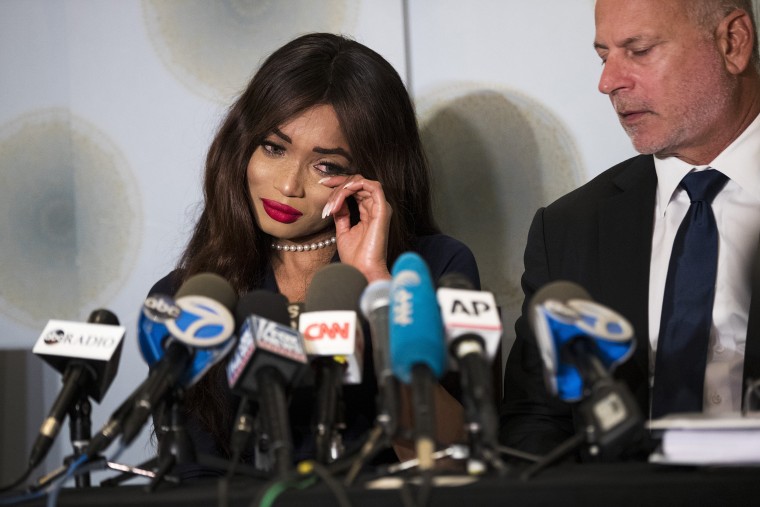 When Noble went to the Cannes Film Festival in May, Weinstein approached her in the lobby of Le Majestic hotel, she said.
Noble said she asked Weinstein if he had seen her show reel yet and he replied that he had not, but if she had it with her, she "should come up to his room and he will have a look at it."
She said she went to his room, where Weinstein began touching her while she was playing her show reel on her iPad.
He continued to say he could help with her career and that "everything is going to be taken care of," according to Noble.
Related: Since Weinstein, here's a growing list of men accused of sexual misconduct
"He gripped me and he led me to the bathroom and I was saying, 'What are you doing?'" she said.
She said Weinstein then stood behind her in front of a mirror and proceeded to grope her and force her to masturbate him while she told him "no."
Noble said she had seen Weinstein three of four times since the incident and that he kept telling her that he would take steps to help her, but that no role ever materialized.
She said she was motivated to come forward by hearing the accounts told by numerous other alleged victims.
"I thought if I ever wanted an opportunity in this industry how could I ever — small me — to speak of this man to say he's been inappropriate with me. People would look at me and say, 'Who the hell is this girl?'" she said.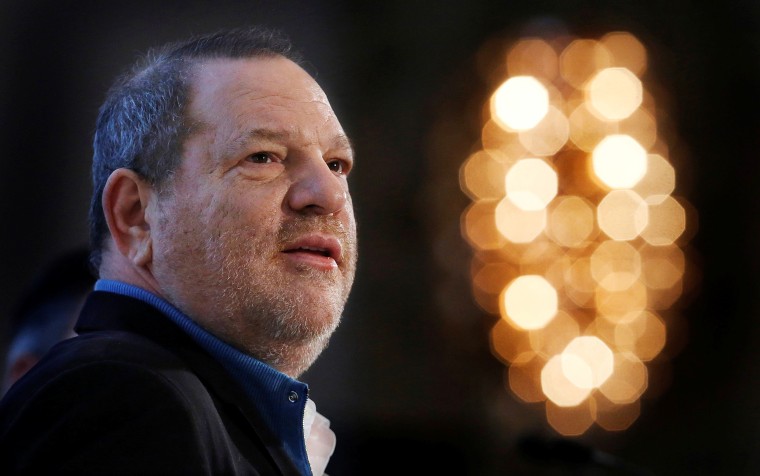 She added that her decision was not motivated by money, but "just the freedom of expressing and saying to him what he's done, it just ruins people's lives."
Noble's attorney, Jeff Herman, said that Weinstein violated federal sex trafficking law when he "enticed and coerced" Noble to go to his hotel room with the promise of helping her career and "he used force, he used coercion, he used fraud to get her to engage in a commercial sex act."
On Monday, Weinstein's representatives put out the same statement they have distributed after previous allegations of misconduct: "Mr. Weinstein denies allegations of nonconsensual sex. Mr. Weinstein has further confirmed that there were never any acts of retaliation against any women for refusing his advances."
Herman said they added Bob Weinstein and the company to the lawsuit alleging that both "enabled and benefited from Harvey's assault of Kadian."
The company's board has previously said it was blindsided by the sexual misconduct allegations against Harvey Weinstein. "These allegations come as an utter surprise to the Board," it said in a statement last month. "Any suggestion that the Board had knowledge of this conduct is false."
Herman also represents actress Dominique Huett in a California lawsuit accusing the Weinstein Co. of having enabled sexual misconduct by Weinstein.