The shocking grand jury report that alleges that hundreds of Catholic priests molested thousands of children in Pennsylvania for decades comes with a sobering caution: It's up to the church to set things right, because there's very little the legal system can do, at least for now.
In an exhaustive report, which runs 884 pages — 1,356 with exhibits and responses — the 23-member panel alleged that over more than six decades, 301 "predator priests" in six dioceses abused more than 1,000 children whose identities it found in church records.
It said the overall number of children who were abused, including those who declined to come forward and those whose records have been lost, "is in the thousands."
In extensive detail, the grand jury built a case that concludes that "priests were raping little boys and girls, and the men of God who were responsible for them not only did nothing; they hid it all. For decades."
And "while the list of priests is long, we don't think we got them all," the report says.
The report addresses only six of Pennsylvania's eight dioceses — Allentown, Erie, Greensburg, Harrisburg, Pittsburgh and Scranton, but not Altoona-Johnstown or Philadelphia. But state Attorney General Josh Shapiro said at a news conference that it was clear that abuse "was pervasive to the entire commonwealth of Pennsylvania."
We ask the Pennsylvania legislature to stop shielding child sexual predators behind the criminal statute of limitations."
And at least for now, all the state can do about it is to name and shame, because the grand jury had no authority to indict anyone and because state law provides only a narrow window of time for alleged abusers to be prosecuted.
"We wanted to charge as many of these predators as we could, but because of our weak laws in Pennsylvania, we could only charge two of the 301 predator priests that were identified," Shapiro told NBC News. "And so it was critically important, as the grand jurors said, to ensure that the truth be told."
The state Supreme Court released the redacted version of the report on Tuesday after two years of investigation by the state attorney general's office and two months of court wrangling over whether it should be released at all.
Release of the report was held up because about 25 accused priests, church leaders or their representatives challenged making their names public, arguing that they hadn't been convicted of any crime and were entitled to protect their reputations.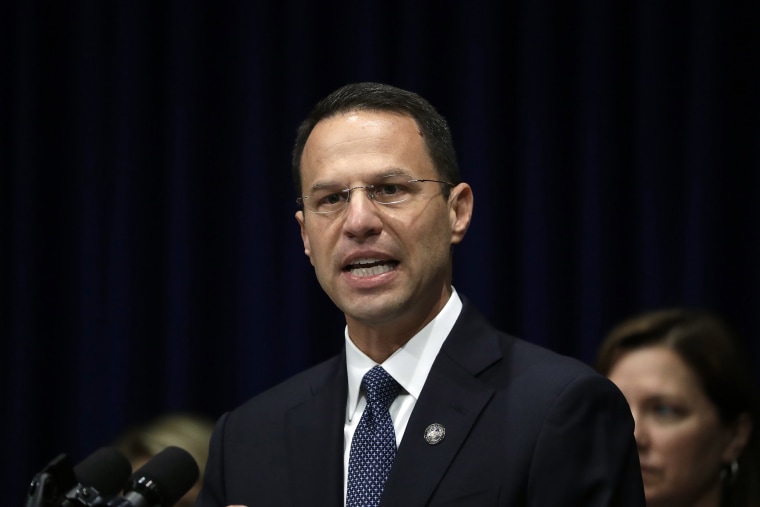 Their names are blacked out in the version of the report that was released Tuesday. The state Supreme Court is scheduled to hear arguments over publicizing their identities next month.
"Let me be very clear: Every redaction represents an incomplete story of abuse that deserves to be revealed," Shapiro said. "My office is not satisfied with the release of a redacted report."
Other avenues of recourse are blocked because many of the accused are dead — the allegations stretch back to 1947 — and because for almost all of the others, the statute of limitations has expired.
"First, we ask the Pennsylvania legislature to stop shielding child sexual predators behind the criminal statute of limitations," the grand jury recommended.
The grand jury reported that it heard from alleged victims now in their 50s, 60s and 70s — it said one was 83 — who have carried their burdens for decades.
"We saw these victims; they are marked for life," it said. "Many of them wind up addicted, or impaired, or dead before their time."
But their abusers don't, and "we want future child predators to know they should always be looking over their shoulder — no matter how long they live," the grand jury said.
The state Senate last year passed a measure that would eliminate the criminal statute of limitations. Legislative leaders said Tuesday that they plan a vote in the state House next month.
The Pennsylvania Catholic Conference says it "does not oppose" efforts to repeal the statute of limitations for criminal cases, and as publicity about the release of the report built in recent weeks, it said it supported the new measure.
But the grand jury also called for a "civil window" law, which would allow older victims to sue for abuse they suffered as children. Current state law allows victims to sue any time between the ages of 18 to 30; victims older than 30 have only two years to sue.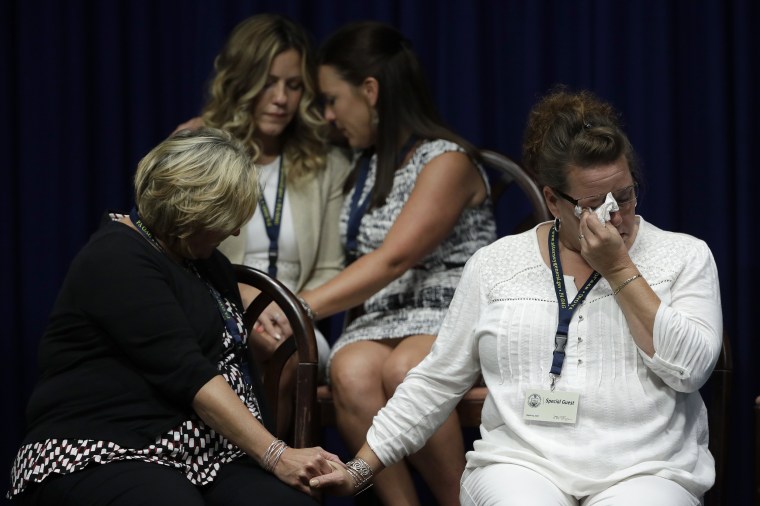 "For victims in this age range, the short two-year period would have expired back in the 1990s or even earlier — long before revelations about the institutional nature of clergy sex abuse," the report says.
"We think that's unacceptable," it says. "These victims ran out of time to sue before they even knew they had a case; the church was still successfully hiding its complicity."
The Pennsylvania Catholic Conference opposes proposals to extend the window and revoke the statute of limitations in civil cases, urging lawmakers to find a balance that protects children "without bankrupting the men, women and children who make up the Church today."
The state conference's president, the Rev. Ronald W. Gainer, is also the bishop of Harrisburg, one of the dioceses criticized in the grand jury report.
"The bishops have taken the position that the present bill in the Senate is good legislation," Matt Haverstick, an attorney for Gainer's diocese and the diocese of Greensburg, another of the six named jurisdictions, said in an interview Tuesday.
The church that's written about in the grand jury report doesn't exist today."
The grand jury issued two other recommendations: that state laws that mandate reporting of abuse be strengthened and that non-disclosure agreements reached as part of internal church investigations be disregarded in criminal actions.
Referring to the hundreds of thousands of documents it reviewed, the grand jury complained that "the subpoenaed records contained quite a few confidentiality agreements, going back decades." It described them as "payouts sealed by silence."
The grand jury acknowledged that there might be a place for confidentiality agreements in civil litigation, but it said "there should be no room for debate on one point: no non-disclosure agreement can or should apply to criminal investigations."
"All future agreements should have to say that in big bold letters," it said.
Ninety-nine of the priests cited in the grand jury report served in the Diocese of Pittsburgh, whose longtime bishop, Donald Wuerl, became archbishop of Washington, D.C., in 2006. He was elevated to cardinal in 2010.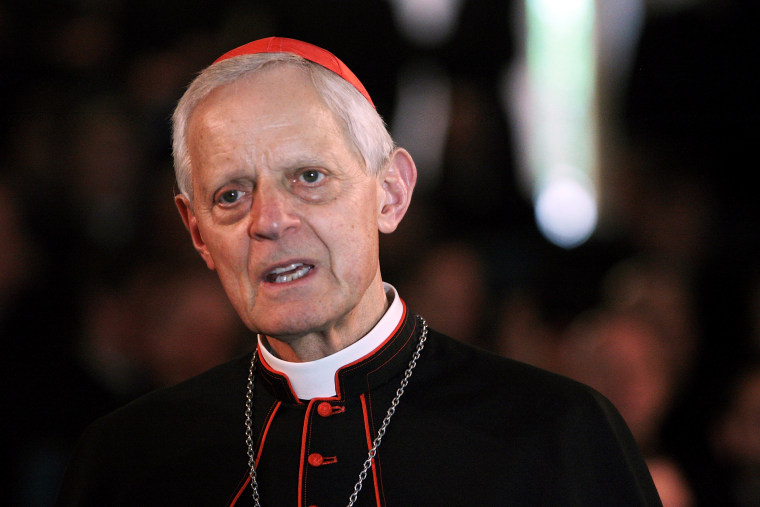 "The Diocese investigated all allegations of child sexual abuse during my tenure there, and admitted or substantiated allegations of child sexual abuse resulted in appropriate action, including the removal of the priest from ministry," Wuerl said in a letter to priests that was released through the Archdiocese of Washington.
"Between 1988 and 2006, how the Church — and society as a whole — dealt with the scourge of child sex abuse evolved: mandatory reporting and adjudication of such claims, for example," he said. "But what never changed was my commitment to the survivors of abuse."
The current bishop of Pittsburgh, David Zubik, repeatedly apologized to victims at a news conference Tuesday night. But he said diocesan leaders did what they thought was right with the information they had at the time, and he insisted: "There was no cover-up going on."
"I think that it's important to be able to state that we have, over the course of the last 30 years for sure, been transparent about everything that has, in fact, been transpiring," he said.
Haverstick, the attorney for the Harrisburg and Greensburg dioceses, agreed with the contention that the church has moved ahead of the scandal.
"The church that's written about in the grand jury report doesn't exist today," he said. "We're going to continue doing what we have been doing, which is taking care of children in the Catholic Church, acknowledging the harms of the past and apologizing for it."
The grand jury, however, indicated that it didn't believe such reassurances.
"We don't just want this abuse punished by criminal and civil penalties," it said. "We want it not to happen at all. We think it's reasonable to expect one of the world's great religions, dedicated to the spiritual well-being of over a billion people, to find ways to organize itself so that the shepherds stop preying upon the flock."
"If it does nothing else, this report removes any remaining doubt that the failure to prevent abuse was a systemic failure, an institutional failure," it said.