Some of the nation's top AIDS activists are calling for designer Kenneth Cole's ouster as leader of world-famous AIDS research charity amfAR because of a controversial deal he made with Harvey Weinstein.
More than 60 people — including Olympic diver Greg Louganis, playwright Larry Kramer and former amfAR board member Peter Staley — signed an open letter that was obtained by NBC News on Monday. They are asking for Cole to resign or be replaced as amfAR board chairman, and for New York's top prosecutor to step in if it doesn't happen.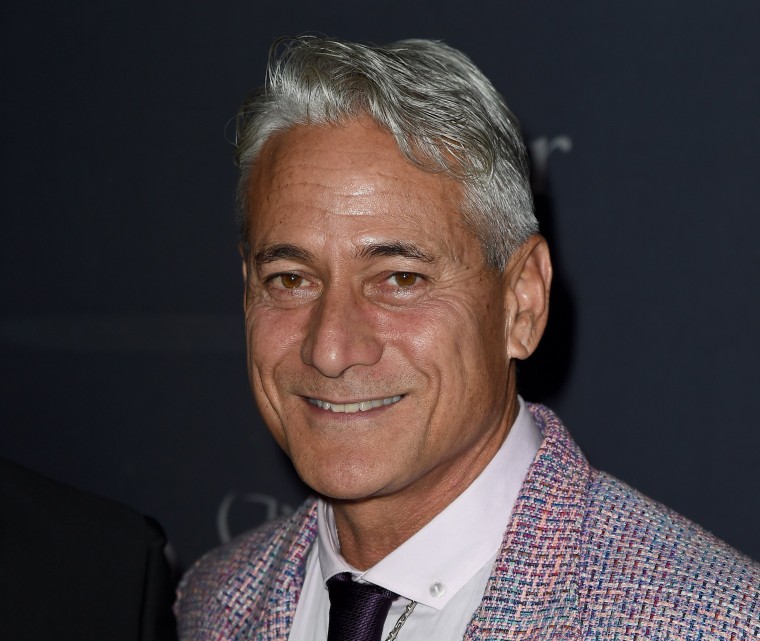 The letter takes aim at an arrangement by Cole and Weinstein to split the proceeds of some charity auction items between amfAR and a theater where a show produced by Weinstein had been staged. The agreement, which was made before a sexual misconduct scandal engulfed Weinstein, is being investigated by federal authorities and caused a bitter rift on amfAR's board.
"Kenneth has made valuable contributions to amfAR over the years. But this controversy and the ensuing extraordinary divisions within amfAR's board make it essential to turn the page and let amfAR's staff focus solely on its mission," Staley, a longtime AIDS activist, said in a statement.
Kramer told NBC News that he is worried "all this mess with Weinstein" will hurt amfAR.
"I want him [Cole] to be Hercules and I don't see him being anything. This is a messy situation brought on by him and the board ... and I don't hear him saying squat," he said. "I think he should resign."
Cole, in a statement to NBC News, said the activists' letter "is based on a false narrative and distortion of facts."
"I have proudly served on the board of amfAR for 30 yrs and as its chair for 13 of them. We have had an impact in many of the most important breakthroughs in the fight against HIV and AIDS having raised hundreds of millions of dollars for this lifesaving work," he added.
"I have no intention of abandoning that mission because of a transaction that was determined to be legal and ethical and was engaged in because it served amfAR's mission."
Related: Weinstein Threated AIDS Charity Over 'Sex Life'
Weinstein, a longtime supporter of amfAR, donated several lots to the 2015 auction in Cannes but wanted some of the money to go to the American Repertory Theater (ART); an insert in the auction booklet noted some of the money would go to ART.
Weinstein had staged "Finding Neverland" at ART before its Broadway run. And according to the New York Times, the theater had agreed to reimburse Weinstein and other investors money they sank into the show if they got third parties to donate those sums to the theater.
After the auction, Cole directed that $600,000 to be wired to ART at the request of Weinstein's office, over the concerns of amfAR's chief executive and without board approval, according to emails reviewed by NBC News.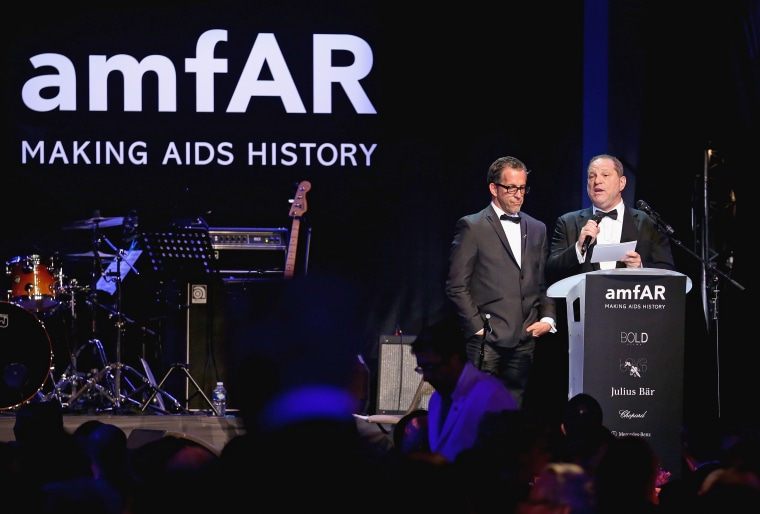 The transaction caused an uproar and internal investigations. In 2016, Cole urged board members to sign nondisclosure agreements about Weinstein, and he told NBC News that Weinstein offered to give $1 million to amfAR if everyone signed.
Federal prosecutors in Manhattan have issued subpoenas to amfAR for records and emails related to the auction, and ART said it was aware of and cooperating with the investigation as well.
"Kenneth's complicity in Weinstein's unethical fundraising transactions, along with the resulting cover-up using forced non-disclosure agreements and Weinstein's selected law firm, risk doing real damage to amfAR's vitally important work in AIDS research and policy issues," Staley said in his statement.
Cole, in his statement, said that Weinstein "has never been a friend of mine."
"I worked with him as chairman of amfAR only because it was good for amfAR and I did not know about his despicable behavior until I read about it in the New York Times. Any suggestion that I somehow made this deal as a favor to Weinstein is ridiculous and patently false," he said.
Cole, who has been chairman of amfAR since 2005, has previously said of the auction deal that amfAR "had independent legal counsel review the contribution in question, and they concluded that nothing illegal or inappropriate had occurred."
Those who signed the letter calling for Cole's reign to end — and asking New York Attorney General Eric Schneiderman to make sure it happens — include Cleve Jones, founder of the AIDS Memorial Quilt, Tom Viola, executive director of Broadway Cares/Equity Fights AIDS, and Sean Strub, founder of POZ.