NORRISTOWN, Pa. — Bill Cosby's sexual assault retrial began Monday with prosecutors revealing that Cosby paid his accuser, Andrea Constand, nearly $3.4 million in a 2006 civil settlement. The settlement amount, which was confidential, hadn't previously been publicly disclosed by either side in the case.
District Attorney Kevin Steele highlighted the amount during his opening statement in the Montgomery County Court of Common Pleas in Norristown. Judge Steven O'Neill had ruled that the jury would be told the amount at the retrial.
Cosby's first trial ended in a deadlocked jury, and his retrial is the first big celebrity court case since the #MeToo movement exposed dozens of men in the media, entertainment and business worlds as sexual harassers.
Prosecutors have lined up a parade of accusers to make their case that the man once revered as "America's Dad" lived a double life as one of Hollywood's biggest predators.
Cosby's team, including a new, high-profile lawyer, is expected to paint Constand as a greedy liar and the other women testifying for her as bandwagon accusers looking for a share of the spotlight.
During the first trial, the two sides agreed not to mention Constand's civil suit. The payment amount was first reported as $3.5 million last month by the National Newspaper Publishers Association, a trade association of African-American newspapers.
Earlier in the day, as members of the defense and prosecution entered the courthouse, a group of protesters could be heard chanting: "Justice for survivors! Justice for Andrea!"
A different group answered with chants of "Free Bill!"
Cosby arrived at the courthouse just after 8:30 a.m. ET, wearing a black suit, as the rivaling groups of protesters reached a fever pitch.
As Cosby, 80, approached the building, a topless woman jumped the barricade cordoning off protesters, stopping him in his tracks. She was tackled by police officers seconds after crossing the barrier and detained.
The woman was later identified by police as Nicolle Rochelle, 39, an actress. Rochelle was charged with disorderly conduct and could face a fine, officials said. Rochelle appeared on several episodes of "The Cosby Show" from 1990 to 1992 under the name Nicole Leach.
Authorities said Rochelle is from Little Falls, New Jersey, but in a conference call with reporters, she said she has been living in Paris as a member of the women's activist group Femen, The Associated Press reported. Femen regularly stages topless protests against people and institutions it accuses of oppressing women, and the group's name was prominently scrawled on Rochelle's body.
"Protesting Bill Cosby was important for us because he is a man who has been disempowering women's bodies for decades and in being naked today, I was symbolically taking back the ownership of all the victims' bodies and redefining it as a political tool as opposed to a sexual object," Rochelle told NBC News in a statement Monday night.
"Regardless of whether I had been on the show or not, I would have been there today protesting on behalf of Femen and for the rights of women worldwide," she said.
Cosby's first trial last spring ended in a cliffhanger, with jurors unable to reach a unanimous verdict after five days of tense deliberations on charges that the man who played Dr. Cliff Huxtable on "The Cosby Show" drugged and molested Constand at his suburban Philadelphia home in 2004.
Opening statements Monday were delayed after attorneys were summoned to the judge's chambers to discuss a jury candidate, who wasn't selected for the trial, who claimed that a juror told him that he believed that Cosby was guilty. The judge decided not to dismiss the juror.
Steele alleged in his opening argument that Cosby drugged Constand with blue pills, saying he had "three friends for you to make you relax." He said Cosby placed Constand's hand on his genitals and then touched her genitals. He said Constand later awoke on Cosby's sofa feeling "violated."
The defense will make its opening statement Tuesday morning.
After limiting the focus of the first trial, Judge O'Neill has been willing to let both sides push the retrial well beyond Constand's allegations.
This time, O'Neill is letting prosecutors have five additional accusers testify — including model Janice Dickinson — as they try to show that Cosby made a habit of drugging and violating women. The judge allowed just one other accuser to take the stand last time. Over the past few years, about 60 women have come forward with allegations against Cosby dating to the 1960s.
"You've seen previews and coming attractions, but things have changed," said Laurie Levenson, a professor at Loyola Law School in Los Angeles.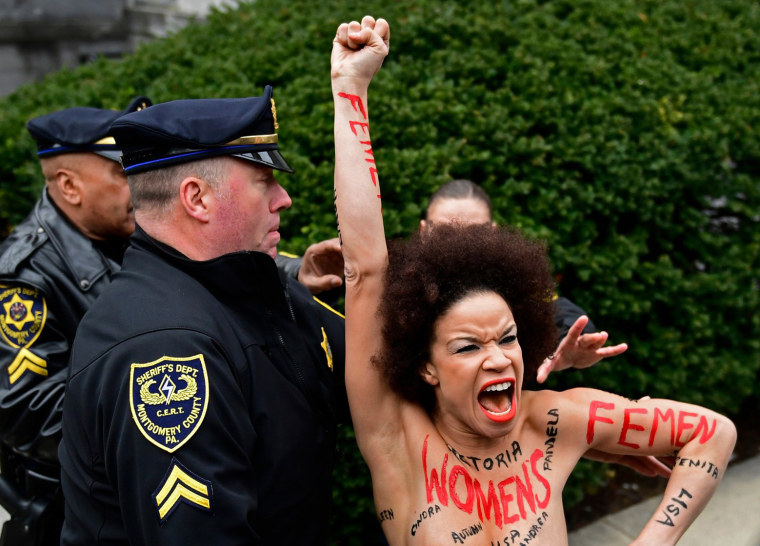 "This one will be harder for the defense," Levenson said. This time, Constand "is not alone, and there is strength in numbers."
The comedian, who has said the sexual encounter was consensual, faces three counts of aggravated indecent assault — each punishable by up to 10 years in prison.
His retrial is taking place in a radically changed and potentially more hostile environment. Months after the first trial, the #MeToo movement caught fire, raising awareness of sexual misconduct as it toppled Harvey Weinstein, Sen. Al Franken, Matt Lauer and other powerful men. Nearly every potential juror questioned for the retrial said he or she had heard about #MeToo.
Kristen Houser of the National Sexual Violence Resource Center said that could help prosecutors overcome the skepticism some jurors had last time about Constand's yearlong wait to report her allegations to the police.
"The #MeToo movement is amplifying what experts have been saying for decades: People are ashamed, they're confused, they can't believe somebody they trust would hurt them, and then they worry that others won't believe them," Houser said.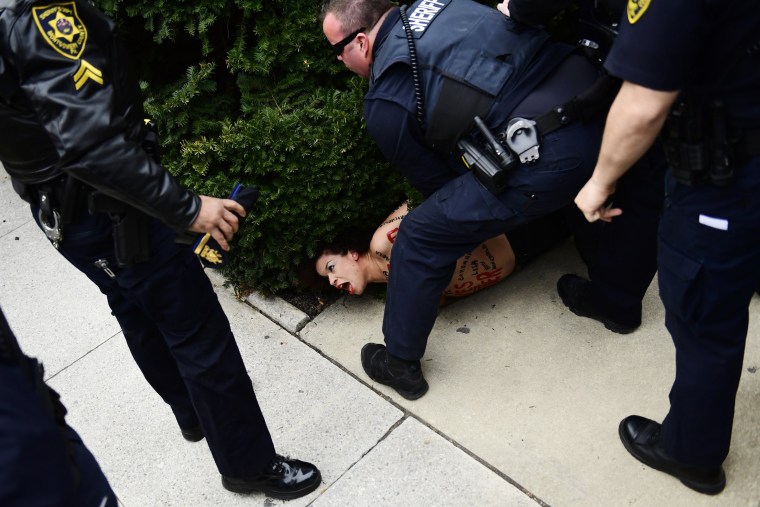 The judge decided that this time Cosby's legal team can call as a witness Constand's former co-worker at Temple University, who said Constand spoke of setting up a "high-profile person" so she could sue and enjoy a big payday. Constand's lawyer has said the co-worker is lying.
Cosby lawyer Tom Mesereau, who won an acquittal in Michael Jackson's 2005 child molestation case, said the jury will learn "just how greedy" Constand is.
In a twist, the judge hinted that he might not allow jurors to hear Cosby's lurid deposition testimony about giving Quaaludes to women before sex. He said he would rule during the trial. Cosby testified in 2005 and 2006 as part of Constand's lawsuit.
Cosby didn't take the stand at the first trial and is unlikely to do so this time.
Stephanie Gosk and Adam Reiss reported from Norristown, and Kalhan Rosenblatt from New York.