Before Harvey Weinstein, there was Cardinal Bernard Law.
While Law's sin was covering up for pedophile priests in Boston, not allegedly assaulting actresses, his ouster some 15 years ago paved the way for today's torrent of takedowns of powerful men like Weinstein who have been accused of sexual harassment and worse, experts said Wednesday.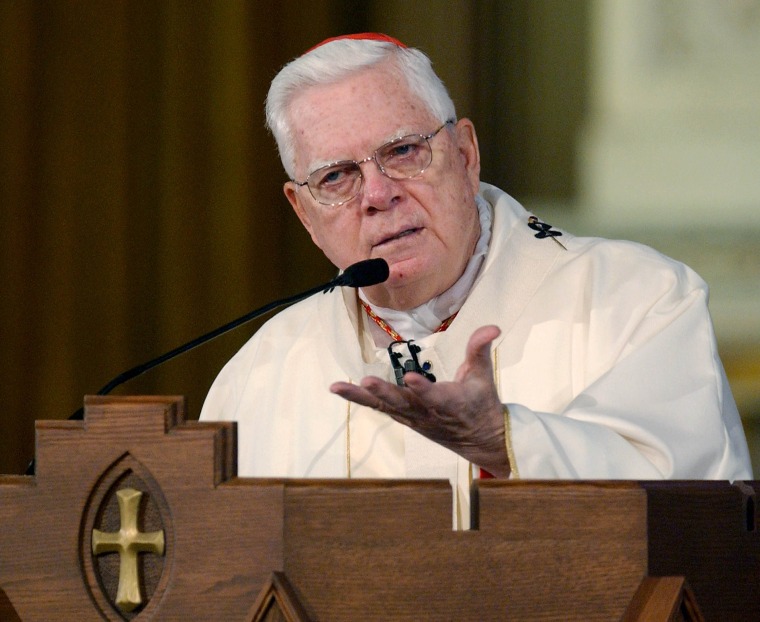 "What happened with Law emboldened people to come forward. It made them realize they can challenge a powerful institution like the Catholic Church and that change can happen," said Jennifer Drobac, an Indiana University law professor and an expert on sexual harassment in the workplace.
The downfall of Law, who died Wednesday at the Vatican, was "a cultural change and not just in the Catholic Church," Drobac added.
"What happened has had a ripple effect on all kinds of other institutions in our country, and it has a ripple effect all over the world," she said. "We don't even know how wide the ripple effect will go."
Barbara Dorris, executive director of SNAP, a sex-abuse victims group that has been pressuring the Vatican for justice, said she sees a direct line from Law to Weinstein and other recently accused abusers.
"It was the [Catholic church] survivors who first had the courage to come forward," she said. "That was the start of people finding the courage to speak out against powerful people and institutions."
And the current spate of sex harassment and rape accusations that have crashed the careers of some of America's most famous men has, in turn, convinced other alleged victims of priestly abuse to come forward, Dorris said.
"In recent days, I've talked to two families with children who have been abused," she said. "Bishops continue, to this day, to protect the predators."
Weinstein, who resigned from his company after he was hit with a raft of rape and sexual harassment accusations, has denied all allegations of nonconsensual sexual encounters.
"The church is not alone in this," said veteran Vatican watcher Rocco Palmo, editor of the widely read website Whispers in the Loggia. "It extends to Hollywood, it extends to Congress, to Wall Street to the NFL."
"There are very intriguing parallels with what happened in Boston to what is happening now," he said.
There likely won't be many mourners at Law's funeral on Thursday. His sendoff will follow the centuries-old protocol for departed cardinals at St. Peter's Basilica in Vatican City.
Cardinal Angelo Sodano, the dean of the College of Cardinals, will preside over the funeral mass. When that is over, Pope Francis will stand at the foot of Law's coffin and give the standard "final commendation," or blessing. Then, his casket will be carried off to its final resting place at the Saint Mary Major Basilica, which was his last assignment after he left Boston in 2002.
"Underscoring how toxic he is in the Vatican's eyes, they're moving unusually fast with the funeral," Palmo said. "They were not going to wait until after Christmas."
So there will be only a clutch of Rome-based cardinals on hand to see him off along with his longtime secretary Monsignor Paul McInerny and possibly a handful of relatives, Palmo said. Notably absent will be Law's successor in Boston, Cardinal Sean O'Malley.
The Rev. Joshua Whitfield, in a recent column for The Dallas Morning News, referred to Weinstein and "the near-ironic hypocrisy of me saying anything at all" about the sex harassment scandals.
In an interview with NBC News, the Dallas-based Catholic priest recalled meeting Law in 2016 at the Vatican.
"I was asked to deliver a dying man's letter," said Whitfield, who described the writer of the letter as an "old college friend of Law's."
"I spent a couple hours with him," Whitfield said of Law. "He was just a sad, lonely old man."
Whitfield said they didn't talk about what happened in Boston. He agreed that "the doors were broken open" for today's accusers by the scandal that engulfed Law and the archdiocese he led, a drama that was depicted in the Academy Award-winning movie "Spotlight."
"Whatever in Hollywood or Congress comes to be, it's because of what happened in the Catholic Church," he said. "It was a terribly painful thing. But the Catholic Church in 2017 is totally different now, and that's because of this."