New allegations against Rep. John Conyers emerged late Monday with a former staffer accusing the congressman of sexual harassment in an affidavit released by a lawyer.
Conyers, the longest serving member of Congress, announced Tuesday that he was resigning, effective immediately, had faced calls from lawmakers, including House Minority Leader Nancy Pelosi, to quit following previous allegations of misconduct.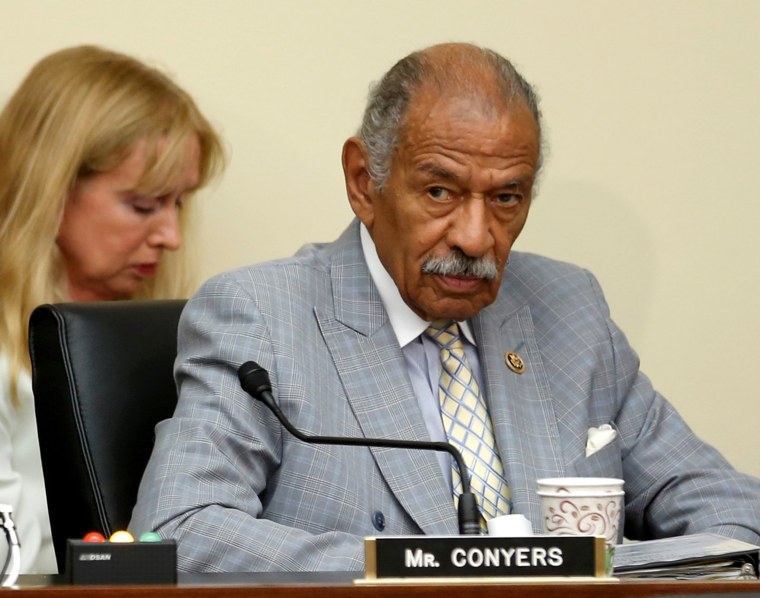 In the document released by lawyer Lisa Bloom, former staffer Elisa Grubbs said she worked in Conyers' office from approximately 2001 to 2013. She claimed that the congressman "inappropriately touched" her during her time there. Grubbs also said she witnessed Conyers touching other women in the office.
In one incident, he slid his hand up her skirt and rubbed her thighs while the two were sitting next to each other in the front row of a church.
She said that when it happened she jumped up and exclaimed in front of other staffers, "He just ran his hand up my thigh!"
Another time at Conyers' home, the congressman walked out of his bathroom naked, knowing that she was in the room, she said. She added that she "immediately ran out of the house."
Grubbs said she saw Conyers stroking the legs and buttocks of other staffers on multiple occasions.
"Witnessing Rep. Conyers rub women's thighs and buttocks and make comments about women's physical attributes was a regular part of life while working in the Office of Rep. Conyers," Grubbs said in the affidavit.
His lawyer, Arnold Reed, called the affidavit "nothing more than tomfoolery" in a tweet on Monday night.
On Friday, Reed posted on Twitter statements made by other staffers saying that they had never witnessed any inappropriate behavior by Conyers toward Brown.
"She never expressed to me or to anyone to my knowledge that she was harassed in any fashion," read a statement by former congressional aide Shawn Campbell.
Security guard James Marbury said that he witnessed Conyers and Brown together on numerous occasions and "she never appeared to be uncomfortable around Congressman Conyers, and in fact, appeared to have a good professional working-relationship with Congressman Conyers."
Bloom has previously represented women making accusations of sexual harassment. For a short time she represented movie mogul Harvey Weinstein, but resigned soon after a New York Times story with multiple allegations of sexual harassment against him was published.
Bloom told Buzzfeed that her decision to represent him was "a colossal mistake."
Grubbs said she would be prepared to testify to the allegations under oath. She is the cousin of Marion Brown, who described on TODAY last Thursday how Conyers propositioned her for sex.
Brown said that in one incident he undressed down to his underwear and asked her to satisfy him sexually in a Chicago hotel room in 2005.
Brown first came forward anonymously in a Buzzfeed story on Nov. 20, saying she was fired in 2014 for refusing his sexual advances.
Brown reached a settlement with Conyers in 2015 in which she signed a non-disclosure agreement, but she said she then decided to go public regardless.
In her tweets Monday, Bloom said the Grubbs affidavit is the first of several that she plans to release that describe accusations of sexual harassment.
She added that Brown would like only an acknowledgement and apology.
On Thursday, Conyers was hospitalized due to stress, his political consultant Sam Riddle told WDIV-TV.
Conyers, who represents Michigan's 13th Congressional District, has until now rejected calls to resign.
"It is not up to Nancy Pelosi, Nancy Pelosi did not elect Mr. Conyers," Reed, said at a press conference Thursday in Detroit. "And she sure as hell won't be the one to tell the congressman to leave."
On Nov. 26, Conyers stepped aside as Ranking Member of the House Judiciary Committee, saying that he looks forward to "vindicating myself and my family before the House Committee on Ethics."
Rachel Elbaum reported from London. Richie Duchon reported from Los Angeles. Alex Moe reported from Washington, D.C.