The ex-stylist of Ryan Seacrest who claims she endured years of unwanted sexual misconduct was put in physically inappropriate situations on multiple occasions, according to a former co-worker who said he witnessed the alleged harassment.
"She would go to tie his shoe and Ryan would shove her head toward his crotch," the former co-worker told Kate Snow by phone. The TV exclusive aired on "Today" Wednesday. "I saw that more than once," he added.
NBC News is withholding the man's name because he still works in Hollywood and fears retaliation.
Suzie Hardy, a former stylist at the cable channel E!, had accused Seacrest, 43, of sexual misconduct last year but finally went public with her claims on Monday.
Seacrest, a longtime TV personality, is a co-host of ABC's daytime talk show "Live with Kelly & Ryan" and is set to host E!'s Oscars show on Sunday and "American Idol" when it returns to ABC next month.
A source close to Seacrest dismissed the former co-worker as a friend of Hardy's and a disgruntled former E! employee, adding that there are other witnesses who dispute Hardy's accounts.
Another source connected to Seacrest provided a video to NBC News as a rebuttal to the claim that Seacrest would shove Hardy's face into his crotch. In it, Hardy is seen tying Seacrest's shoe and him laughing and responding, "She's actually tying my shoe."
The former co-worker said just before an Oscars red carpet special in 2008, Hardy had helped Seacrest get ready at the Hollywood Roosevelt Hotel in Los Angeles.
He said at one point, the doors to the bedroom opened and Seacrest was holding Hardy in a bear hug from behind.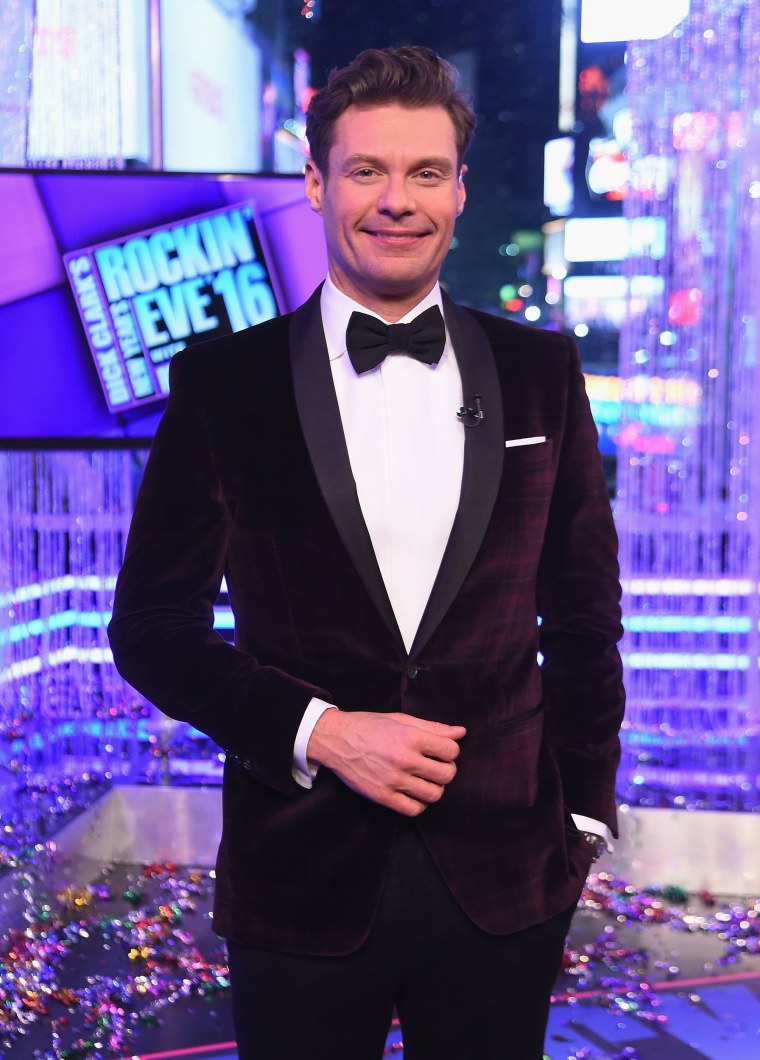 "She yelled get off of me," the former co-worker said. "She was trying to get away from him."
He added that "I could see an erect penis in his underwear."
Related: Ryan Seacrest's ex-stylist details allegations of sexual misconduct
Hardy was visibly shaken, he said, and he urged her to go to human resources.
E! conducted an independent investigation into the allegations lodged by Hardy and said in a statement that it found "insufficient evidence to support the claims against Seacrest."
Hardy's lawyer in a letter last November also mentioned the alleged incident at the Hollywood Roosevelt Hotel, but said it happened in 2009 and that Seacrest was on top of Hardy in the hotel room.
NBC News obtained a letter, first reported by Variety on Monday, sent by Hardy's attorney to E!, its corporate parent NBCUniversal and Seacrest. (NBCUniversal is also NBC News' parent company.)
Seacrest's attorney, Andrew Baum, described Hardy's allegations as "untrue" and said the stylist had sought $15 million. Hardy's attorney denied asking Seacrest, E!, or NBCUniversal for money.
Seacrest said in a statement in part, "This person who has accused me of horrible things offered, on multiple occasions, to withdraw her claims if I paid her millions of dollars. I refused."
He added that he "worked extremely hard to achieve my success" and "I don't want to accuse anyone of not telling the truth but in this case, I have no choice but to again deny the claims against me, remind people that I was recused of any wrongdoing, and put the matter to rest."
Seacrest's lawyer told NBC News that the former co-worker's claims are "lies."
"These claims are not new and were considered by the investigator hired by E!, who found no evidence of wrongdoing," the lawyer said.