More than 50 female Democratic lawmakers on Monday asked the House oversight committee to investigate allegations of sexual misconduct against President Donald Trump.
In a letter to committee chairman Rep. Trey Gowdy, R-S.C., and ranking member Rep. Elijah Cummings, D-Md., the Democratic Women's Working Group wrote that the country deserves "a full inquiry into the truth of these allegations."
"At least 17 women have publicly accused the President of sexual misconduct," the letter, which was signed by 56 lawmakers, said. "We cannot ignore the multitude of women who have come forward with accusations."
The letter added that Trump should be allowed to present evidence in his own defense.
On Tuesday, Trump appeared to respond to the Democrats' request for a probe, saying that he had never met the accusers. He claimed their stories were fabricated.
Three of the lawmakers leading the effort — Lois Frankel of Florida, Brenda Lawrence of Michigan and Jackie Speier of California — planned to speak at a news conference Tuesday.
Related: Women who have accused Trump of sexual misconduct speak out
Earlier Monday, three women appeared on "Megyn Kelly Today" recalling encounters with Trump during which they said he acted inappropriately.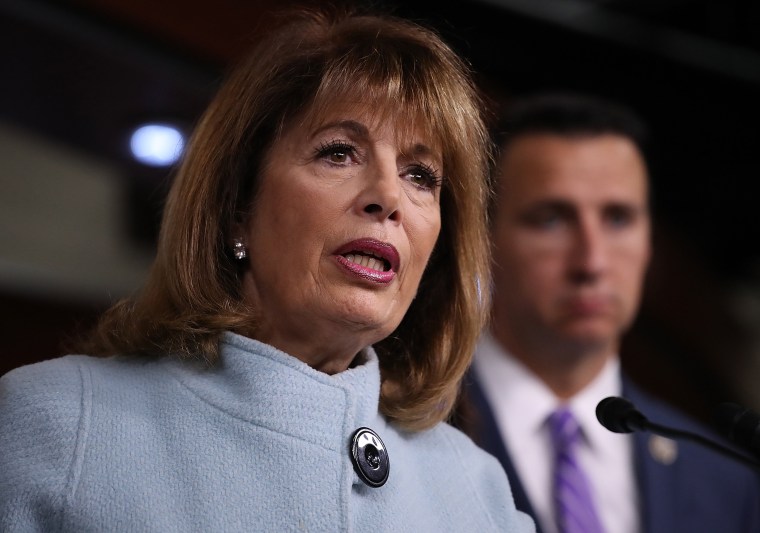 One of the women, Rachel Crooks, said Trump repeatedly forcibly kissed her inside Trump Tower in 2005. Another woman, Jessica Leeds, said that Trump grabbed her breasts and tried to put his hand up her skirt more than three decades ago when he sat beside her on an airline.
Related: Since Weinstein, here's a growing list of men accused of sexual misconduct
At a separate news conference, the women called on Congress to investigate the president.
Recalling the allegations that in October toppled a former high-power movie producer, Harvey Weinstein, Leeds said: "It became apparent that in some areas the accusations of sexual aggression were being taken seriously and people were being held accountable, except for our president, and he was not being held accountable."
"I ask that Congress put aside their party affiliations and investigate Mr. Trump's history of sexual misconduct," Crooks added.
Gowdy's office told NBC News that it has yet to receive the letter and has no further comment at this point.