"Super-Size Me" director Morgan Spurlock on Wednesday admitted to a history of sexual misconduct that reaches back to his college days.
Declaring "I am part of the problem," the 47-year-old documentary filmmaker famous for eating a grotesque amount of McDonald's for a film admitted in a blog post that he was accused of rape in college, settled a sexual harassment lawsuit and has cheated on all of his romantic partners, including both of his wives.
The post was shared from Spurlock's verified Twitter account. A representative for the documentarian declined to provide a comment to NBC News.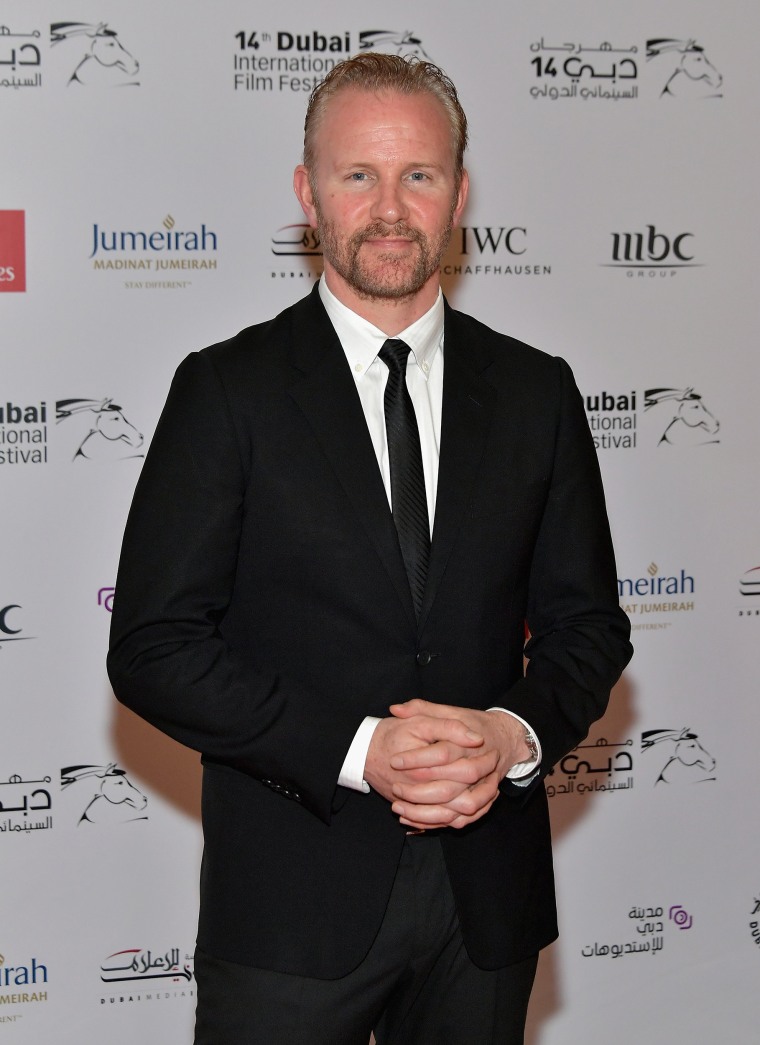 "As I sit around watching hero after hero, man after man, fall at the realization of their past indiscretions, I don't sit by and wonder 'Who will be next?'" Spurlock wrote. "I wonder, 'When will they come for me?'"
Related: Since Weinstein, here's the list of men accused of sexual misconduct
Spurlock wrote that he saw many parallels in his own life to the recent news of women sharing stories of sexual impropriety, particularly with men in power.
Spurlock said that a woman who entered a one-night sexual relationship with him when they were both drunk indirectly accused of him rape. In his post, Spurlock shared what he recalled of the incident.
"We began fooling around, she pushed me off, then we laid in the bed and talked and laughed some more, and then began fooling around again. We took off our clothes. She said she didn't want to have sex, so we laid together, and talked, and kissed, and laughed, and then we started having sex."
Related: Salma Hayek says Harvey Weinstein forced her to do sex scene in 'Frida'
The woman then began to cry, and he said he stopped and attempted to comfort her.
"I believed she was feeling better," he wrote. "She believed she was raped."
Another moment of sexual impropriety the filmmaker shared is of a sexual harassment suit that he settled approximately eight years ago. A female assistant brought the suit because he often called her "hot pants" or "sex pants" in the office.
After she quit, she threatened to "tell everyone" if he did not pay her.
"Being who I was, it was the last thing I wanted, so of course, I paid," the filmmaker wrote. "I paid for peace of mind. I paid for her silence and cooperation. Most of all, I paid so I could remain who I was."
In the post, Spurlock asked whether these instances of sexual impropriety were caused by the sexual abuse he said he suffered as a boy and teenager, that his father left or because he suffers from alcoholism and depression.
Related: Russell Simmons accused of rape by three more women
The post ended with Spurlock asserting that he believes he can also be "part of the solution" by admitting his faults and past transgressions.
"The only individual I have control over is me," he concluded. "So starting today, I'm going to be more honest with you and myself. I'm going to lay it all out in the open. Maybe that will be a start. Who knows. But I do know I've talked enough in my life ... I'm finally ready to listen."
In a tweet after his blog post, Spurlock said he was "seeking help."
Spurlock is the executive producer of multiple unreleased documentaries, but of particular note is a TNT docu-series called "Who Run the World?" slated for release next year. Actress Sarah Jessica Parker is also an executive producer on the project.
The series aims to "unpack the most divisive and complicated issues facing women today, from the policing of their bodies and judgments of their family planning choices, to the micro-aggressions they face in the media, the workplace and everyday life," according to a press release.
Parker's production company Pretty Matches and Refinery29 said on Friday evening that they were severing ties with Spurlock and suspending production. "We stand in solidarity with the victims," a company spokesperson said in an email.
"We are suspending production on WHO RULES THE WORLD [a working title, formerly known as "Who Run the World?"] to reevaluate the best path forward for the project, and are more determined than ever to share women's stories through this series," the spokesperson said.
TNT confirmed later on Friday that production on the show would be "suspended until further review."
Also Friday, Google said it would not distribute "Super Size Me 2" on YouTube Red. "We feel for all of the women impacted by the recent statements made by Morgan Spurlock," Google said in a statement. Spurlock directed the film. Production company Warrior Poets said it would not present the film at the Sundance Film Festival.
Spurlock also served as the executive producer for Showtime's documentary series about America's drug epidemic titled "The Trade," which will premiere at the Sundance Film Festival in January. Showtime and Sundance did not immediately respond to multiple requests for comment earlier this week.