The New York Times suspended prominent political reporter Glenn Thrush on Monday following accusations of sexual misconduct, the paper said.
The suspension came hours after the news outlet Vox published a report detailing an alleged pattern of inappropriate behavior toward women, particularly young female reporters.
"The behavior attributed to Glenn in this Vox story is very concerning and not in keeping with the standards and values of The New York Times," the paper said in a statement Monday. "We intend to fully investigate and while we do, Glenn will be suspended."
Thrush plans to enter a substance abuse program, the newspaper said, adding that it supported his decision to do so.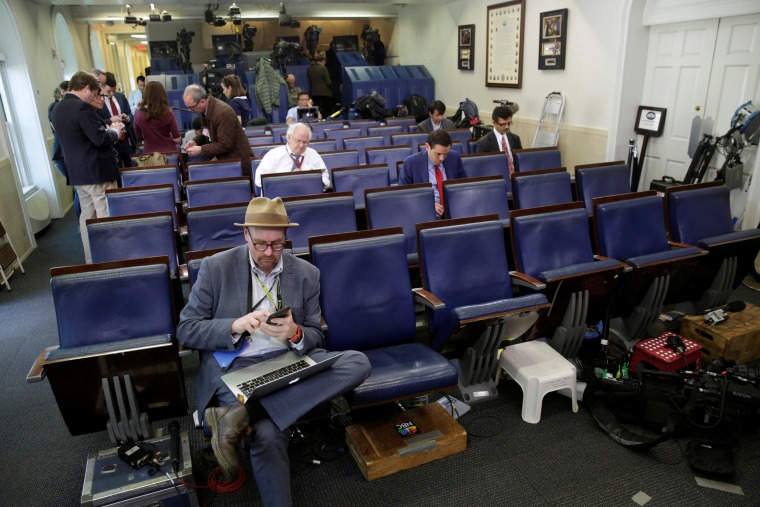 Thrush is also an MSNBC contributor. A spokesperson for the network said: "We're awaiting the outcome of the Times' investigation. He currently has no scheduled appearances."
Thrush is one of the most widely known bylines in the political world. He joined The Times in January to cover the Trump administration from Politico. Some of the accusations made in the Vox story, which range from unwanted touching to drunken sexual encounters, allegedly took place while he was chief political correspondent for Politico.
At the Times, Thrush, 50, was one of six reporters covering the White House and President Donald Trump. He is in the process of writing a book about Trump with colleague Maggie Haberman, another Times White House reporter.
Thrush's impact in the political world is broad enough that he was spoofed numerous times on "Saturday Night Live" by actor Bobby Moynihan. Moynihan portrayed Thrush as the relentless reporter who refused to let the White House press secretary at the time, Sean Spicer, played by actress Melissa McCarthy, off the hook.
Until recently, Thrush had been an avid user of Twitter, often breaking news about the Trump administration there. In September, he made headlines for his announcement that he was leaving the social media platform, citing it as a "distraction."
Laura McGann, editorial director at Vox, broke the story about the accusations against Thrush and said she had had an unwanted sexual encounter with him in which he made advances on her at a bar, touching her thigh and kissing her. She said his status as one of the most high-profile political reporters made it hard for women to speak up about his alleged misconduct.
Related: Since Weinstein, here's a growing list of men accused of sexual misconduct
Thrush, who is married, apologized in a statement.
"I apologize to any woman who felt uncomfortable in my presence, and for any situation where I behaved inappropriately. Any behavior that makes a woman feel disrespected or uncomfortable is unacceptable," he said.
"My recollection of my interactions with Laura differs greatly from hers — the encounter was consensual, brief, and ended by me. She was an editor above me at the time and I did not disparage her to colleagues at POLITICO as she claims. The assertion that I would rate women based on their appearance is also false," Thrush said.
The accusations come after multiple claims of sexual harassment against Hollywood producer Harvey Weinstein, as well as other men in media, including Mark Halperin, an MSNBC political contributor, and Michael Oreskes, National Public Radio's news chief.
NBC News cut ties with Halperin, and Oreskes was ousted from NPR. Another news executive, Matt Zimmerman, was also dismissed from NBC News.