A wave of Hollywood actresses, including Gwyneth Paltrow and Angelina Jolie, have come forward to accuse Harvey Weinstein of sexual misconduct — and three other women have alleged that the film executive forced himself on them.
The claims emerged Tuesday in back-to-back reports by The New Yorker magazine and The New York Times — five days after a story in The Times that detailed alleged sexual harassment by Weinstein spanning decades and led to him being fired by the company he co-founded.
In a report for the New Yorker, journalist Ronan Farrow, who is also a contributing correspondent to NBC News, said he was told by 13 women that Weinstein harassed or assaulted them between the 1990s and 2015.
Three women — including actress Asia Argento and former aspiring actress Lucia Evans — said Weinstein had forced himself on them, the magazine reported.
OPINION: Firing Harvey Weinstein Is Not Enough
Evans said that in 2004, during a meeting at the Miramax offices in New York City, Weinstein made her perform oral sex on him.
"I said, over and over, 'I don't want to do this, stop, don't,' " she said. "I tried to get away, but maybe I didn't try hard enough."
Argento said that in 1997, Weinstein convinced her to give him a massage and then performed oral sex on her while she asked him to stop.
"I was not willing," she said. "I said, 'No, no, no.'"
Argento said that while the first encounter was not consensual, she went on to develop a close relationship with Weinstein and have consensual sex with him over the next five years.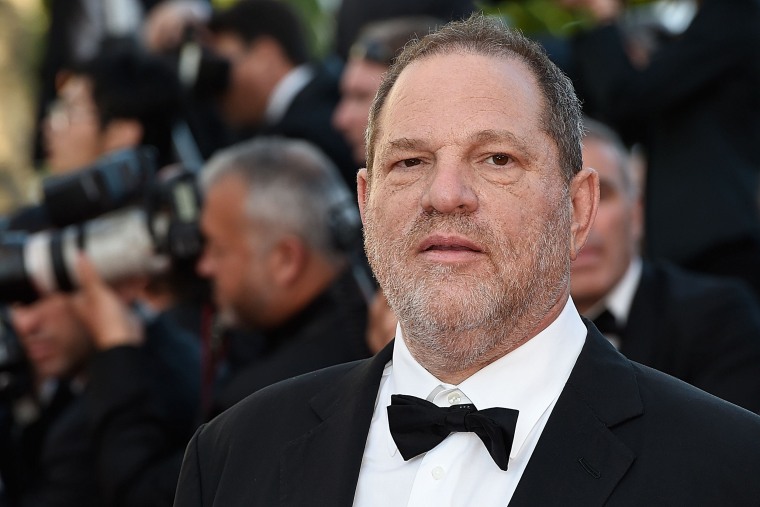 Weinstein, who last week apologized for how he had treated women, said Tuesday he never assaulted anyone.
"Any allegations of non-consensual sex are unequivocally denied by Mr. Weinstein. Mr. Weinstein has further confirmed that there were never any acts of retaliation against any women for refusing his advances," his spokesperson said in a statement.
"Mr. Weinstein obviously can't speak to anonymous allegations, but with respect to any women who have made allegations on the record, Mr. Weinstein believes that all of these relationships were consensual.
"Mr. Weinstein has begun counseling, has listened to the community and is pursuing a better path," the spokesperson said in a statement. "Mr. Weinstein is hoping that, if he makes enough progress, he will be given a second chance."
Shortly after the New Yorker posted its story, The Times published its report, with the accounts from two of the best-known actresses in the business.
Paltrow said when she was 22 years old, Weinstein summoned her to his hotel suite for a meeting about the movie "Emma." She said he put his hands on her and indicated they should go to the bedroom for massages, The Times reported.
"I was a kid, I was signed up, I was petrified," she said, telling the newspaper that she told her then-boyfriend, actor Brad Pitt, what happened. He confronted Weinstein, who then threatened Paltrow to keep quiet about it, she said.
"He screamed at me for a long time," she said. "I thought he was going to fire me."
Jolie told the paper that in the late 1990s, Weinstein made advances on her in a hotel room.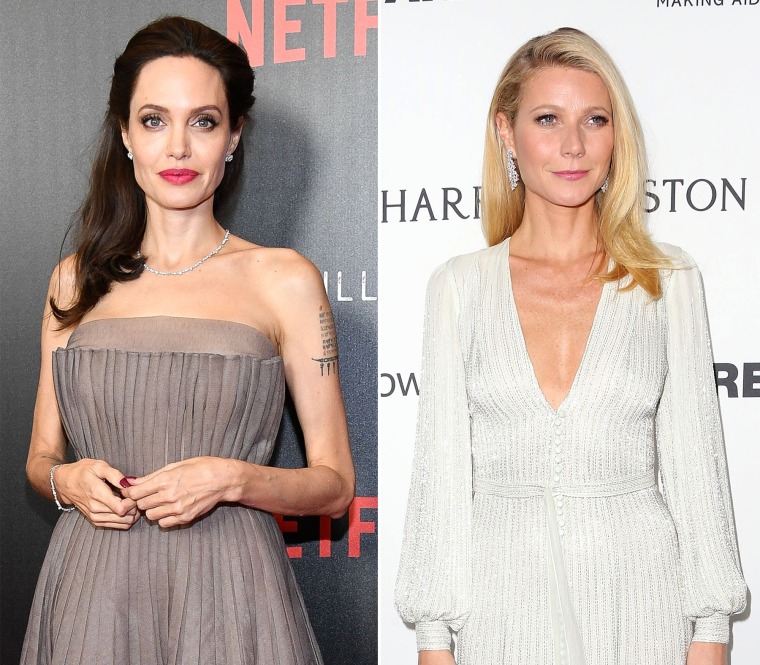 "I had a bad experience with Harvey Weinstein in my youth, and as a result, chose never to work with him again and warn others when they did," the paper said she told them in an email. "This behavior towards women in any field, any country is unacceptable."
The New Yorker also had interviews with actresses Rosanna Arquette and Mira Sorvino, who said they believed that Weinstein hindered their careers after they rejected unwanted advances from him.
The magazine also published audio of Weinstein that they say was captured during a 2015 NYPD sting operation after an Italian actress accused him of touching her breast.
"I won't do it again," Weinstein said as he tried to coax the woman, Ambra Battilana Gutierrez, to enter his hotel room.
Weinstein was not prosecuted. Gutierrez struck a settlement with Weinstein and signed a non-disclosure agreement, The New Yorker reported.
Criticism of Weinstein has been mounting since the Times' original report — which included an allegation from actress Ashley Judd that two decades ago, Weinstein asked her to give him a massage or watch him shower.
On Tuesday Weinstein's wife, Georgina Chapman, said in a statement to People magazine that she was leaving him. They married in 2007 and have two children together.
"My heart breaks for all the women who have suffered tremendous pain because of these unforgivable actions. I have chosen to leave my husband. Caring for my young children is my first priority and I ask the media for privacy at this time," Chapman said in the statement to the magazine.
Former President Barack Obama weighed in on the scandal Tuesday, saying in a statement that he and former first lady Michelle Obama have been "disgusted" by the recent reports about Weinstein, a big donor to Democrats.
"Any man who demeans and degrades women in such fashion needs to be condemned and held accountable," Obama said.
Hillary Clinton also issued a statement to say she was "shocked and appalled" by the reports.
"The behavior described by women coming forward cannot be tolerated," she said. "Their courage and the support of others is critical in helping to stop this kind of behavior."
Feminist lawyer Gloria Allred — whose daughter, Lisa Bloom, had been advising Weinstein — said numerous women have contacted her and she urged Weinstein to enter into confidential arbitration to compensate his accusers. One of them, former actress and screenwriter Louisette Geiss, said at a Los Angeles press conference that she left the entertainment business because of an incident with Weinstein in 2008 at the Sundance Film Festival.
With Allred by her side, Geiss said Tuesday that during a meeting in his office to discuss her screenplay, Weinstein excused himself to go to the bathroom and returned in an open bathrobe, got into a hot tub and asked her to watch him masturbate. When she tried to leave, he grabbed her arm and led her to a bathroom, where he continued to ask her to watch him, promising her a "three-picture deal."
"I was on the verge of tears but I pulled it together and quickly exited," she said.
Although she said she told her sister and a friend what happened, she didn't go public at the time because "I never thought I would have any chance to stand up for myself against Harvey Weinstein."
Farrow said on MSNBC Tuesday that of the executives and assistants he spoke to for the article "over and over again I heard from them 'We feel a profound sense of guilt about what we saw, and our silence about it for years.'"
The Weinstein Co. Board of Representatives, which includes Weinstein's brother, said in a statement Tuesday that it was completely surprised by the newly revealed allegations.
"The Weinstein Company's Board of Representatives — Bob Weinstein, Lance Maerov, Richard Koenigsberg and Tarak Ben Ammar — are shocked and dismayed by the recently emerged allegations of extreme sexual misconduct and sexual assault by Harvey Weinstein. These alleged actions are antithetical to human decency," the board said in a statement.
"These allegations come as an utter surprise to the Board. Any suggestion that the Board had knowledge of this conduct is false," the board said, adding, "we are committed to assisting with our full energies in all criminal or other investigations of these alleged acts, while pursuing justice for the victims and a full and independent investigation of our own."
Academy-award winning actor Julianne Moore tweeted her support for the accusers on Monday and called them brave for coming forward. On Tuesday, she said on MSNBC that she has never had a personal experience like that, and called Weinstein's alleged behavior "completely egregious and shocking."
"When these incidents occurred, these women were very young," Moore said. "It's very difficult to be 21, 22, 23, and feel like you have any personal power. It's way different when you're 40 or 45 and then kind of like 'no, this is not for me.'"