Inside a bright operating room, Dr. Christina Jenkins gripped her surgical clamp, ready to remove a skin graft.
With her was a scrub tech, an anesthesiologist, and, across the operating table, the attending physician — a veteran trauma and burn surgeon.
Jenkins, a resident at the time who was just beginning her career, dug her surgical instrument underneath the skin graft. She was almost finished spreading apart the patient's staples when, she said, the attending physician leaned over so his face was uncomfortably close to hers.
"You know how to spread good," he whispered through his surgical mask over their anesthetized patient. "That will teach you how to spread."
Astonished that she had been sexually harassed in the middle of an operation, Jenkins quickly finished the procedure.
"It was like my second case as an intern," she said.
But it was hardly the only time she would encounter that kind of behavior in the male-dominated world of medicine.
On another day during residency, her pager went off. It was Jenkins' chief resident, beckoning her to the call room with what she assumed was an urgent matter.
Instead, when she arrived, he started making casual conversation — and then told her he could make her life easier if she had sex with him, she said.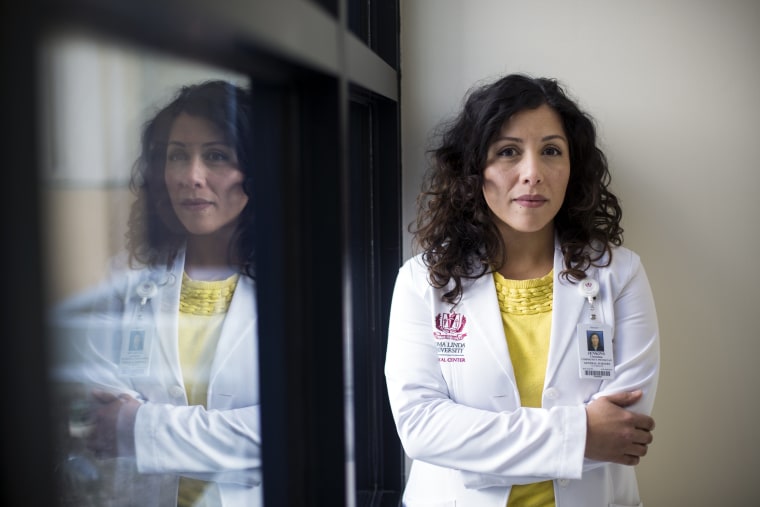 "You know you want it," the chief resident, who was married, told her.
Sexual harassment against women in medicine has been studied for decades: A 1995 study found 52 percent of all women in academic medicine said they had been sexually harassed.
But unlike Hollywood and other industries where allegations against powerful men have recently shined a light on inappropriate behavior, medicine has yet to have its #MeToo moment.
Nonetheless, women in the field are hopeful that that is about to change.
The male-dominated culture of medicine
Over the course of a months-long investigation, NBC News spoke with nearly a dozen women and experts in medicine, who, like Jenkins, described widespread misconduct in hospitals and other health care settings, deeply woven into the fabric of their workplaces even as they made life-or-death decisions for their patients.
For Jenkins, the sexually suggestive comments were two of many that she says she received during her residency between 2008 and 2013 at Westchester Medical Center in Valhalla, New York. Medical trainees were often sexually harassed, she said, but burned out by their long hours, they were silenced by a lack of time and energy, as well as fear that speaking up could cost them the coveted recommendation letters they needed for their careers.
"Everyone kind of knew and joked about it," Jenkins, 38, now a colorectal surgeon in Palm Springs, California, and a faculty member at Loma Linda University Medical Center, said of the harassment. "Nobody really wanted to say anything, because nobody wanted to rock the boat. We were already stressed enough."
"Nobody really wanted to say anything, because nobody wanted to rock the boat. We were already stressed enough."
The traditionally male field of medicine has seen some change: 2017 marked the first time the majority of entering medical students were female, according to a report by the Association of American Medical Colleges.
But women of every rank — from surgeons to nurses to residents — said that instead of embracing their rise, some male peers or superiors act inappropriately toward them instead.
"Part of it has to do with the culture of hospitals and the whole culture of health care in general, which is very hierarchical," said Teresa Goodell, 58, a trauma clinical nurse specialist in the Portland, Oregon area. She has been a nurse for 35 years and says she has endured multiple incidents of sexual harassment.
"Physicians and top administrators are at the peak and feel free to mistreat nurses" and others they see as being underneath them, she added.
Plus, when unwanted advances happen so frequently, it becomes normalized to the point where no one wants to report it, as Jenkins discovered when she was a resident. The same surgeon who made the vulgar comment to her would often openly flirt with nurses and residents, Jenkins said. Speaking up felt out of the question.
"You just accepted it as that's just the culture," she said. "We thought that was just the way that was."
More than a confidential hot-line
Health care organizations make clear that they do not condone inappropriate behavior. The American Medical Association calls workplace sexual harassment unethical and specifically states in its Code of Medical Ethics that "Sexual relationships between medical supervisors and trainees are not acceptable, even if consensual."
Westchester Medical Center Health Network, where Jenkins says she was sexually harassed as a resident, maintains that it has never tolerated workplace harassment. In a statement to NBC News, it said that the surgeon in question "has not worked at Westchester Medical Center for years and we have no record of a report."
"Our policies on harassment are strict, clear and presented to all employees consistently," it said.
"Mechanisms have been and continue to be in place to enable confidential reporting and allegations involving staff are investigated swiftly and thoroughly. Disciplinary actions are taken, as appropriate, after internal review," the statement said, adding that Westchester Medical Center's policies were "continuously examined and enhanced" and that reporting sexual harassment was encouraged through its confidential 24-hour hotline.
More than a hotline is needed, said many females in medicine, who want to see an overhaul of their entire profession — with men made aware of what's unacceptable and women looking out for one another and supporting each other.
Dr. Elizabeth Raskin, 42, a fellow colorectal surgeon at Loma Linda Medical Center and at the VA Hospital in Loma Linda, has taken on a mentorship role to Jenkins and other younger women in medicine. She's determined to be part of the revolution.
"It's got to be an organic change that comes from within," she said. "If we don't ever break the cycle, the people behind you face it as well."
Part of the problem is what sexual harassment is rooted in. It's often a form of intimidation — a way to show someone where they stand in the pecking order, and make them feel that their status has been lowered.
In medicine, a field that already has an inherent power structure, this is exacerbated — especially for nurses, Goodell said.
Related: For nurses, sexual harassment from patients is 'par for the course'
In her extensive nursing career, inappropriate comments came over the years from doctors as well as a male nurse — who casually asked her what her bra size was when they were working together in the 1990s. A decade earlier, when she was a nursing student in Elyria, Ohio, a physician at what was then known as Elyria Memorial Hospital aggressively demanded her phone number.
She didn't report the incidents.
"It's very hard to speak up," Goodell said. "Sometimes nurses treat other nurses badly for pursuing harassment claims, and that's just wrong. When you're doing something like this, it's so key that you have support, that you have people believe you, and if you don't, it's very, very hard to do because it's an uphill battle the whole way."
"It's so key that you have support, that you have people believe you, and if you don't, it's very, very hard to do because it's an uphill battle the whole way."
Last year, Elyria Memorial joined the University Hospitals Cleveland Medical Center system, which said that it was unable to comment on an incident from more than three decades ago. The hospital added that it is "committed to providing a work environment that is free from all forms of discrimination and conduct that can be considered harassing, coercive or disruptive, including sexual harassment."
Vulnerable residents and nurses
Some women said that as they advanced in their careers, sexual harassment became less of an issue.
"If somebody made a comment to me now that I'm an attending, I would not feel nearly as scared to bring it to the attention of somebody, because I have power. There's nothing really scaring me," said Dr. Erin Qualter, 42, an attending neonatologist at Monmouth Medical Center in Long Branch, New Jersey.
She said that she has had only positive experiences at her current workplace, but worried about residents in any medical program, who are vulnerable to abuse.
"They're so subservient, and they don't have any power," she said.
The Accreditation Council for Graduate Medical Education, which sets requirements for programs and institutions that employ residents and fellows in training, said that all institutions are required to have policies in place to address reports of harassment.
For Dani Stringer, a pediatric nurse practitioner in Arizona who runs a website for parents called KidNurse, speaking up felt like an automatic career killer.
She said she had a professor in a community college's nursing program who pulled her aside to go over a paper during class and told her, "I've noticed you like to wear shirts that zip down in the front. I really like that."
The comment stunned Stringer — who was only 14 at the time. A prodigy, Stringer became the country's youngest-ever board-certified nurse practitioner at age 18.
Now 25, Stringer said she didn't report him because she feared it would lead to her expulsion.
"It had so much power because I wanted to be a nurse so badly, and I know this professor taught a whole classroom full of future nurses," she said.
Stringer recalled another time when she was completing clinical hours as a nurse practitioner student and the physician who owned the practice came up to her and, out of the blue, remarked on the drink she was sipping.
"He said, 'You know, when you chew on your ice, it means that you're sexually frustrated,'" she said.
But again, reporting the comment felt out of the question: "You're a student there, and he owns the practice. You laugh it off and you just go on seeing patients."
Stringer is not alone. Workplace sexual harassment is widespread, regardless of the industry, yet reporting it is not: While one in four women experience workplace harassment, up to 94 percent of them don't file a complaint, according to a report by the U.S. Equal Employment Opportunity Commission.
In the wake of Harvey Weinstein and #MeToo, the disheartening reason for this has become clear: With the risk of being shamed or retaliated against so high, it often doesn't feel worth it to come forward.
"Things can get pretty bad pretty quickly in medicine in a way that might not happen in other workplace environments as readily, because of seclusion and access to on-call rooms and the strong hierarchies and power differentials that are at play."
Experts say that risk, plus other factors unique to medicine — such as the 24/7 nature of the job and easy access to beds and call rooms in hospitals — has allowed sexual harassment to proliferate in this particular field.
"I think that things can get pretty bad pretty quickly in medicine in a way that might not happen in other workplace environments as readily, because of seclusion and access to on-call rooms and the strong hierarchies and power differentials that are at play," said Dr. Reshma Jagsi, a professor at the University of Michigan and director of the school's Center for Bioethics and Social Sciences in Medicine.
Jagsi has had a longstanding interest in gender equality among medical professionals. Nearly two decades after the 1995 study in which more than half of all females in academic medicine said they had been sexually harassed, Jagsi decided to do a survey of her own, asking top physician-scientists if they had been victims of workplace sexual harassment.
She said she had hoped her survey would be "good news" that showed massive progress since 1995. Instead, 30 percent of female doctors still reported that they had been sexually harassed. (Only four percent of male doctors responded that they had.)
"These were really quite bothersome findings," Jagsi said. "I was both surprised and disappointed."
The stress inside medicine
Dr. Paul Spector, a professor at the University of South Florida who studies occupational health psychology, has done numerous studies on violence and mistreatment of those in health care. He said the extreme stress of medicine contributes to the problem.
"When people are under stress, they're more likely to lash out at others, so this is more likely to result in mistreatment ... It could be sexual harassment, but often sexual harassment is just a piece of the bigger mistreatment pie."
"When people are under stress, they're more likely to lash out at others, so this is more likely to result in mistreatment," he said. "It could be sexual harassment, but often sexual harassment is just a piece of the bigger mistreatment pie, where somebody might be making sexual comments, but they're also making all sorts of other negative comments."
Misbehavior does not always go without consequence. Some of the harshest punishments handed down are to the tune of millions: In 2012, Ani Chopourian, a former cardiac surgery physician assistant, won nearly $168 million against a Sacramento hospital after she said she was terminated for filing complaints of being sexually harassed by surgeons, an employment verdict believed to be among the biggest in U.S. history for a single employee.
In 2009, Janet Bianco, a nurse in the Queens borough of New York City, was awarded $15 million after reporting unwanted touching that resulted in a claim of sexual assault at Flushing Hospital. (Both Chopourian and Bianco declined to speak to NBC News.)
Still, harassment persists despite a multitude of guardrails to prevent it: All accredited hospitals and health care organizations must have a policy on sexual harassment enforced in order to maintain their accreditation, according to the Joint Commission, which accredits and certifies more than 21,000 health care organizations and programs in the United States.
Like sexual harassment victims in other industries, those in the medical profession are protected by the Title VII federal law that prohibits gender discrimination, according to Joshua P. Frank, a civil rights attorney specializing in employment law based in New York. Frank called it troubling that harassment was so rampant in a field where "people's health and life is in your hands."
And sexual harassment from colleagues is only part of the challenge of being a woman in medicine. There's also sexual harassment from patients. Linda, a senior-level OBGYN and professor of obstetrics and gynecology in Seattle who asked to be identified by her first name only out of fear of career repercussions, said she received negative comments from men during her residency at a VA hospital, such as, "Oh, you can't do my rectal exam because you're too young and cute."
Related: For nurses, sexual harassment from patients is 'par for the course'
"It's definitely one of the reasons I went into OBGYN," she said, "because I got tired of fighting male patients to be viewed as legitimate as a provider."
And there's pervasive sexism, too.
Dr. Sharon Lum, 51, an associate professor of surgery at who works with Raskin and Jenkins at Loma Linda University School of Medicine and is the medical director of the breast health center there, hopes the next generation of female surgeons will not have to deal with the "either really blatant or unconscious gender bias" that she has been subject to.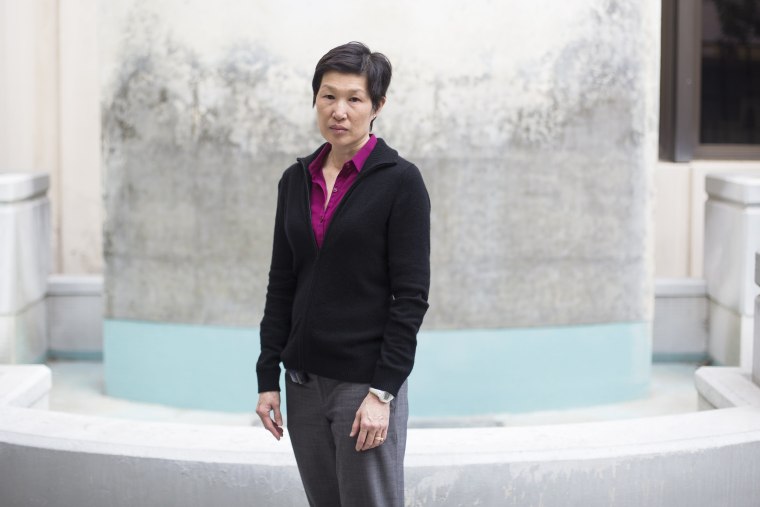 She said sexism — whether it was difficulties maintaining her career while raising three kids, or feeling like female surgeons were taken less seriously if they wore makeup and dresses — has been a bigger issue for her than sexual harassment.
"In medicine, you go into it when you're a young person thinking it's a complete meritocracy: You work hard, you do your work, you're responsible and you take care of patients and you're compassionate and smart, and then you move ahead," Lum said. "There's politics in everything, so it's not exactly like that."
'It was almost everybody'
Gender inequality in medicine, specifically sexual harassment, has been acknowledged in the #MeToo movement — albeit subtly. It was referenced by an elbow just barely in the frame of Time Magazine's "Silence Breakers" Person of the Year cover, which the magazine revealed belonged to a hospital worker from Texas, the rest of her cropped out, because she wanted to keep her identity anonymous.
At a symposium of all-female surgeons last June in Sunnyvale, Calif., before #MeToo began, Raskin, the surgeon-mentor, traded war stories of workplace sexual harassment with others.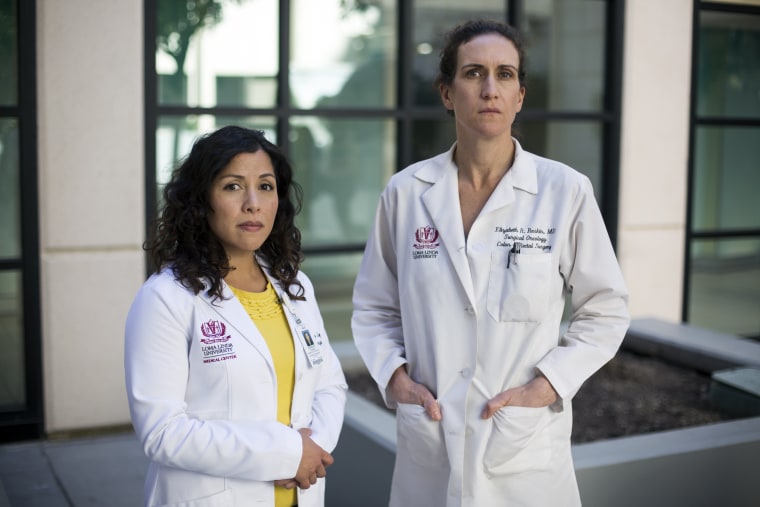 The gathering, the first of its kind organized by the robotics company Intuitive Surgical, was meant to encourage female doctors — a minority, especially in surgery where only 19.2 percent of U.S. surgeons are female — to adopt cutting-edge surgical technology.
During one session, Raskin wondered aloud how much harassment had affected the women's career ambitions. Raskin had been the victim of inappropriate conduct starting decades ago as a surgical technician when a male surgeon regularly complained about the "anatomical difference" between himself and her; when she was a resident, a different doctor would loudly comment on nurses' physiques and ask other men in the room if they wanted to sleep with them.
So Raskin polled the group of about 20 women at the surgeons' conference: How many of you have been sexually harassed at work?
"It was almost everybody," Raskin said. "And maybe the ones that didn't, it just hadn't happened to them yet."
That sentiment seems to cut across all strata in medicine.
"I think it's safe to say anyone who is a nurse will tell you that they've experienced some sort of sexual harassment, either from a patient, a family member coming to visit a patient, or from their co-worker," said Dr. Seun Ross, the director of nursing practice and work environment at the American Nurses Association, which represents more than 3 million nurses.
"Sometimes it's just easier not to say anything, and we hear that from nurses. They are in the business of saving lives, helping people to get better, and often dismiss these kinds of things as trivial, 'oh, that's just boys being boys, 'that's just the culture which we work in,'" she said.
Ross urged nurses to not trivialize sexual harassment.
"If you have to take the time and recognize that something being said to you, something being done to you, is sexual harassment, that is actually detracting from the patient, because your mind is no longer with the patient, and that could be detrimental to the patient," she said.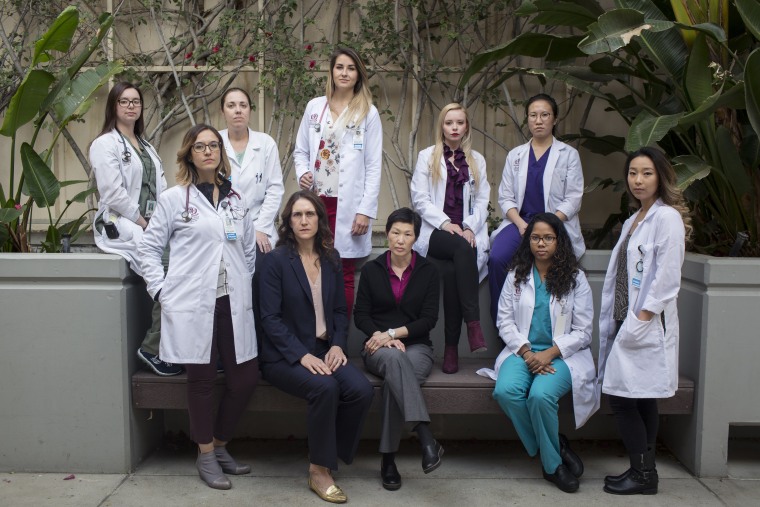 Raskin said her past experiences have inspired her to become a champion for other women surgeons.
"In the wrong hands, power manifests as overreaching power, which will dictate what's going on outside of the operating room," she said. "It's made me realize what I don't want to be like and to be an advocate for women."