New York City police investigators say they believe a rape allegation against film producer Harvey Weinstein is "credible" — and they are collecting more evidence to get an arrest warrant.
"We have an actual case here," Chief of Detectives Robert Boyce told reporters Friday.
Investigators have interviewed "Boardwalk Empire" actress Paz de la Huerta, who on Thursday publicly accused the Hollywood mogul of raping her twice in 2010. Weinstein has faced sexual harassment or assault allegations from 87 women.
She told Vanity Fair that both encounters happened in her apartment, about a month apart, the first after Weinstein offered her a ride home and the other time when he showed up unannounced in her building lobby.
"He's like a pig," de la Huerta told Vanity Fair. "He raped me."
At the police briefing Friday, Boyce said police received a phone call on Oct. 25 and spoke with the alleged victim. He said that if Weinstein were in New York at the moment and the alleged assault was recent, authorities would "go right away and make the arrest. No doubt."
"But we're talking about a seven year old case and we have to move forward gathering evidence first," Boyce said.
"She put forth a credible and detailed narrative to us," Boyce said. "We then sought to garner corroboration. This happened seven years ago. And we found corroboration along the way."
De la Huerta's attorney confirmed to NBC News that a New York police detective had interviewed his client and said he had provided material to the Manhattan district attorney, who he says is considering charges.
"A senior sex crimes prosecutor is assigned to this investigation, and the Office has been working with our partners in the NYPD since the new allegations came to light. As this is an active investigation, we will not be commenting further," a spokesperson for Manhattan district attorney Cy Vance said in a statement.
Related: A Deal Harvey Weinstein Made Over Charity Proceeds Is Now a Federal Case
Weinstein denied the claims through a spokesperson, who said, "Any allegations of nonconsensual sex are unequivocally denied by Mr. Weinstein."
The NYPD was already investigating allegations of sexual assault against the movie mogul, separate from a 2015 complaint filed by Italian model Ambra Battilana, which the NYPD investigated but the Manhattan district attorney decided not to prosecute.
NBC News has also confirmed there are at least four sexual misconduct or sexual assault investigations related to Weinstein underway in the Los Angeles area, and that London police are also investigating cases involving Weinstein. No charges have been filed.
According to Vanity Fair, de la Huerta's claim is one of the most compelling for prosecutors because it falls within New York's statute of limitations for rape in the first degree, allegedly occurring after June 2006.
Related: Could Weinstein Face Criminal Charges?
Meanwhile, Oscar-winning actor Kevin Spacey on Thursday was the subject of a CNN report in which eight unidentified sources told the network that the atmosphere on the set of Spacey's hit Netflix series, "House of Cards," was "toxic" for young men.
The sources were not named. CNN described them as current and former "House of Cards" employees.
Netflix and Media Rights Capital, the production company behind the popular show, said it was "deeply troubled" by the report.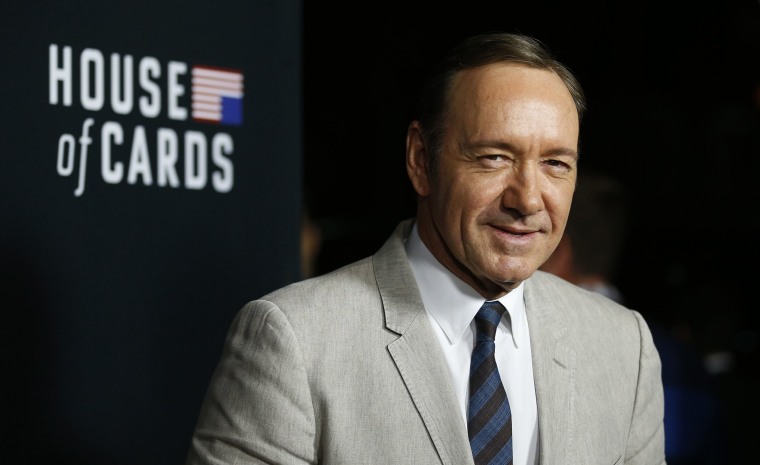 NBC News has not verified the allegations. Spacey's attorney did not immediately respond to a request for comment.
The claims against the Oscar- and Tony-winning actor come after MRC announced this week that it was suspending production on the sixth season of "House of Cards."
Netflix said in a statement Thursday following CNN's report that after the recent allegations, it sent a representative to the set this week.
"Netflix was just made aware of one incident, five years ago, that we were informed was resolved swiftly," the company said. Netflix also said it "is not aware of any other incidents involving Kevin Spacey on-set."
And MRC said it created an anonymous complaint hotline this week, and brought in crisis counselors and sexual harassment legal advisers for the crew.
"We are deeply troubled to learn about these new allegations that are being made to the press concerning Kevin Spacey's interaction with members of the crew of House of Cards," MRC said in a statement, adding that creating a safe working environment has always been a top priority.
Spacey's representatives said in a statement Wednesday that "Kevin Spacey is taking the time necessary to seek evaluation and treatment." Both his agent and public relations firm confirmed to NBC News overnight that they no longer represent Spacey.
Related: Kevin Spacey Says He'll Seek Treatment Amid Sexual Misconduct Allegations
The news comes days after Spacey was accused by Broadway veteran Anthony Rapp and Mexican actor Roberto Cavazos of inappropriate sexual behavior.
Rapp alleged in an article in BuzzFeed News that Spacey laid on top of him in 1986 while the two were alone in a bedroom after a party at Spacey's home. It was an act that Rapp, who was 14 years old at the time, characterized as a sexual advance.
Spacey said he did not remember the alleged incident but said he was "beyond horrified" and apologized. He angered some in the LGBTQ community by coming out as gay in that statement, which some said conflated homosexuality with alleged misconduct involving a minor.