In recent months alone, at least 29 powerful men in entertainment, business and the news media have been publicly condemned for their alleged sexual misconduct and many have lost their jobs as a result. The backlash and national conversation have spurred a chorus of voices joining the #MeToo movement.
That focus has lately turned to national politics.
The allegations, reactions and consequences span a wide range. Al Franken resigned as a U.S. senator for Minnesota, while Alabama Senate candidate Roy Moore continued to campaign — even garnering the support from President Donald Trump, himself the target of at least 16 sexual misconduct allegations.
Here's a list of national political figures who have been accused of sexual harassment, assault or both since October. This article will be updated as needed.
Rep. Bobby Scott
Number of accusers: 1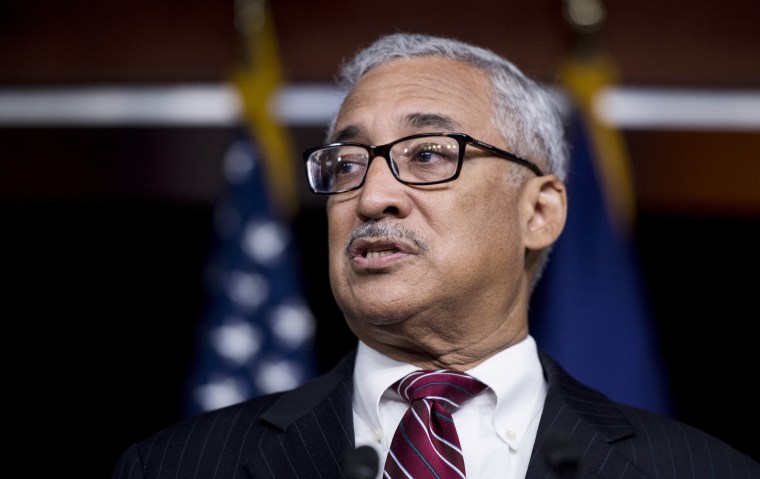 A former legislative aide to Rep. Bobby Scott, D-Virginia, accused him of sexual misconduct and claimed that he fired her after she dismissed his alleged advances.
Macherie Reese Everson, who goes by Reese, said at a press conference on Dec. 15 that Scott inappropriately touched her during two separate incidences in 2013.
Everson said Scott's alleged misconduct occurred when she was a Congressional Black Caucus Foundation fellow working in his office. She said she was "touched inappropriately" by the congressman on her back and knee on two separate occasions, also alleged that he once invited her to accompany him to an event in California.
Everson claimed that she was "wrongfully terminated" after she rebuffed the lawmaker's alleged advances.
Related: Former aide accuses Rep. Bobby Scott of sexual misconduct
Scott strongly denied his former aide's allegations in a statement later that day.
"I have never sexually harassed anyone in my 25 years of service in the United States Congress, or in my 40 years of public service, or at any other time," he said. "Sexual harassment and assault are serious issues deserving of critical attention and review. No one should be subjected to sexual harassment or be treated unfairly."
Rep. Trent Franks
Number of accusers: At least 3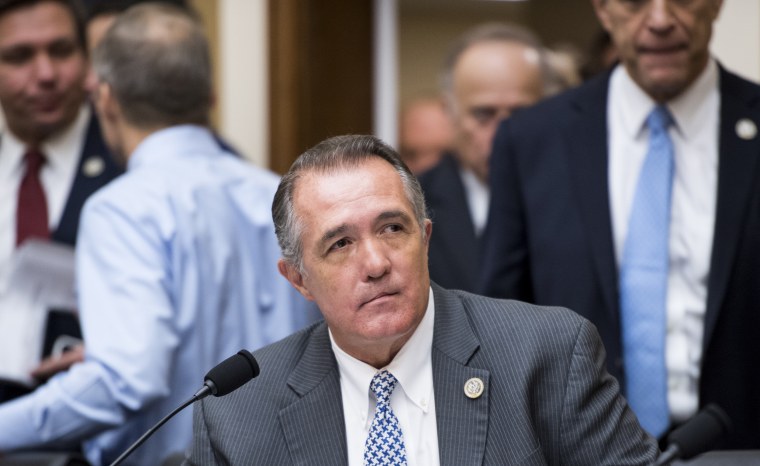 Rep. Trent Franks, R-Ariz., abruptly resigned from Congress on Dec. 8, after Speaker Paul Ryan confronted him about the allegations and as the House Ethics Committee announced it was investigating potential incidents of sexual misconduct.
The committee said it was planning to investigate if Franks "engaged in conduct that constitutes sexual harassment and/or retaliation for opposing sexual harassment."
He originally said he would step down in January but resigned on Dec. 8, saying in a statement that his wife had been admitted to the hospital the night before.
"After discussing options with my family, we came to the conclusion that the best thing for our family now would be for me to tender my previous resignation effective today, December 8th, 2017," Franks wrote.
The eight-term Arizona lawmaker said in a statement on Dec. 7 that he made two women in his office feel uncomfortable by discussing his interest in finding a surrogate mother. His wife has struggled with infertility, Franks said.
Related: Arizona Rep. Trent Franks quits after asking female staffers about surrogacy
"I have recently learned that the Ethics Committee is reviewing an inquiry regarding my discussion of surrogacy with two previous female subordinates, making each feel uncomfortable," Franks said in a statement. "I deeply regret that my discussion of this option and process in the workplace caused distress."
The following day, a former aide to Franks told The Associated Press that the congressman repeatedly pressed her to carry his child, at one point offering her $5 million to do so.
The former aide said Franks asked her at least four times if she would be willing to act as a surrogate mother to his child in exchange for a payment.
The AP verified the staffer's identity and confirmed that she worked in Franks' office. The AP said she requested anonymity out of concern for her privacy.
Rep. Ruben Kihuen
Number of accusers: 1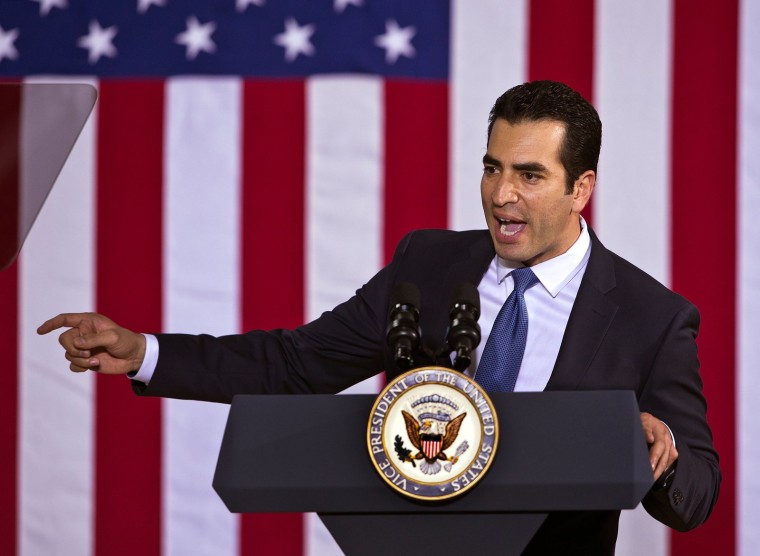 The top House Democrat called on fellow Democratic Rep. Ruben Kihuen of Nevada to resign after a former aide accused him of repeatedly making sexual overtures to her during his 2016 campaign.
The woman who accused Kihuen, identified only as 25-year-old Samantha, told BuzzFeed News that the lawmaker continued to proposition her with dates and sex after she rejected them. She also said Kihuen touched her thighs twice without her consent.
Kihuen, 37, said he did not recall his alleged actions toward the aide, whom he described as a "valued member" of his campaign. The congressman is a former Nevada state legislator and was sworn in as the first Latino to represent Nevada in the House of Representatives.
Related: Top House Democrat calls on Rep. Ruben Kihuen to resign after sexual harassment allegation
"I sincerely apologize for anything that I may have said or done that made her feel uncomfortable," Kihuen told BuzzFeed News. He also said he wanted to "make it clear that I don't recall any of the circumstances" described in the allegations.
House Minority Leader Nancy Pelosi responded to the allegations against Kihuen by calling on him to step down.
The House Ethics Committee announced on Dec. 15 that it was opening an investigation into the sexual harassment allegations against Kihuen.
The freshman congressman announced the following day that he would not seek reelection, although he maintained his innocence and stated his commitment to cooperating with the House ethic investigation.
"However," he added, "the allegations that have surfaced would be a distraction from a fair and thorough discussion of the issues in a reelection campaign. Therefore, it is in the best interests of my family and my constituents to complete my term in Congress and not seek reelection."
Rep. Blake Farenthold
Number of accusers: 1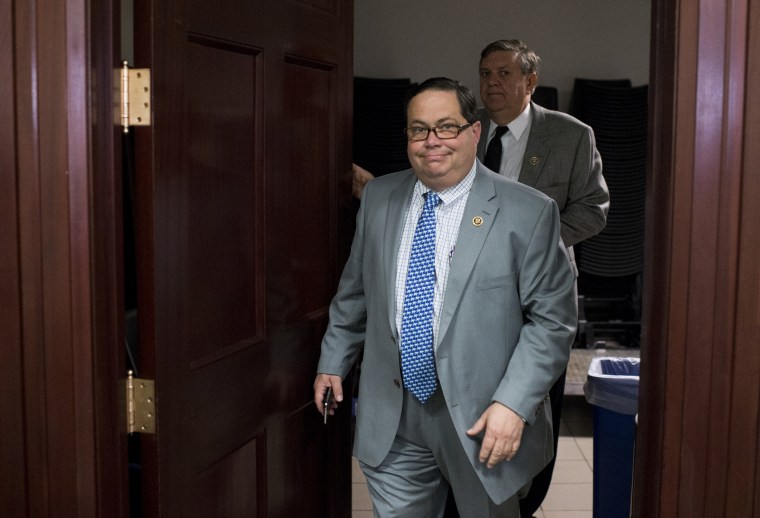 Rep. Blake Farenthold, R-Texas, said on Dec. 14 that he will not seek re-election next year after reports surfaced that he settled a sexual harassment claim made by a former employee in 2014, two sources told NBC News.
The news constitutes the first taxpayer-funded settlement of its kind that has been made public so far.
The woman who lodged the complaint, Farenthold's former communications director, Lauren Greene, said the lawmaker engaged in sexual harassment and gender discrimination, and created a hostile work environment. Both Farenthold and Greene agreed in 2015 to settle out of court.
In a closed-door meeting with House Republicans on Dec. 1, Rep. Gregg Harper of Mississippi, the top Republican on the House Administration Committee, said the Office of Compliance made only one settlement for sexual harassment complaints.
That settlement was made in the amount of $84,000 since 2012, Harper said in the meeting.
Two sources familiar with the case told NBC News that that it was for Greene's complaint against Farenthold. Politico first reported that Farenthold was the congressman involved in the settlement.
"While I 100% support more transparency with respect to claims against members of Congress, I can neither confirm nor deny that settlement involved my office as the Congressional Accountability Act prohibits me from answering that question," Farenthold said in a statement at the time.
Related: Rep. Blake Farenthold settled sexual harassment claim for $84,000
On Dec. 14, Farenthold acknowledged that he fostered an "unprofessional" work environment in a video announced posted to Facebook.
"I allowed a workplace culture to take root in my office that was too permissive and decidedly unprofessional. It accommodated destructive gossip, offhand comments, off-color jokes, and behavior that was less than professional. I allowed the personal stress of the job to manifest with angry outbursts, and too often a failure to treat people with the respect that they deserve. That was wrong," he said. "For that situation, I am profoundly sorry."
House Speaker Paul Ryan, who met with the lawmaker twice at night on Dec. 13, said the next morning that Farenthold "is making the right decision to retire."
But the congressman is still expected to still appear on the ballot in March because the deadline to withdraw from it has passed.
Rep. John Conyers Jr.
Number of accusers: Multiple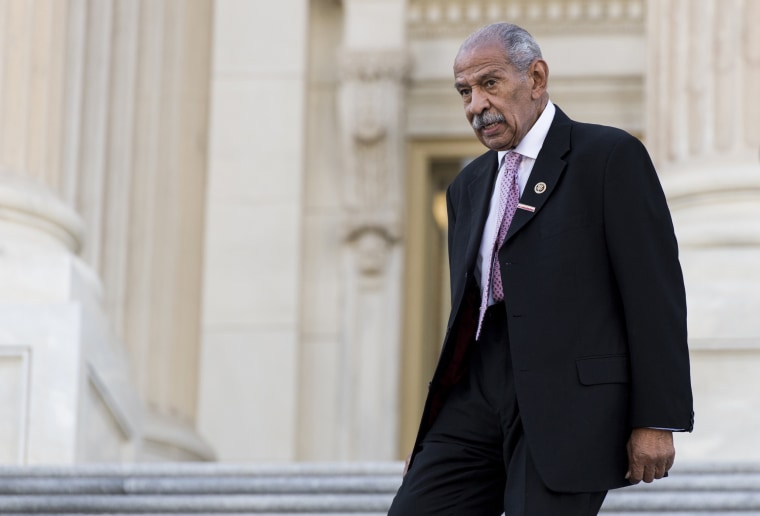 Rep. John Conyers Jr., the longest-serving active congressman and a founder of the Congressional Black Caucus, retired from the House of Representatives on Dec. 5 after multiple allegations of sexual misconduct were lodged against him.
Conyers, an 88-year-old Michigan Democrat, made his announcement on a local Detroit radio station while calling in from a nearby hospital.
"I am retiring today, I want everyone to know how much I appreciate the support," Conyers told Mildred Gaddis, a morning host on Detroit FM-radio station Praise 102.7.
Conyers announced his retirement after the House Ethics Committee said it was investigating multiple sexual harassment allegations made by former aides.
The latest allegations, which surfaced the night before Conyers' announcement, involve former staffer Elisa Grubbs claiming that the congressman "inappropriately touched" her and other women while she worked in his office from 2001 to 2013.
Grubbs said Conyers put his hand up her skirt and touched her thighs while they sat next to each other in the front row of a church. She said she responded by jumping up and exclaiming in front of other staffers, "He just ran his hand up my thigh!"
In another incident, Grubbs said she "immediately ran out of the house" after Conyers walked out of his bathroom naked while knowing she was present.
Related: John Conyers retires from Congress, endorses son, amid harassment scandal
Conyers returned home to Detroit the week before he announced his retirement, where he was hospitalized for a stress-related ailment.
In his Dec. 5 radio interview, Conyers denied all allegations against him. "Whatever they are, they are not accurate or they're not true and I think that they, they're something that," he said. "I can't explain where they came from."
Sen. Al Franken
Number of accusers: 8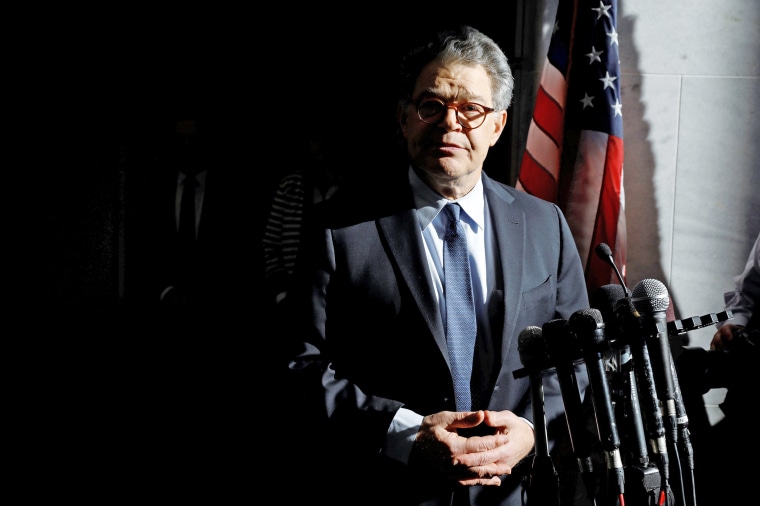 Sen. Al Franken, D-Minn., announced on Dec. 7 that he would resign from the Senate following multiple sexual misconduct allegations and mounting pressure from 35 fellow Democrats to step down from his post.
Franken was first accused by radio news anchor Leeann Tweeden, of KABC in Los Angeles, of forcibly kissing and groping her in 2006 when they were overseas as part of a USO show. He "came at me, put his hand on the back of my head, mashed his lips against mine and aggressively stuck his tongue in my mouth," she wrote in a blog post.
"I immediately pushed him away with both of my hands against his chest and told him if he ever did that to me again I wouldn't be so nice about it the next time," she added. "I felt disgusted and violated."
"The first thing I want to do is apologize: to Leeann, to everyone else who was part of that tour, to everyone who has worked for me, to everyone I represent, and to everyone who counts on me to be an ally and supporter and champion of women," Franken said in a statement.
Related: Al Franken resigns, blasts Republican hypocrisy on sexual misconduct
Only days later, Lindsay Menz, 33, told CNN in an interview that Franken grabbed her rear when they posed for a photo together in 2010 at the Minnesota State Fair.
Franken said in a statement to CNN that he felt "badly," but did not remember his encounter with Menz.
On Nov. 22, two unidentified women told HuffPost that Franken touched their rears inappropriately on the in the past. One of those women said Franken groped her while they posed for a photo.
"I've met tens of thousands of people and taken thousands of photographs, often in crowded and chaotic situations. I'm a warm person; I hug people," Franken said in his apology following the report. "I've learned from recent stories that in some of those encounters, I crossed a line for some women — and I know that any number is too many."
Franken addressed the sexual misconduct allegations during his resignation speech on the floor of the Senate, and said when the conversation turned to his behavior, he chose to be "respectful of that broader conversation" because he believes "all women deserve to be heard, and their experiences taken seriously."
"I also think it gave some people the false impression that I was admitting to doing things that, in fact, I haven't done," Franken said. "Some of the allegations against me are simply not true. Others, I remember very differently."
Roy Moore
Number of accusers: At least 9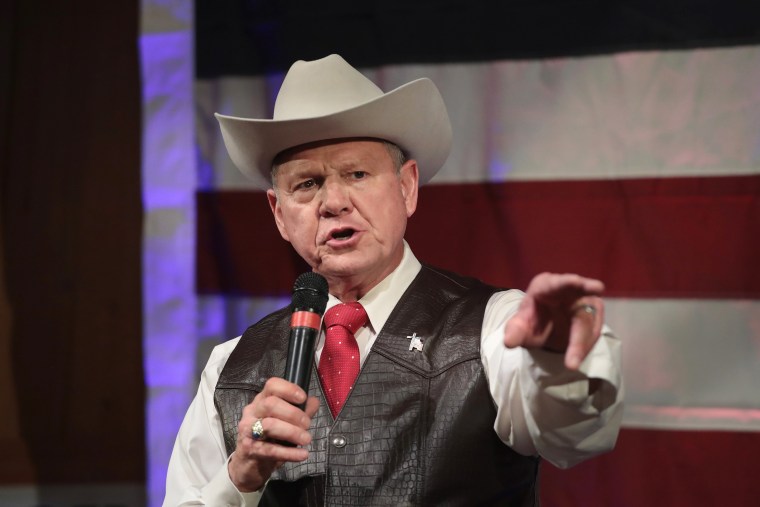 Roy Moore, the Republican nominee for Senate in Alabama, has been accused of sexual misconduct by at least nine women only weeks before to the special election to fill the seat vacated by Attorney General Jeff Sessions.
On Nov. 9, The Washington Post first reported that Moore allegedly forced a 14-year-old girl into a sexual encounter in 1979 when he was 32.
Leigh Corfman, now 53, told The Post that Moore took off her "shirt and pants and removed his clothes," touched her "over her bra and underpants" and "guided her hand to touch him over his underwear" during the encounter when she was 14.
Three additional women said in that same report that Moore had made inappropriate overtures to them while he was in his early 30s and they were between the ages of 16 and 18. None of the three woman said Moore forced them into any sort of relationship or sexual contact, The Post reported.
Related: Report: Woman Says Roy Moore Initiated Sexual Activity When She Was 14
More women have come forward to various media outlets since The Post's initial report, describing the Republican nominee for Senate engaging in sexual misconduct throughout his career.
Moore, now 70, heatedly denied the women's allegations in a statement through his campaign, calling the reports "a baseless political attack" and "the very definition of fake news and intentional defamation."
George H.W. Bush
Number of accusers: 7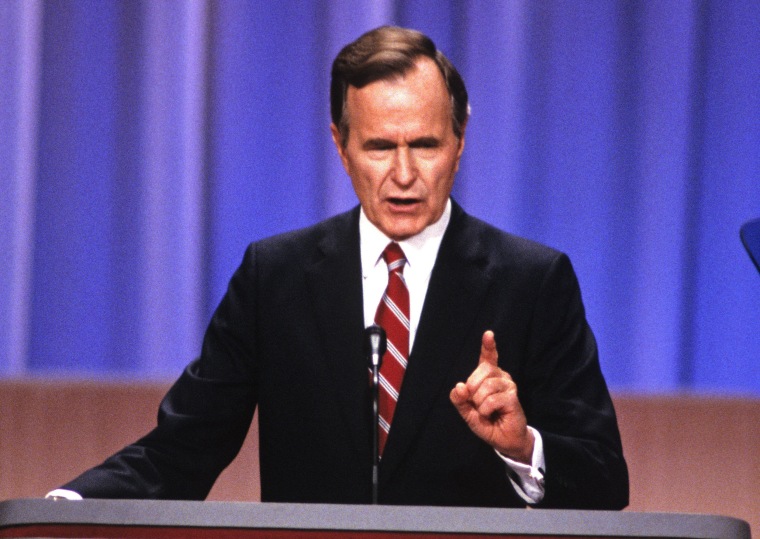 Seven women from separate incidents have accused former President George H.W. Bush of inappropriately touching them from behind while they posed beside him for photos. Some said he also told them a dirty joke.
The first sexual misconduct allegation against the former president was made by television actress Heather Lind, who said in a now-deleted Instagram post that Bush touched her during a 2014 screening of her AMC series, "TURN: Washington's Spies," in Houston.
In the photo, Lind appears next to Bush, who's seated in a wheelchair, while his wife, former First Lady Barbara Bush, was also present.
Related: Former President George H.W. Bush Accused by Heather Lind of Touching Her
"At age 93, President Bush has been confined to a wheelchair for roughly five years, so his arm falls on the lower waist of people with whom he takes pictures," Bush spokesman Jim McGrath said in a statement. "To try to put people at ease, the president routinely tells the same joke — and on occasion, he has patted women's rears in what he intended to be a good-natured joke."
Another actress, Jordana Grolnick, accused the former president of inappropriately touching her in 2016. Author Christina Baker Kline also came forward to accuse Bush of sexual misconduct in 2014, while Amanda Staples, a Republican candidate for Maine's Senate, said he touched her in 2006. Retired journalist Liz Allen also said she was inappropriate touched by the former president in 2004.
Another accuser, Roslyn Corrigan, told Time magazine that Bush touched her from behind during a photo op when she was 16 in 2003. McGrath said in response that Bush "does not have it in his heart to knowingly cause anyone harm or distress."
In the latest accusation, a Michigan woman told CNN that Bush grabbed her during a photo-op in April 1992, while he was in office.
"We got closer together for a family photo and it was like, 'Holy crap!' It was like a gentle squeeze," the unidentified woman told CNN.