James Franco's stint as co-host of the Oscars seven years ago was widely panned. But the Academy could have an even bigger public-relations crisis on its hands this year — if the actor is nominated.
Franco, the star and director of the acclaimed comedy "The Disaster Artist," has been accused by at least five women of inappropriate or sexually exploitative behavior. He has denied those allegations. But the cloud of impropriety could nonetheless scuttle his chances at Oscar glory on March 4.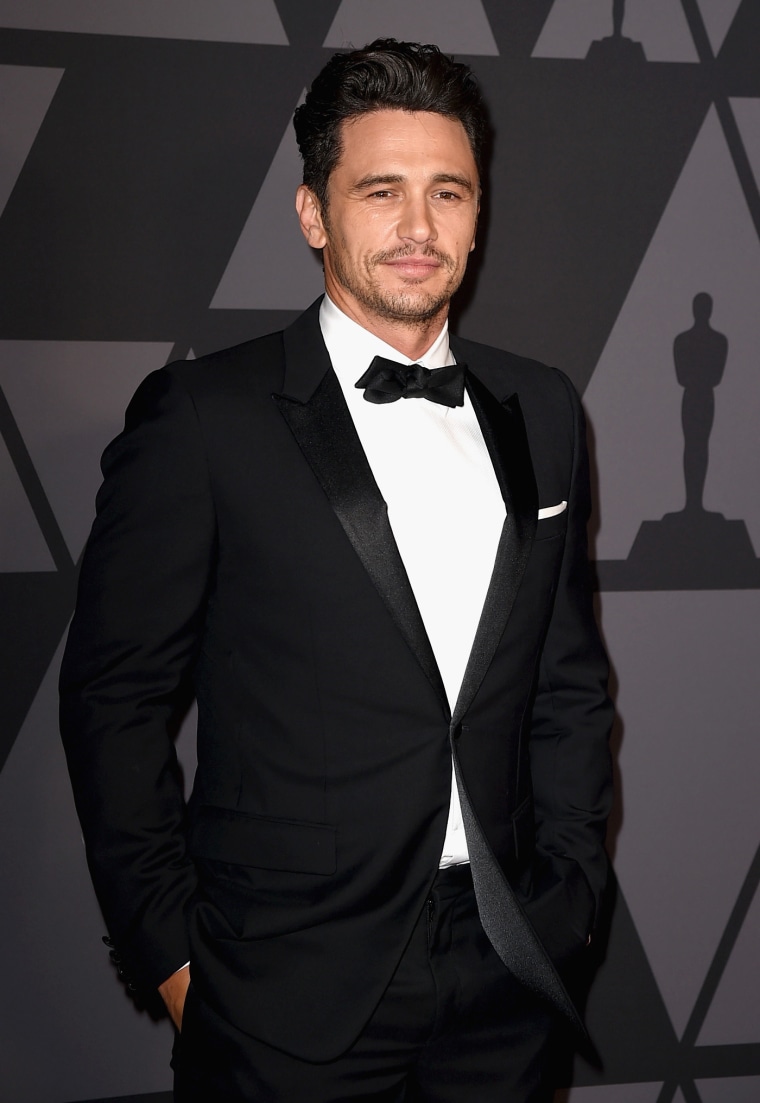 "The Oscars tend to shy away from controversy," said Nell Minow, a movie critic and corporate governance expert. "Hollywood as a whole is extremely sensitive about" the #MeToo-fueled reckoning with sexual misconduct, she added.
"Oscar voters sometimes take into consideration what the acceptance speech might be," Minow said — so the mental image of Franco clutching a statuette on stage at the Dolby Theatre may not sit well with the Academy electorate.
The eight-day Oscar nominations voting period ended on Jan. 12 — just a day after The Los Angeles Times published an investigation into Franco's behavior based on interviews with five women, including two who had blasted the actor on Twitter after he won a Golden Globe on Jan. 7.
Awards pundits say Franco might have lost support at the last minute. But if the actor had enough votes in the bank before The Times story landed, he could still sneak into the best actor category, according to Tom O'Neil, editor of the awards prediction site Gold Derby. (The nominations will be unveiled on Jan. 23.)
Related: James Franco accused by five women of sexually inappropriate behavior
And for what it's worth, "Franco is needed to fill out that category," O'Neil said. The leaderboard on Gold Derby suggests the three locks are Gary Oldman ("Darkest Hour"), Timothée Chalamet ("Call Me by Your Name") and Daniel Day-Lewis ("Phantom Thread").
"Those fourth and fifth slots are wide open," O'Neil added. They could be filled by Tom Hanks ("The Post"), Daniel Kaluuya ("Get Out"), Denzel Washington ("Roman J. Israel, Esq.") — or Franco, for his turn as eccentric cult-movie director Tommy Wiseau in "The Disaster Artist."
The nominees for Franco's category will be decided by his peers in the actors' branch, one that might feel extra pressure to show symbolic solidarity with the #MeToo and #TimesUp movement. (Franco was criticized on social media for showing up to the Globes wearing a "Time's Up" lapel pin.)
Related: The deafening silence on harassment among men at the Golden Globes
"Last year, Casey Affleck still managed to win despite a sexual harassment scandal, but the climate is much different now," said O'Neil.
Affleck, who took home the best actor award for his performance as a grief-stricken janitor in "Manchester by the Sea," was shadowed by two sexual harassment lawsuits filed by two women who worked on his experimental film "I'm Still Here." The claims were settled out of court for an undisclosed sum. Affleck has repeatedly denied the allegations.
It is not clear if Affleck will be invited to this year's ceremony in order to present the best actress award, per Oscar tradition. An online petition launched last year that called on the Academy to block Affleck from handing out the best actress prize garnered 19,538 supporters.
The Academy did not immediately respond to questions from NBC News.
O'Neill noted that Affleck largely avoided the press in the run-up to the Academy Awards last year.
"He suddenly became unavailable for interviews. And that turned out to be a winning strategy," O'Neil said. "But these days, the scandal itself is getting the spotlight."
Franco, for his part, has publicly addressed the allegations against him. In an interview with Stephen Colbert on CBS' "The Late Show," the actor denied sexual misconduct but said: "I completely support people coming out and being able to have a voice because they haven't had a voice for so long. I don't want to shut them down in any way. It's a good thing I support."
Ashley Judd, the veteran actress who has accused Harvey Weinstein of sexual misconduct, complimented Franco for his comments on "The Late Show," telling the BBC: "I think what James said is terrific." Judd, through a representative, declined to comment for this article.
Franco is reportedly expected to attend the SAG Awards this weekend. He did not go to last week's Critics' Choice Awards, where he won the prize for best actor in a comedy.