John Oliver and Dustin Hoffman engaged in a tense discussion about the sexual harassment allegations facing Hoffman during a panel at an anniversary screening of the film "Wag the Dog" on Monday night.
Oliver was moderating the Tribeca Institute panel, which also included Robert de Niro, producer Jane Rosenthal, and director Barry Levinson. Oliver brought up the issue of an allegation made against Hoffman by Anna Graham Hunter that he had groped her when she was a 17-year-old intern on the set of Hoffman's "Death of A Salesman."
"This is something we're going to have to talk about because ... it's hanging in the air," the HBO host said. He stated that he felt Hoffman's partial apology at the time of Graham Hunter's allegation to be insufficient.
"It's hanging in the air?" Hoffman replied. "From a few things you've read you've made an incredible assumption about me," he said, continuing, "You've made the case better than anyone else can. I'm guilty."
Related: Slew of Hollywood men accused of sexual misconduct
Hoffman defended himself against the questioning, stating that he does not recall meeting Graham Hunter, had not groped anyone, and that any comments he may have made were part of the "family" dynamic on the set.
"I still don't know who this woman is," Hoffman said. "I never met her; if I met her it was in concert with other people."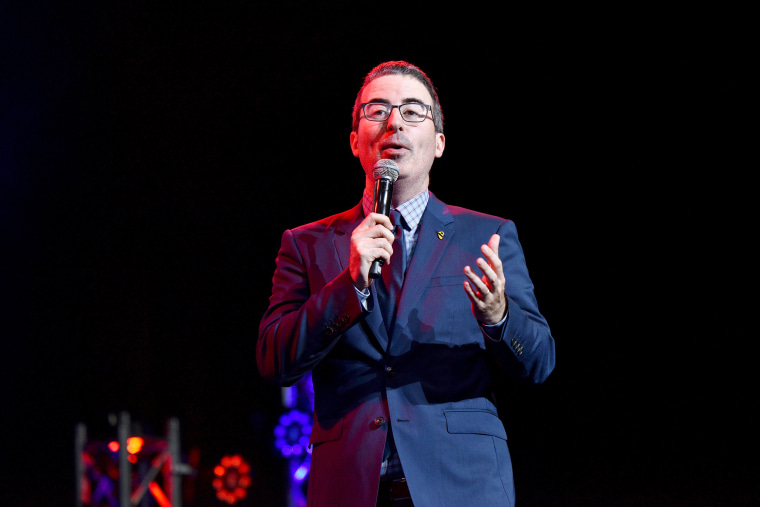 Oliver focused on the aspect of Hoffman's statement that had asserted his behavior on the set was "not reflective of" who he is.
"It's 'not reflective of who I am.' It's that kind of response to this stuff that pisses me off," Oliver said. "It is reflective of who you were. If you've given no evidence to show it didn't [happen,] there was a period of time for a while when you were a creeper around women. It feels like a cop-out to say 'it wasn't me.' Do you understand how that feels like a dismissal?"
The topic continued to come up throughout the panel, despite Oliver and Rosenthal attempting to move the conversation onward. Hoffman accused Oliver of not keeping an open mind, and oddly cited his performance in "Tootsie" as evidence of his respect for women.
"I would not have made that movie if I didn't have an incredible respect for women," Hoffman said. "The theme of the movie is he became a better man by having been a woman."
Related: Since Weinstein, here's the list of men accused of sexual misconduct
"It's shocking to me you don't see me more clearly," he said to Oliver. "That you go by a couple of things you read."
"I can't leave certain things unaddressed," Oliver said. "The easy way is not to bring anything up. Unfortunately that leaves me at home later at night hating myself. Why the ... didn't I say something? No one stands up to powerful men."
In addition to the allegation from Graham Hunter, "Genius" producer Wendy Riss Gatsiounis has also accused the actor of propositioning her during a meeting in 1991, an accusation that did not come up in the discussion. Riss Gatsiounis was in her 20s, and Hoffman was 53. Katherine Ross, Hoffman's co-star on "The Graduate," has also said he groped her on the set of the film, which was brought up during the conversation.
Hoffman had said at the time of Graham Hunter's allegations that "I have the utmost respect for women and feel terrible that anything I might have done could have put her in an uncomfortable situation. I am sorry. It is not reflective of who I am."