A lawyer for a woman who accused former "Today" anchor Matt Lauer of sexual misconduct said Friday that NBC was failing to protect the woman's privacy.
"NBC has a duty to maintain confidentiality," the lawyer, Ari Wilkenfeld told Stephanie Gosk in an interview on "Today" Friday morning. "That means to maintain secrecy over her name and to hold to themselves the details of her story. They have not done a good job of doing that. They know exactly what they have done. And they need to stop."
But Wilkenfeld revealed no details about what specifically NBC has done that would damage the accuser's privacy. Pressed by Gosk in the interview, he declined to discuss the basis for his allegation.
When NBC announced the firing of Lauer on Nov. 29, it did not reveal the name of the woman — an NBC employee — whose accusation led to the firing, and her name has not been made public. But NBC News executives subsequently confirmed, in media reports and in meetings with employees across the news division, that Lauer was accused of sexually harassing the woman beginning at the 2014 Sochi Olympics.
In a statement after the interview, NBC News said: "The network has protected the victim's anonymity all along and will continue to do so."
Wilkenfeld described his client as "terrified," and appeared to suggest that any clues made public about her identity could make it possible for other journalists to track her down.
"There's a hunt underway to figure out who she is," he said. "I think that's going to have a chilling effect on other women who might want to come forward and tell their stories, who might be worried that they will be defined by it, because their names will come out afterwards."
He referred back to a pledge she sought when she first lodged her complaint.
"She showed her face, she gave her name, she told her story," Wilkenfeld said. "And at the conclusion of the interview she was asked, 'What do you want?' She said, 'I want you guys to do the right thing. And also, I'd like you to maintain my confidentiality.'"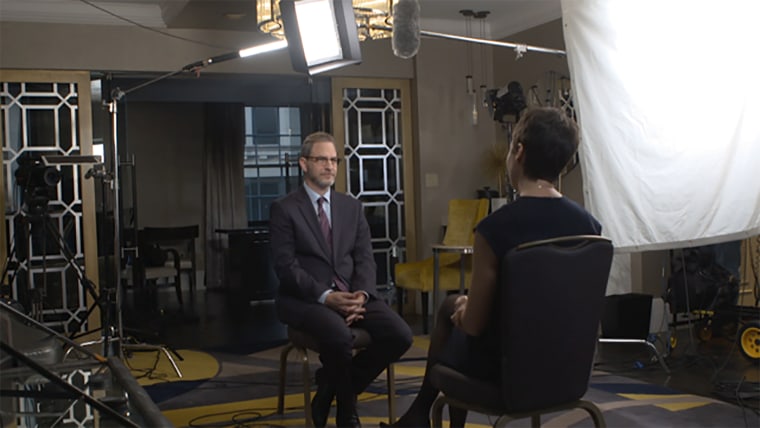 After Lauer was fired, Wilkenfeld said in a statement provided to NBC News that the company acted "quickly," and that he was "encouraged" by its response to the woman's complaint.
The day Lauer was fired, NBC News confirmed it had received two additional complaints about him. In a memo issued to employees, NBC News Chairman Andy Lack wrote, "Our highest priority is to create a workplace environment in which everyone feels safe and protected, and to ensure that any actions that run counter to our core values are met with consequences, no matter who the offender."
NBC News executives also launched an internal review, which is ongoing.
In a statement issued the following day, Lauer said that he was "truly sorry" and that "some of what is being said about me is untrue or mischaracterized, but there is enough truth in these stories to make me feel embarrassed and ashamed."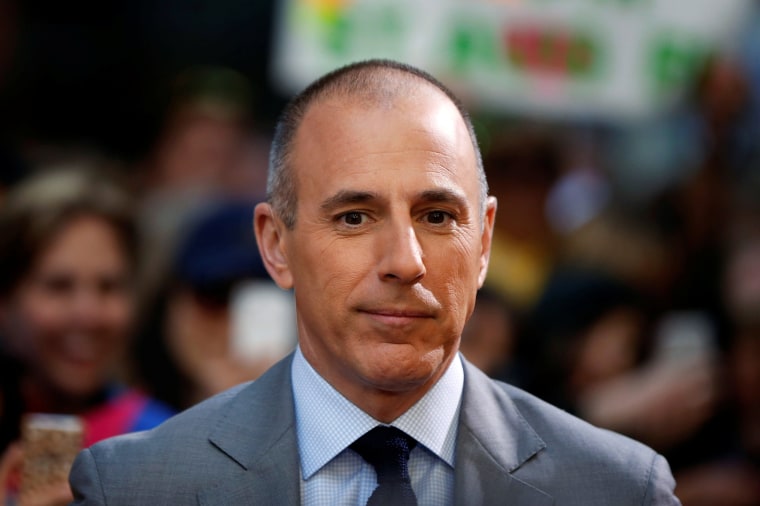 At least four women have come forward with allegations of sexual misconduct by Lauer. On Thursday, Addie Zinone, a former "TODAY Show" employee, first told Variety that in 2000, Lauer, then in his 40s, initiated a consensual affair with her when she was a 24-year-old production assistant.
"I was in shock," Zinone told NBC News. "One day I'm just a normal, hardworking PA. … And now I'm walking in a cloud of confusion."
Zinone said that Lauer approached her after she announced she was taking another job. "This was such an amazing experience for me," she said, referring to her time at "TODAY." "That all got annihilated in the last three weeks."
She said two of the consensual encounters occurred in the workplace, one in Lauer's studio dressing room and one in his office.
"Consent is such a weird word in this situation because I felt powerless," she added.
Lauer's representative declined to comment. NBC News declined to comment about Zinone's accusations.
While women from many industries are telling harrowing stories of sexual harassment and assault in public, an untold number have summoned the courage to come forward privately. They were well represented, Wilkenfeld said, by the little-noticed slice of elbow pictured on the cover of Time Magazine's recent "Person of the Year" issue.
"That elbow represents all the women who have come forward during this wave that we're all experiencing," he said. "Who didn't want to be known for it, and didn't want to be defined by it. My client's one of those women."
"She's come forward," he added. "She's been incredibly brave. And she's helped protect the other women who work at NBC. And in doing so in the way that she has, she's also shined a light on the different ways women can come forward to talk about sexual harassment to their employers. And she deserves for all of us to leave her alone."
Wilkenfeld, who has been practicing civil rights law for 20 years, said that he's hopeful the current outpouring of stories and reports of sexual harassment and assault will lead to systemic change. But men, he said, will have to be part of that change.
"I hope we have the ability to go beyond outrage and beyond takedown jobs to actually fundamentally alter the way our culture works, and the way our workplace culture works," he said. "Men need to step forward. They need to start protecting women in the workplace when they see them being harassed. If a woman is excluded, they need to start inviting them in. If they see other colleagues objectifying a woman behind their back, they need to tell them to knock it off. And if they see a woman come forward and complain about harassment, and see that she's being mistreated by her co-workers, they need to stand with her."