Louis C.K. broke his silence Friday after five women came forward to accuse the comedian of sexual misconduct, admitting in a lengthy statement: "These stories are true."
"I have been remorseful of my actions. And I've tried to learn from them. And run from them," he said. "Now I'm aware of the extent of the impact of my actions."
He added that "the hardest regret to live with is what you've done to hurt someone else. And I can hardly wrap my head around the scope of hurt I brought on them."
He concluded that he will "now step back and take a long time to listen."
His comments came hours after movie distributor The Orchard announced it would not release his latest movie, "I Love You, Daddy," which Louis C.K. directed, wrote and stars in. On Thursday, the company canceled the film's New York premiere ahead of a New York Times report detailing the women's accusations.
Louis C.K. had also signed a deal with Netflix in February for two comedy specials. The first one, "2017," premiered in April. The second one is now scrapped.
"The allegations made by several women in The New York Times about Louis C.K.s behavior are disturbing," a Netflix spokesperson said Friday. "Louis's unprofessional and inappropriate behavior with female colleagues has led us to decide not to produce a second stand up special, as had been planned."
FX, the cable network that airs his sitcom "Louie," said it was ending its "association" with him and canceling its deal with his production company. "He will no longer serve as executive producer or receive compensation on any of the four shows we were producing with him," the network said in a statement.
The 50-year-old is one of the world's highest-paid comedians, earning about $52 million over the last year, according to Forbes. More than half of that comes from a deal he inked with Netflix for two specials, including for the canceled one.
HBO also announced Thursday that Louis C.K. would not appear in the upcoming "Night of Too Many Stars" event and that his earlier work will be taken off its on demand platforms.
Related: Report Says Louis C.K. Accused of Sexual Misconduct by Five Women
In The Times exposé, two comedians, Dana Min Goodman and Julia Wolov, said that Louis C.K. masturbated in front of them in 2002 while they were in his Colorado hotel room.
The women said they decided not to go to police because they were unsure what they say he did was a crime.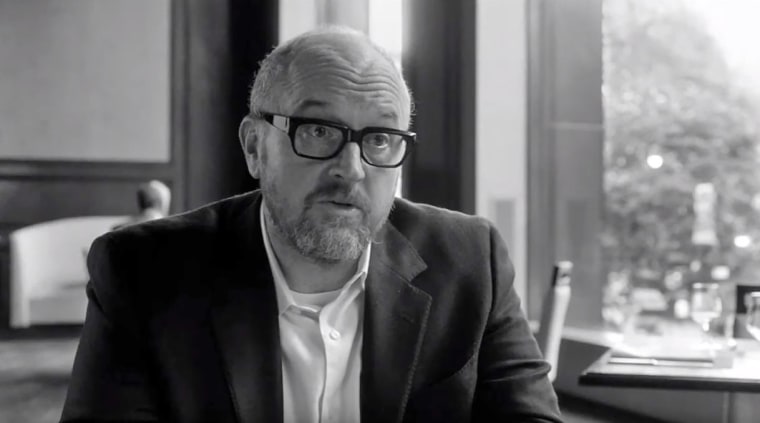 Three other women told the newspaper about their own experiences. Comedian Abby Schachner said she called Louis C.K. in 2003 and that she believed he was masturbating during their conversation. Another comedian, Rebecca Cory, said that Louis C.K. asked if he could masturbate in front of her in 2005, but she declined.
Louis C.K. said he came to understand the totality of his actions Thursday — how women who said they once admired him were left to question themselves and other men.
"I also took advantage of the fact that I was widely admired in my and their community, which disabled them from sharing their story and brought hardship to them when they tried because people who look up to me didn't want to hear it," he said.
"I have to reconcile it with who I am," he added. "Which is nothing compared to the task I left them with."
Louis C.K. said he regretted that his actions have also hurt his personal and professional relationships.
"I Love You, Daddy" was set for a limited release in the U.S. on Nov. 17.
Related: Since Weinstein, Here's a Growing List of Men Accused of Sexual Misconduct
Filmed in black and white, the film pays homage to Woody Allen's "Manhattan," and was already creating controversy of its own before the allegations against Louis C.K. He plays a television writer whose 17-year-old daughter (Chloe Grace Moritz) becomes involved with a 68-year-old filmmaker (John Malkovich).
In one scene in the movie, a male friend of Louis C.K.'s character mimes masturbating, even when the Louis C.K. character's female producing partner walks into the room.
The accusations against him follow a wave in recent months of sexual misconduct allegations roiling the entertainment industry. Powerful Hollywood producer Harvey Weinstein was ousted from his studio and more than 85 women accused him of misconduct in the past three decades.
Some of his accusers, including actresses Rose McGowan and Paz de la Huerta, have said he raped them. At least four sexual misconduct or sexual assault investigations related to Weinstein are underway in the Los Angeles area.
Weinstein has denied the claims through a spokesperson, who said that "any allegations of nonconsensual sex are unequivocally denied by Mr. Weinstein."