Four women have accused celebrity chef Mario Batali of inappropriate touching over the course of two decades, causing the restaurateur and television show host to step aside from his projects for the time being.
The accusations against Batali, which were first published in a report by Eater New York, were made by four women who have at one time worked in the restaurant industry. Three of them were employees of the chef.
Eater New York reported the women asked to remain anonymous in fear of retribution.
All the women recounted instances at different points in Batali's career when they say the chef groped them and made inappropriate comments of a sexual nature.
In a statement, Batali apologized and said the accusations described by the women "match up with the way [he has] acted."
Related: Since Weinstein, here's a growing list of men accused of sexual misconduct
"I apologize to the people I have mistreated and hurt. Although the identities of most of the individuals mentioned in these stories have not been revealed to me, much of the behavior described does, in fact, match up with ways I have acted. That behavior was wrong and there are no excuses. I take full responsibility and am deeply sorry for any pain, humiliation or discomfort I have caused to my peers, employees, customers, friends and family," the statement said in part.
Batali added that he was stepping away from the "day-to-day operations of my businesses," acknowledging his actions disappointed many people and "the failures are mine alone."
ABC, which airs "The Chew," a show geared at foodies and co-hosted by Batali, said it was reviewing the allegations.
"We have asked Mario Batali to step away from The Chew while we review the allegations that have just recently come to our attention. ABC takes matters like this very seriously as we are committed to a safe work environment," an ABC spokesperson said.
"While we are unaware of any type of inappropriate behavior involving him and anyone affiliated with the show, we will swiftly address any alleged violations of our standards of conduct."
Related: New Orleans Chef John Besh Steps Down After Sexual Harassment Allegations
Batali was reprimanded as recently as two months ago for inappropriate workplace behavior, a spokesperson for Batali & Bastianich Hospitality Group, a restaurant-management services company co-owned by Batali and Joe Bastianich, told Eater New York.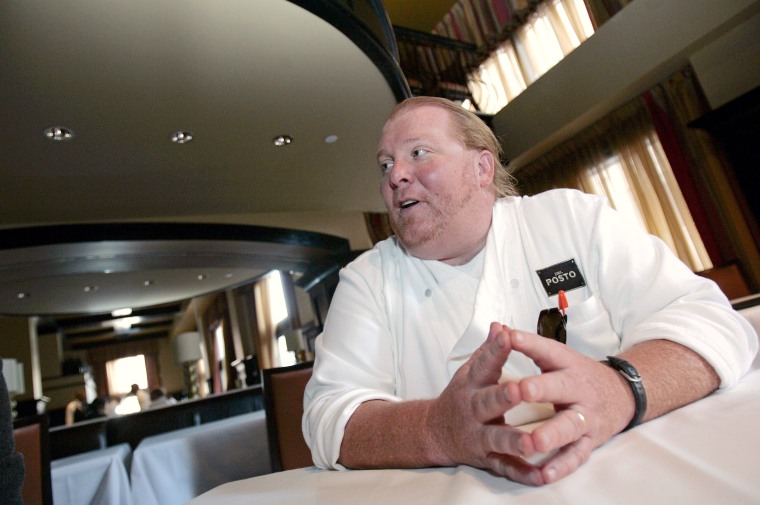 Batali & Bastianich Hospitality Group has been sued for harassment before, but not for any action involving Batali, Eater New York reported.
The group told Eater New York in part: "We take these allegations very seriously. We pride ourselves on being a workplace for our employees where they can grow and deliver great service with equal opportunity and free from any discrimination. We have strong policies and practices in place that address sexual harassment. We train employees in these policies and we enforce them, up to and including termination. Mr. Batali and we have agreed that he will step away from the company's operations, including the restaurants, and has already done so."
Joe Bastianich, Batali's hospitality group partner, said in a statement to Eater New York: "Right now, I'm just focused on ensuring that our more than 1,000 employees continue to have a safe and positive work environment."
In addition to his hospitality group and co-hosting "The Chew," Batali become an industry Goliath by becoming the face of an eponymous pasta sauce brand, creating a host cookbooks and a line of kitchen products.
He also began the Mario Batali Foundation, a nonprofit to empower children.
CORRECTION (Dec. 11, 1:55 p.m.): An earlier version of this article misstated the number of women accusing Mario Batali of sexual misconduct who were employees of his. There were three, not four; the fourth accuser did not work for Batali.