A former production assistant claimed on Tuesday that former studio honcho Harvey Weinstein sexually assaulted her in his New York apartment in 2006.
Mimi Haleyi is just the latest woman to come forward as the list of those who have accused the Hollywood mogul of sexual assault and harassment has climbed to more than 60.
Haleyi alleged that Weinstein "orally forced himself" on her while she was menstruating during a meeting in his apartment in Manhattan in 2006.
"He wouldn't take no for an answer and backed me into a room which was not lit, but looked like a kids' bedroom, with kids drawings on the walls," she said during a news conference with lawyer Gloria Allred. "He held me down on the bed, I tried to get away, or I tried to get him off of me, and kept asking him to stop, but it was impossible."
Haleyi claimed that Weinstein removed her tampon and forcibly performed oral sex on her.
"I was mortified. I was in disbelief and disgusted," she said, breaking into tears.
"I would not have wanted anyone to do that to me, even if the person had been a romantic partner," she said, crying. "I remember Harvey afterwards rolling onto his back, saying 'Don't you feel we're so much closer to each other now?' to which I replied, 'No.'"
Haleyi was in her 20s at the time of the alleged assault, Allred said, but declined to give her exact age.
In a statement to NBC News on Tuesday a spokeswoman for Weinstein said, "Any allegations of non-consensual sex are unequivocally denied by Mr. Weinstein."
His lawyers have also previously denied all other allegations of non-consensual sexual encounters.
Haleyi said she had met Weinstein in 2004 and eventually worked as a production assistant on an unidentified television show produced by the Weinstein Company. On one occasion in France, Weinstein asked Haleyi to give him a massage in his hotel room and Haleyi refused, she said.
Haleyi said she had repeatedly made it clear during previous meetings with Weinstein that she did not want a sexual or romantic relationship with him.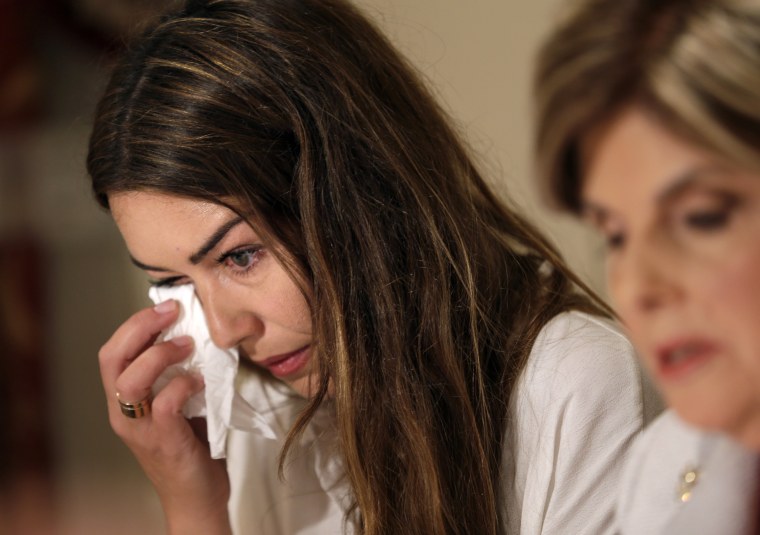 Allred said Tuesday that Haleyi had not yet gone to police about the incident and that "it may not be within the statute of limitations" but that it was something she and her client would discuss. "It may be relevant information for law enforcement to have as they investigate Mr. Weinstein," she said.
She also said she had written a letter to the board of the directors at the Weinstein Company requesting a meeting because she "had a proposal to present" to the company "in reference to their prior press statement in which they indicated that they also would like to pursue justice for victims."
Allred's daughter, prominent women's rights attorney Lisa Bloom, resigned as an adviser to Weinstein after having counseled him on how to deal with the allegations.
Tuesday's claim comes as sexual harassment allegations have rocked the media and entertainment worlds, with accusations against Weinstein, New Orleans celebrity chef John Besh and his restaurant group, Hollywood director James Toback, and comedian Bill Cosby, among others. As of Monday, more than 238 have reportedly come forward to accuse Toback of sexual misconduct, according to reports in The Los Angeles Times. Toback has denied the allegations.
Later Tuesday, a lawsuit against the Weinstein Company was announced by representatives for actress Dominique Huett. The suit alleges that the company "condoned and enabled" Weinstein's sexual misconduct, according to a statement released by the office of attorney Jeff Herman.
The complaint, obtained by NBC News, claims that Weinstein sexually assaulted Huett in 2010. The suit was filed in the Superior Court of California County of Los Angeles. Huett is suing for general damages, special damages for medical and psychological care expenses, punitive damages and the cost of the suit "in an amount to be shown according to proof at the time of trial."
The company "was aware of Weinstein's pattern of using his power to coerce and force young actresses to engage in sexual acts with him," the complaint alleges.
The Weinstein Company didn't immediately respond to requests for comment but their board has previously said it was "shocked and dismayed" by the recent allegations against Harvey Weinstein and that the claims came "as an utter surprise to the Board."
"Any suggestion that the Board had knowledge of this conduct is false," they said in a statement earlier this month.
Weinstein resigned from the company following reports of the scandal last week. He was fired October 8 by the firm as co-chairman, but remained on the board. The company's board last Tuesday ratified its decision to fire him.
Earlier this month, dozens of women came forward in a series of bombshell reports alleging sexual harassment and assault by Weinstein over the decades.
Weinstein is under criminal investigation by authorities in New York and Los Angeles in connection with sexual assault allegations against him and the Weinstein Company is being investigated by New York's attorney general for possible civil rights violations.