The Manhattan District Attorney's Office confirmed on Tuesday that it is investigating outgoing New York Attorney General Eric Schneiderman — as Gov. Andrew Cuomo called the sexual-abuse allegations leveled against the soon-to-be-former official "deeply disturbing."
On Monday, Schneiderman said he would resign after The New Yorker published a 6,100-word article, in which several women claimed the he had been violent toward them.
Schneiderman, who had become a prominent figure in the #MeToo movement after taking on disgraced movie producer Harvey Weinstein, denies the charges, but said he would resign at the end of business on Tuesday.
In a statement to NBC News, the Manhattan District Attorney's Office confirmed that it would investigate Schneiderman.
"Our office has opened an investigation into the recently reported allegations concerning Mr. Schneiderman," director of communications Danny Frost said in a terse statement, declining to comment further.
While on a tour of a Hudson River bridge replacement on Tuesday, Cuomo told reporters he found the allegations shocking.
"In a political environment where almost nothing seemed surprising anymore from the federal level all the way down and having been calloused by everything going on in Washington, et cetera, despite all that, this was still deeply shocking and deeply disturbing," Cuomo said. "I have tremendous accolades for the women who came forward. That is essence of the #MeToo moment and the #MeToo movement."
Cuomo, who himself once held the role of New York state attorney general, said that the women who made the claims "should have their day in court" and that he had asked the Manhattan district attorney to open the investigation into Schneiderman.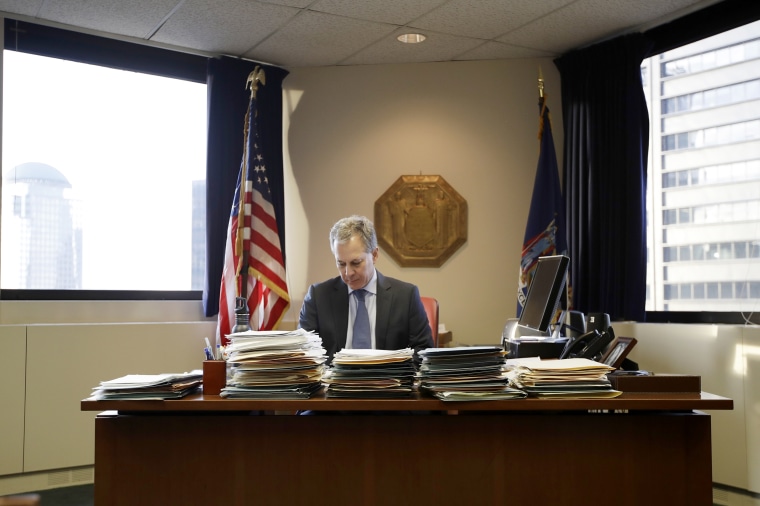 In an email to NBC News, the New York Police Department said on Tuesday that it did not have any complaints against Schneiderman on record, but would thoroughly investigate if any were made.
"Change comes when people demand change, and change comes when the problem is revealed and exposed," Cuomo said. "That is always Step 1, and what you're now seeing is women standing up all across the country and saying this nation has a chronic, disturbing, disgusting behavior of sexual harassment against women, and its gone on for a long, long time and it has to stop."
Cuomo, along with Sen. Kirsten Gillibrand, D-N.Y., and the National Organization for Women, called on Schneiderman to resign on Monday after the article by Ronan Farrow — the son of actors Mia Farrow and Woody Allen — and veteran staff writer Jane Mayer was published.
"The violent actions described by multiple women in this story are abhorrent. Based on this extensive and serious reporting, I do not believe that Eric Schneiderman should continue to serve as attorney general. There should be a full and immediate investigation into these credible allegations," Gillibrand said in a statement.
Despite his resignation, Schneiderman adamantly denied the allegations but said the claims "will effectively prevent me from leading the office's work at this critical time."
And on Tuesday, Cuomo said he had faith that Solicitor General Barbara Underwood, who will become the acting attorney general until a joint session of the Legislature can appoint a new attorney general, would be successful in the role.
"I am honored to serve the people of New York as acting attorney general," Underwood said in a statement. "The work of this office is critically important. Our office has never been stronger, and this extraordinarily talented, dedicated, and tireless team of public servants will ensure that our work continues without interruption."
Other New York politicians also expressed shock on over the allegations made against Schneiderman.
"These allegations are horrific and inconsistent with the increasingly important job of New York attorney general. New Yorkers should be able to count on the fact that the highest law enforcement official in our state does not engage in this type of conduct. Survivors of abuse are telling their stories, and it's time for us to listen," Rep. Sean Patrick Maloney, who represents the suburbs north of New York City, said in a statement.
Actress Cynthia Nixon, who is running for governor of New York, called the allegations "sickening."
"The women who came forward so courageously to tell their stories and spared others from suffering are heroines. The investigation should continue. We need to get to the bottom of the enormous culture of silence that protects those in power. We must continue to work to end this national epidemic," she said.
Preet Bharara, the former United States attorney for the Southern District of New York, tweeted his appreciation for Farrow — who recently won a Pulitzer Prize for his reporting on the Weinstein sexual misconduct allegations.
"Once again @RonanFarrow exposes horrific conduct and holds the powerful accountable. Thank you Ronan," he wrote.
While New York officials reacted soberly to Schneiderman's departure, those in President Donald Trump's inner circle oozed schadenfreude on social media.
Presidential counselor Kellyanne Conway simply wrote "Gotcha" while retweeting an old post from Schneiderman that said, "No one is above the law, and I'll continue to remind President Trump and his administration of that fact everyday."
And Trump's eldest son, Donald Trump Jr., sent out a string of tweets about Schneiderman, including a retweet of the same post Conway highlighted.
"You were saying???" Trump Jr. wrote on the retweet.